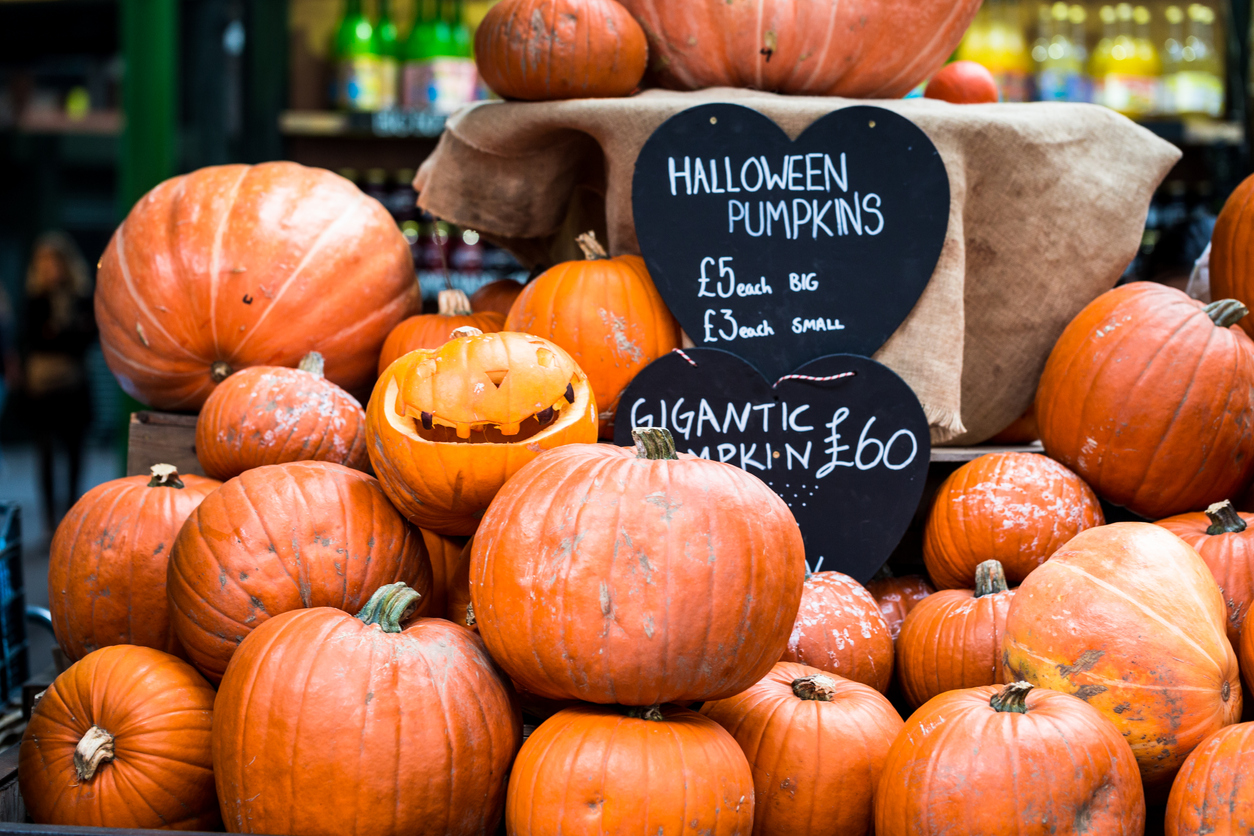 Jack-o'-lanterns at the ready, folks: the spookiest day of the year is on its way.
Halloween is a total treat for retailers, even in 2020. According to NRF, consumer spending is set to hit $8.05 billion despite the pandemic.
Consumers are more than willing to indulge at this time of year. The likes of candy, decorations and costumes just scratch the surface of the monstrous merchandise on offer, meaning retailers from every sector can get in on the festivities.
This year, the celebrations will undoubtedly be a little more muted. But people will still want something to bring a little fun and festivity to 2020, even if they can't have the huge haunted house party they had pictured.
The key to winning out over competitors on Halloween is providing a devilishly good customer experience. Read on for our top tips - if you dare...
Short on time? Watch this video summary instead!
1. Offer shoppers something different
Holidays like this are what the phrase "experiential retail" was made for.
Half the enjoyment of Halloween is in the planning - choosing costumes and decorations, practising elaborate makeup, creating a haunted house worthy of the bravest trick-or-treaters and scaring themselves silly.
Online shopping may be useful, especially with the added stress of social distancing in stores, but the kind of customer who is going to buy Halloween accessories is likely to be looking forward to the thrill and enjoyment of a spooky store display.
And at any rate, Halloween certainly isn't cancelled: more than 148 million U.S. adults surveyed by NRF plan to participate in Halloween-related activities.
So shoppers are still eager to give retailers their money. But they are wary about the increased risk of shopping in-store during the pandemic, so the tough choice isn't whether they should spend their money, but rather where they're going to spend it.
This is why getting in-store experience right is so important for this holiday. When people are overwhelmed with options and not willing to traipse around multiple different stores, what actually gets them through the doors is the offer of something more than just products.
It could be anything from a pumpkin carving workshop to a costume competition - it doesn't have to be elaborate or expensive, just something fun that makes it worth the customer's while to enter the store.
Once you have people in the store you can work on increasing basket size, a task which becomes much easier if they're already having a great time.
2. Bewitch shoppers with your visual merchandising
As a holiday rooted in aesthetics and creativity, Halloween gives retailers the chance to really sink their fangs into creating an unforgettable in-store experience.
Anybody can put a few pumpkins and spider's webs in their store window. In fact, they inevitably will. But thinking outside the box and differentiating yourself from other retailers - like this wicked display from Harrods back in 2011 - will really draw a crowd.
And let's be honest - after the year we've had, we could all do with a little something to lift our spirits.
Bear in mind, though, that if you are going to go crazy with visual merchandising, perfect in-store compliance is absolutely crucial.
If your merchandisers come up with an elaborate concept sure to thrill even the most reluctant of Halloween shoppers, but your store teams don't implement it properly, the results can be less than spellbinding.
Consumers are discerning, and won't be impressed by a display that hasn't been properly executed. The best way to avoid this is by providing stores with clear, accessible digital guidelines and enabling teams to send photos back to HQ to confirm compliance.
RELATED: The Surprising Science Behind Visual Merchandising
3. Remember to keep the customer journey simple
As much as we encourage the "more is more" approach with this holiday, the customer journey should remain as straightforward as possible.
We already mentioned that shoppers want to spend less time browsing in the COVID-19 era, and as much fun as it is to choose costumes and decorations, it also has to be quick and easy.
So when planning your Halloween store concept, there should be a method to the madness. Navigating through the store should be more like a fun ghost train ride than a house of horrors!
The main purpose of all this decoration is to get people to buy, meaning shoppers still need to be able to navigate the store easily. Splitting merchandise into different, defined sections steers customers in the right direction, and can even encourage them to browse for longer.
Promotions in particular should be clearly displayed and made to look enticing. Let's not forget that all of this merchandise is pretty much useless come November 1, so getting rid of inventory is a high priority.
RELATED: How Poor In-Store Execution Affects Customer Experience
Just follow these simple tricks, and we guarantee that Halloween will be a treat for your customers and your stores!
---
Are outdated store operations post-COVID-19 giving you nightmares? Find out how YOOBIC can help by requesting a free demo!