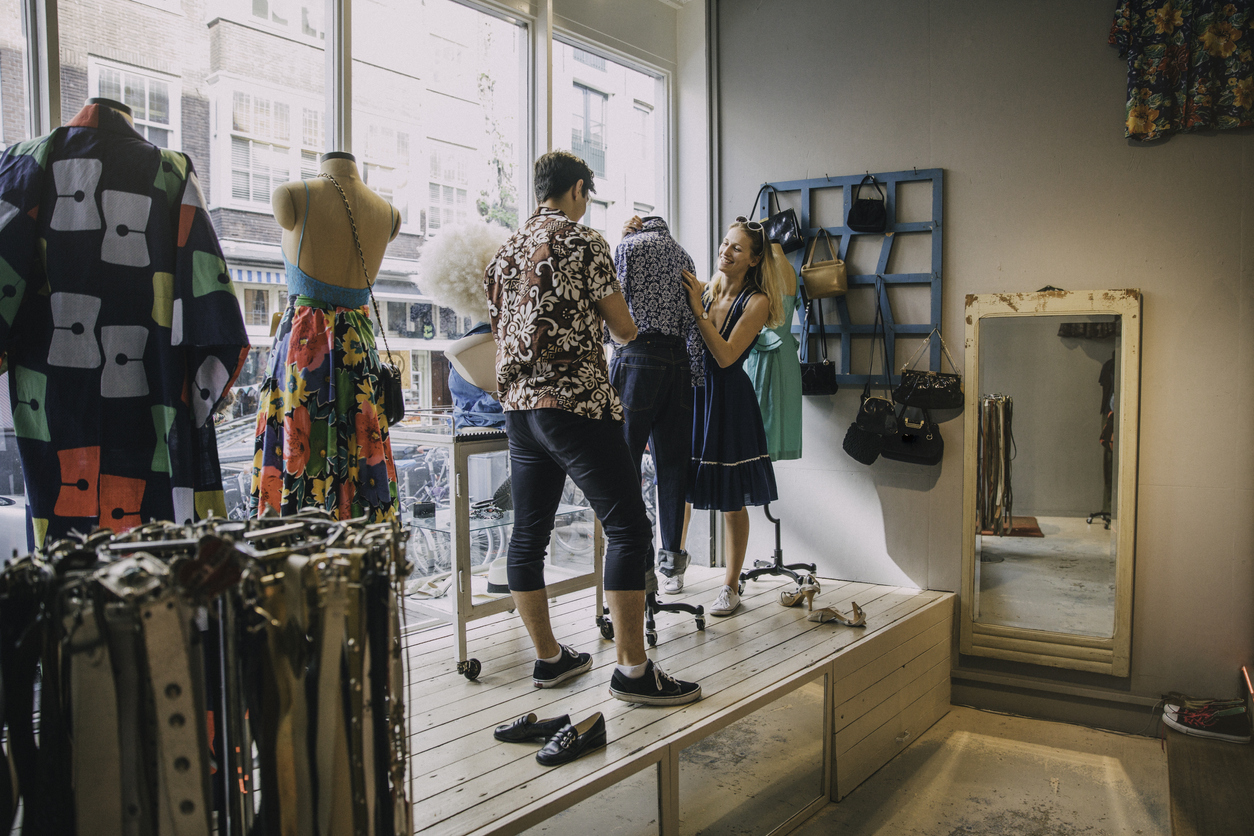 As we all know, the cornerstone of a successful store is a flawless customer experience. And one of the biggest contributing factors to that experience is the look and feel of the store.
Short on time? Watch the video blog summary here!
That's why compliance with HQ guidelines is so important. Visual merchandising teams work hard to create store concepts that will captivate customers and maximize conversions. They think of every last detail, from carefully mapping out the customer's journey through the store to deciding which products will be placed near the entrance, or next to the cash register. And of course, there are the essential guidelines on cleanliness, health and safety, and promotional materials to consider.
When these instructions aren't followed to the letter, it is noticeable. We've all been there: you walk into a store and products seem to be scattered about randomly with no clear concept, the changing rooms look like they haven't seen a vacuum cleaner in months, and the half-price sale advertised in the window ended days ago. Chances are this won't put you in the mood for browsing, and you'll walk straight back out again.
Believe it or not, an alarming amount of stores fit this description. According to TimeTrade, in fact, only 26% of retailers think they are good at in-store execution.
Hold up. That's 3 in 4 retailers who think their in-store execution isn't good enough. How did this happen? Here are 3 of the most common causes:
1. Instructions are confusing for stores
When new merchandising guidelines are set out by HQ, they're sent to all stores by email, WhatsApp or even in paper form. The task of store teams is then to implement the new window display, rearrange the entire store according to the new concept, and replace any outdated promotional signage, all exactly to the specification laid out in the email.
The problem is, sometimes these messages are not 100% clear. Something that seems very simple to the person writing up the guidelines might need a bit more of an explanation when it reaches store teams. Or perhaps different team members interpret the instructions differently and can't agree on the right way to implement them. Either way, relying on a very one-sided method of communication when implementing HQ guidelines is not a guarantee for compliance.
2. Area managers don't have time to help
Of course, there is also an area manager on hand who is responsible for providing stores with the necessary help and guidance, and for spotting and correcting compliance issues. However, area managers tend to have a lot of stores in their remit, and it can be a struggle to give all of them the attention they need.
Fielding constant calls and requests from practically every store in your network, all while keeping up with HQ's demands and trying to make sense of the 200+ daily emails in your inbox? Sounds pretty stressful.
And when they're being pulled in so many different directions, how is that regional manager ever going to ensure that their stores are fully compliant within the given deadline? It can be too much for just one person to handle on their own.
3. HQ has no idea what's going on
Whilst area managers are struggling to keep things afloat, HQ is often completely oblivious. Not because they don't care, of course, but because there's no way for this information to reach them in real-time.
Within this chain of communication, area managers act as the link between stores and HQ, reporting back on any in-store issues. So if even the area managers can't keep on top of what's going on in their stores, there's no way that HQ will have any insight at all.
On top of that, if they don't know about issues with compliance, they don't know that things have to change. Which means that they will continue to send out unclear guidelines, and the whole thing will start all over again. It's a vicious circle that results in more and more stress for all parties involved, and eventually causes sales to plummet.
---
Given all the potential obstacles at play here, low compliance rates are understandable. Store teams, area managers and head office alike are all doing their best with what they have at their disposal, but sometimes it just isn't enough.
But these issues are also easy to fix - if you have the right tools. The common thread between all of these problems is a lack of communication. That's why retailers are increasingly turning to digitized tools to improve the flow of communication between stores, area managers and HQ.
Here's how compliance can be improved using a platform like YOOBIC:
HQ creates a task in the app setting out their guidelines
Store teams implement the guidelines, and then confirm compliance by uploading a photo
Regional managers receive all of this data within the app, allowing them to see which stores are fully compliant and which have issues that need correcting
HQ receives data from the field in real-time so that they have a comprehensive overview of compliance and problem areas across the entire store network
All the information you need, collated in one place - it really is that easy. And trust us, the improvement in customer experience that you'll see from making this change will have a tremendous impact on your conversion rate.
---
So what are you waiting for? Join the 150+ retailers already using YOOBIC by requesting a free personalized demo below.