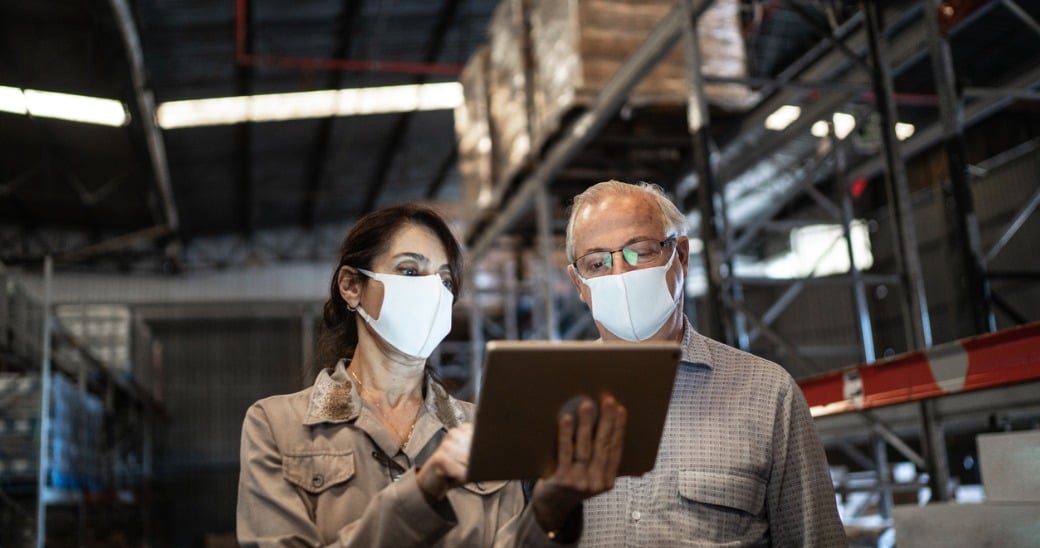 The COVID-19 pandemic has taken its toll on frontline employees, particularly in terms of their mental health.
The stress involved in risking your own safety to come into work is bad enough, but there has also been a notable spike in cases of abuse from customers. The USDAW, for example, found that 61% of employees working in retail have reported verbal abuse during the pandemic, with a third threatened by customers. They also found that a shocking 1 in 6 shop workers reported being abused on every shift.
Add to that the feelings of isolation that come with being a deskless worker in a socially-distanced world, and who could blame frontline employees for feeling disengaged from their work?
It's the responsibility of every business to support their frontline employees, especially at such a difficult time. Here are a few key ways you can provide that support for your staff:
#1 Keep them in the loop
Feeling isolated from the rest of your organization is a problem that frontline employees are all too familiar with, since long before the pandemic started.
Because they're not office-based, tend to work part-time, and usually don't have their own company devices or email addresses, they often feel like they're not being kept in the loop. This isn't great under any circumstances, but it becomes a huge problem at such a time of uncertainty.
They need to be kept up to date with any changes that will affect their work, and that means having a clear and open communication channel. Sending your frontline employees regular updates will make them feel included and help them do their jobs better.
It's also important to only send the relevant information to the right people at the right time. This is a very confusing time as it is - eradicate any ambiguity in your communications by explaining tasks in simple terms and making it clear what your employees' priorities are.
And remember, communication should be a two-way street, with an easy way for frontline staff to contact field staff or HQ when needed. Employees who feel their voice is being heard within the company are 4.6 times more likely to perform their best work.
RELATED: 3 Examples of Outstanding Internal Communications for Frontline Employees
#2 Create a community
As well as communication between frontline employees and HQ, it's important for staff to feel supported by their peers, too. It's natural for people to want to band together during a crisis, and being connected to others who are going through the same thing makes it feel more bearable.
Besides that, many employees would rather go to their colleagues for help or advice first, rather than immediately going to their manager.
A great way to support your frontline teams is to give them a dedicated virtual space where they can interact with each other, sharing the knowledge, advice and best practices that are getting them through the pandemic.
Lingerie brand Adore Me has been using a digital platform for their teams for a while now, and the feedback they've received has been overwhelmingly positive - you can check it out here.
RELATED: How to Create A Knowledge Sharing Culture for Frontline Employees
#3 Make your communications engaging
A great internal communications strategy takes into account not only what information you send out, but how you do it.
It's no secret that we all have very limited attention spans these days, so it's important to grab it while you can. That means sending only the relevant information at the right time, keeping it short and sweet, and ideally making it fun and engaging to read.
Most importantly, your communications should take into account the way frontline employees actually work. That means optimizing your platform for mobile devices so they never miss an update, and making it user-friendly and interactive.
RELATED: Why You Should Invest in Driving Frontline Employee Engagement
#4 Celebrate your frontline employees' achievements
Frontline employees are the unsung heroes of their industries. They're so often overlooked, but businesses would be nothing without their invaluable contributions.
That's why it's so important to showcase their achievements for everyone to see. Whether it's giving shoutouts to the stores with the best sales figures or best customer feedback, or recognizing the hard work of one particular employee, putting the spotlight on them every now and then will remind them how important their hard work is.
RELATED: How to Engage Your Teams With Internal Communications
#5 Leverage data to better understand your frontline employees' needs
Digitizing your internal communications gives you access to a wealth of information about your employees' performance, their strengths and weaknesses, and how they feel about their work.
Choose the metrics that are most important to you, such as engagement rate, percentage of employees reading a post on your newsfeed, or the number of likes and comments you get on a post, and then analyze that data to gauge how engaged your employees are with your communications.
From there, you can improve on things that they perhaps aren't responding to, and double down on the things that are working well.
RELATED: 7 Surprising Employee Engagement Metrics to Track for Frontline Employees
#6 Combine communications with training
Last but not least, one of the best ways to support your frontline employees is by giving them regular training.
Continuous learning should be a priority for any business even under "normal" circumstances, but now that frontline employees are having new information and guidelines thrown at them constantly, they really need the extra support of training to help them implement changes.
By showing your frontline employees what to do with dedicated training modules, rather than simply telling them, you'll get much more effective results. Not only that, but getting them actively involved in their own learning and development will give them a sense of pride in their work.
RELATED: Why Frontline Employees Need a Unified Platform for Training & Internal Communications
---
Ready to start informing, motivating and celebrating your frontline teams with top-notch internal communications? Request your free personalized demo below!