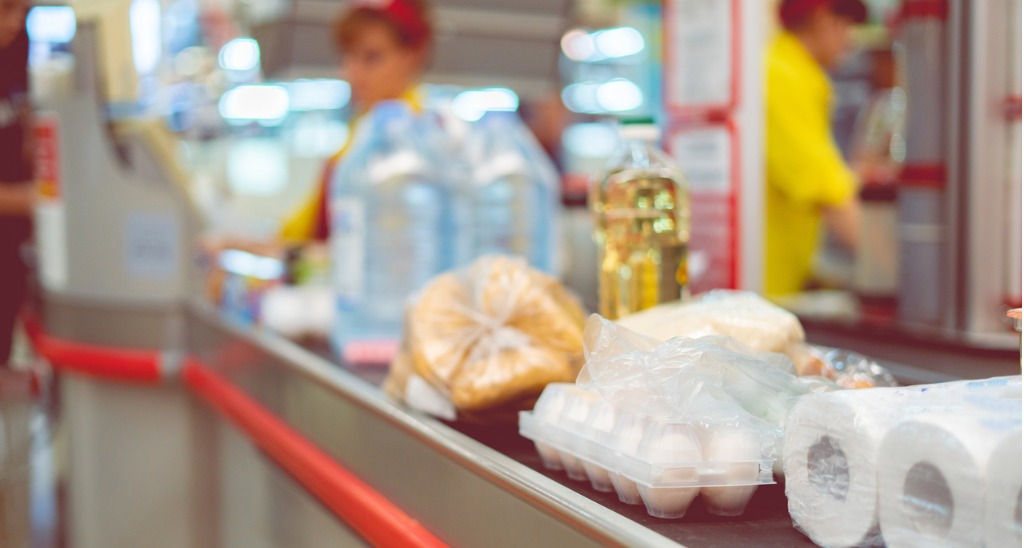 At the time of writing, there are over 200,000 cases of COVID-19, also known as Coronavirus, across the world.
While in many countries other retailers shutter their stores, supermarkets remain open.
As a result, an unprecedented level of consumer demand is putting pressure and strain on both employees and supply chains.
While consumers stock up on essential items all over the world, supermarket employees have become the unsung heroes on the frontline of the coronavirus crisis.
Not only do they help shoppers find what they need while dissuading panic-buying, but they also expose themselves to increased risk while others stay at home.
For all supermarket chains, enacting extraordinary measures to protect shopper health and safety, keeping stores open and well-stocked, and keeping frontline employees informed and connected is a challenge.
We've seen many of our customers leverage technology to better support stores and ensure health and safety guidelines are being respected, while keeping things running as smoothly as possible.
Here are some precautions we've seen our customers put in place using the YOOBIC platform that can help supermarkets better support their stores during the crisis.
1) Making it easier for supermarkets to be compliant with health & safety policies
As social distancing and self-isolation keeps more people at home, foot traffic in supermarkets increases exponentially every day.
That means shoppers are coming into increased contact with each other and with store employees, increasing the likelihood of transmitting COVID-19.
It's essential that all health and safety policies are followed to the letter to decrease the risk of spreading the virus.
Some of our customers are creating campaigns within YOOBIC to share health and safety protocols with stores.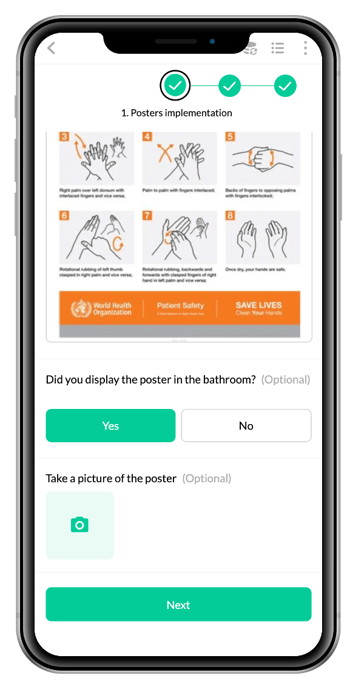 Stores implement policies, protocols and guidelines and submit the mission back to HQ.
HQ then verifies store compliance with health and safety policies, and if some stores need extra support to be fully compliant they can send checklists or get an area manager involved.
2) Monitoring stock of essential items across the store network
With photos of empty toilet paper and pasta shelves cropping up on the news and social media, it's more important now than ever to have complete visibility into stock levels on essential items.
Some of our customers are proactively preventing shortages by creating campaigns for stores to report when they're low or out of stock of certain items.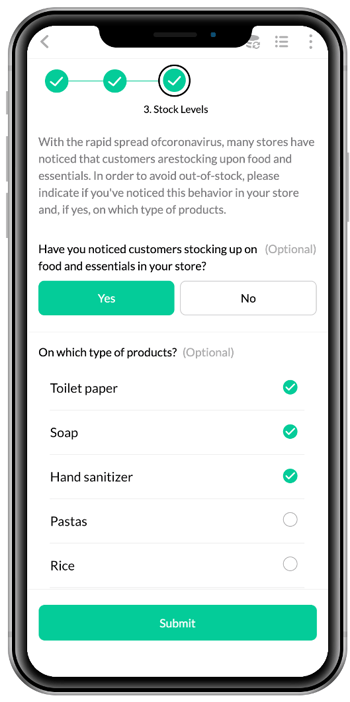 Stores report on their stock levels, including photos, and then send the completed campaign back to HQ.
HQ can track low stock alerts and make supplier adjustments where necessary.
3) Communicating critical information with store teams using a newsfeed
New information about COVID-19 is being released constantly, which means you need a quick and agile way to communicate with your teams. As the day-to-day lives of supermarket employees get increasingly stressful, it's important for them to feel kept in the loop.
Some of our customers have been using the YOOBIC Newsfeed to disseminate the up-to-the-minute information their teams need to know.
They post regular updates about the evolution of the crisis and what it means for employees, stores and the company as a whole.
They can also share documents, photos and videos - of the World Health Organization's hand washing guidelines, for example, or their own company guidelines regarding issues like staff hygiene or what an employee should do if they fall ill.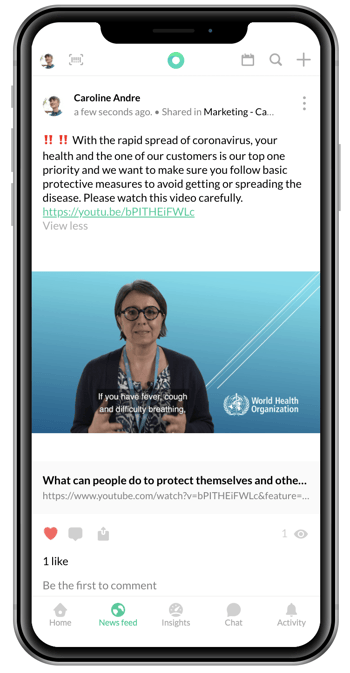 Furthermore, it's important to make sure communication isn't one-sided; it's just as important for stores to be able to let HQ know what's happening on the front line, especially when supermarket employees are stretched thin and need extra support.
Create polls to get a feel for how employees are feeling, and ask for feedback on how well the situation is being handled. You can then use that to keep track of your network and make informed decisions.
4) Making sure stores have the supplies they need
Resources can quickly become scarce in times of crisis, so it is essential to provide stores with everything they need to get by.
Checking that every store has what they need - be it posters for promoting thorough hand washing or proper respiratory hygiene, or hand sanitizer and soap dispensers - is key to keeping employees and customers safe.
And as many countries steadily shutter restaurants, pubs and stores, and enforce increasingly strict social distancing policies, overworked supermarket employees are vulnerable to contracting COVID-19 and developing more serious complications if they fall within at at-risk group.
Considering this, it's absolutely critical stores have the supplies they need to maintain employee health and safety.
By creating a campaign in YOOBIC for stores to report back to HQ on their status with these key supplies, HQ can make sure stores are properly prepared.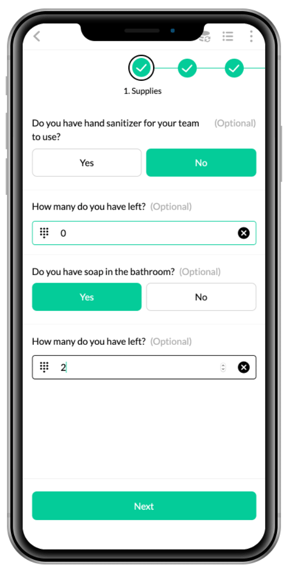 Any stores that are missing crucial supplies or communications collateral can be flagged up and fixed quickly. HQ can then re-assess the supply chain and make the necessary adjustments to make sure stores continue to get what they need.
5) Helping store teams to ramp up the frequency and consistency of store cleanings
To protect customers and themselves, grocery retailers are ramping up the frequency of cleaning and disinfecting all surfaces, objects, walls, floors and restrooms.
Some of the biggest chains like Publix, H-E-B, Walmart and Tesco are altering their operating hours to give teams more time for cleaning and disinfecting.
When things get this busy for frontline employees, they need extra support.
Some of our customers are creating recurring campaigns with checklists in YOOBIC to help stores with cleaning and disinfecting schedules.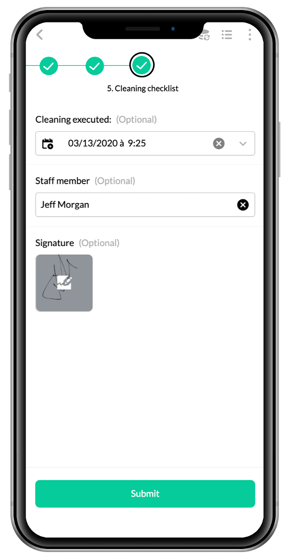 HQ can also set up notifications for stores before the cleaning is to be done and if it hasn't been done yet.
Stores then complete each checklist and submit it to HQ.
This makes it easier for HQ to ensure health & safety guidelines are being followed.
Knowing the steps supermarkets are taking to clean and disinfect is top-of-mind for anxious customers.
So, increased visibility into these procedures across the entire store network is also a way to confidently reassure customers via email updates and press releases that all possible steps are being taken to protect their safety.
6) Providing interactive and collaborative training to frontline employees on preventative measures
It's critical to the safety of customers and employees that employees retain knowledge on how to protect themselves and others from contracting COVID-19.
And the strain on supermarket employees means they need a way to access training that's tailored to the new day-to-day realities they face.
Reformatting training into short, easy digestible chunks, also know as microlearning, has been proven to boost information retention and is ideal for deskless employees who are always on the go.
Some of our customers have created short lessons with quizzes about Coronavirus for employees to complete on YOOBIC's collaborative learning app, Boost.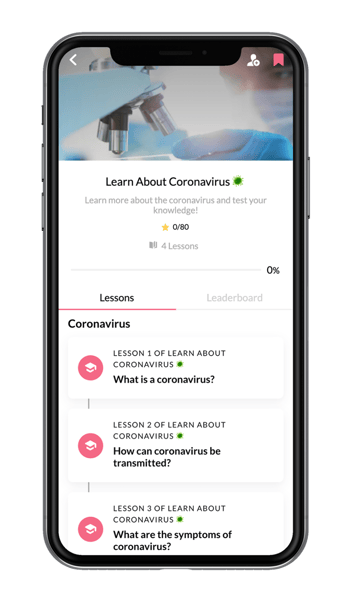 Using quizzes ensures all employees have completed the required trainings, and gives HQ visibility into which employees have and haven't completed the training.
7) Centralizing information about absences and quarantines for every store employee
Typically, HQ doesn't have much visibility into absences of supermarket employees.
But as the Coronavirus impacts exponentially more people every day and more shoppers come into supermarkets, it's essential for grocery retailers to make sure absence and quarantine policies are being followed precisely.
Some of our customers are tackling this by creating campaigns in YOOBIC to share policies with store managers and have store managers report back if any staff are absent or quarantined.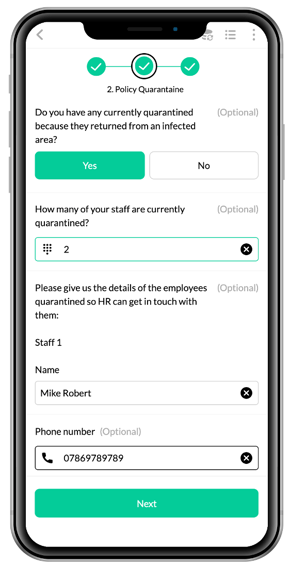 This enables HQ to have accurate data from across the organization and take data-driven decisions where necessary to protect everyone's safety.
8) Switching to Virtual Store Visits
If area manager travel is banned or discouraged, supermarkets can leverage technology to help area managers complete their store visits - without actually having to set foot in a store.
In YOOBIC, HQ can create campaigns for store managers to take pictures and videos of what an area manager would usually cover during their visit and send them to their area manager.
The area manager can then go over these with store managers on the phone.
The area manager can complete their visit virtually using the YOOBIC store visit tool, create a visit report and send an action plan for store improvement if necessary.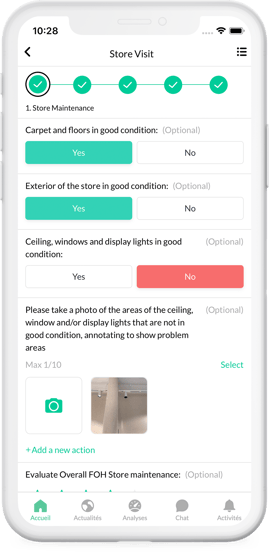 --
Learn more about how YOOBIC help grocery retailers streamline store operations while keeping their frontline teams informed and well trained.