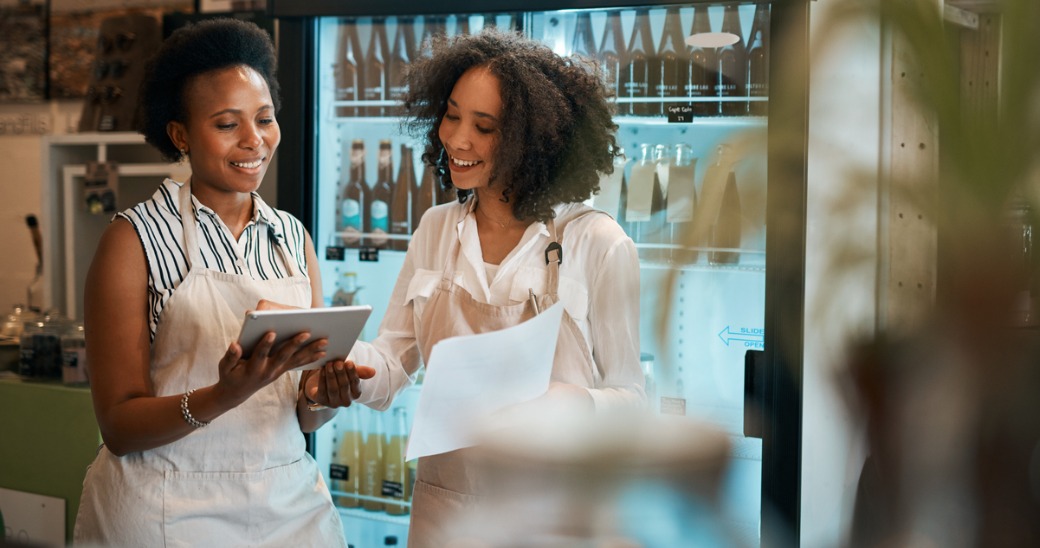 Store managers, salespeople, department heads, waiters, receptionists...
Field teams represent 76% of the retail, hotel and restaurant workforce.
Their roles have transformed throughout the pandemic. Between click & collect and virtual shopping, employees in the field need to be even more versatile and skilled as they are now responsible for increasingly numerous and complex tasks.
Field teams are brand ambassadors and the first lever of commercial performance. They are also the first point of physical contact with end consumers and play a key role in customer relations. Therefore their learning and development is of the utmost importance.
However, these workers are largely forgotten in training strategies:
64% want career advancement but don't get the support they need
35% think they don't receive enough training to develop their skills
Here are 4 ways to give your field teams the learning experience they deserve while boosting their performance and engagement.
#1 Make learning accessible
Training frontline teams is no easy task. They are numerous, mobile, geographically dispersed and have little time to spend on training.
To improve the training of your frontline teams, you must first make it more accessible by adapting it to the reality of their roles:
Give them the right training tools: Training should be accessible on a mobile device. Your field teams do not have time to spend an hour doing computer-based training in the back office between serving customers. To enable them to learn easily, provide them with a mobile-first learning app in the format of social media. It's easier to use a new tool when it resembles what you're already familiar with.


Opt for a BYOD (Bring Your Own Device) policy or equip your employees with a company mobile device: this allows them to access training content whenever they need it.


Rework your training content: Once you've adopted mobile learning, you need to rework your training content for this format. Don't try to transform your 20 page PDF into a single mobile learning module. You need to stick to the basics and divide your content into small, easily digestible chunks. If you don't have content or if you need help adapting your existing content to a mobile format, our partner Skillsday can provide and create training modules relevant to your learners.
#2 Integrate learning into day to day life
When it comes to training field teams, most companies face the same problem: the adoption rates of their training tools are very low. Teams have little time to train and they already use so many tools on a daily basis that they barely connect with tools specifically for learning.
To meet this challenge, you must integrate training into the daily lives of field teams:
Use microlearning: This format allows teams to train regularly and in just a few minutes when they need it.
Make your content accessible at any time: You can obviously assign specific modules to your teams, but it's also recommended to create a content library with very short modules on specific topics. For example: loyalty programs, mobile payment software, retail sales training for a specific product, welcoming customers, taking inventory, etc. Your teams can access any information they might need in just a few taps.
Use a centralized platform integrating daily operations and communication training: If your teams don't have to switch between tools all day and they can access training on the platform they use the most, they will be more willing to spend time learning. Additionally, this allows you to integrate training modules directly into daily operations like checklists or procedures, so employees can learn as they go.
#3 Make learning fun and social
58% of field teams think training needs to be fun and engaging to be effective.
Making training engaging and fun reflects the realities of working in the field and helps employees better absorb information and knowledge. Since employees are having fun, they will be more inclined to train themselves, thus driving the adoption rates of training tools:
Use social media codes: If your training app resembles apps your teams personally use every day, like Instagram or Facebook, adoption will be much higher.
Use a variety of content: Choose videos, images, infographics and quizzes to aid information retention and make content more engaging.
Incorporate gamification: To encourage teams to train more regularly, use points, badges, battles and leaderboards.
Create a community of learners: The work of field teams is inherently social and they want to be connected to their colleagues. Congratulate employees who complete the most lessons, organize challenges and encourage users to interact with each other via a newsfeed in order to develop a real culture of learning.
#4 Link learning to business objectives
For training to be effective, it must be measurable. In a time when training budgets are often the first to be frozen, it is essential to be able to measure the adoption and impact of your training programs on business performance.
Analyze the right learning data: Evaluate learning data by module, by region or by user to see where you need to focus on improving the completion rates of courses.
Correlate learning data with business performance: When you invest in a training platform, make sure it will allow you to correlate your training KPIs with your business KPIs such as sales performance, conversion rate or NPS in a simple way. This will allow you to analyze the impact of your training on the performance of your teams and to explain these results to the whole organization. By highlighting the link between learning and business performance, your employees will see that they can directly participate in the success of the company, which will encourage them to excel even more.
Track skill acquisition: Create quizzes and certifications to track the progress of your teams. You can also use confidence-based learning, a method which compares the level of confidence of your learners with their real knowledge. This will allow you to identify gaps and motivate less confident employees.
YOOBIC is a Digital Workplace allowing field teams to train, communicate and manage their tasks in a single platform. With YOOBIC, field teams train 50 times more often, with an adoption rate 33% higher than the LMS average.
More than 300 companies including The Kooples, Lacoste, Mazda, Petit Bateau and Merck trust YOOBIC to improve the performance and experience of their field teams. To find out how, get a demo!