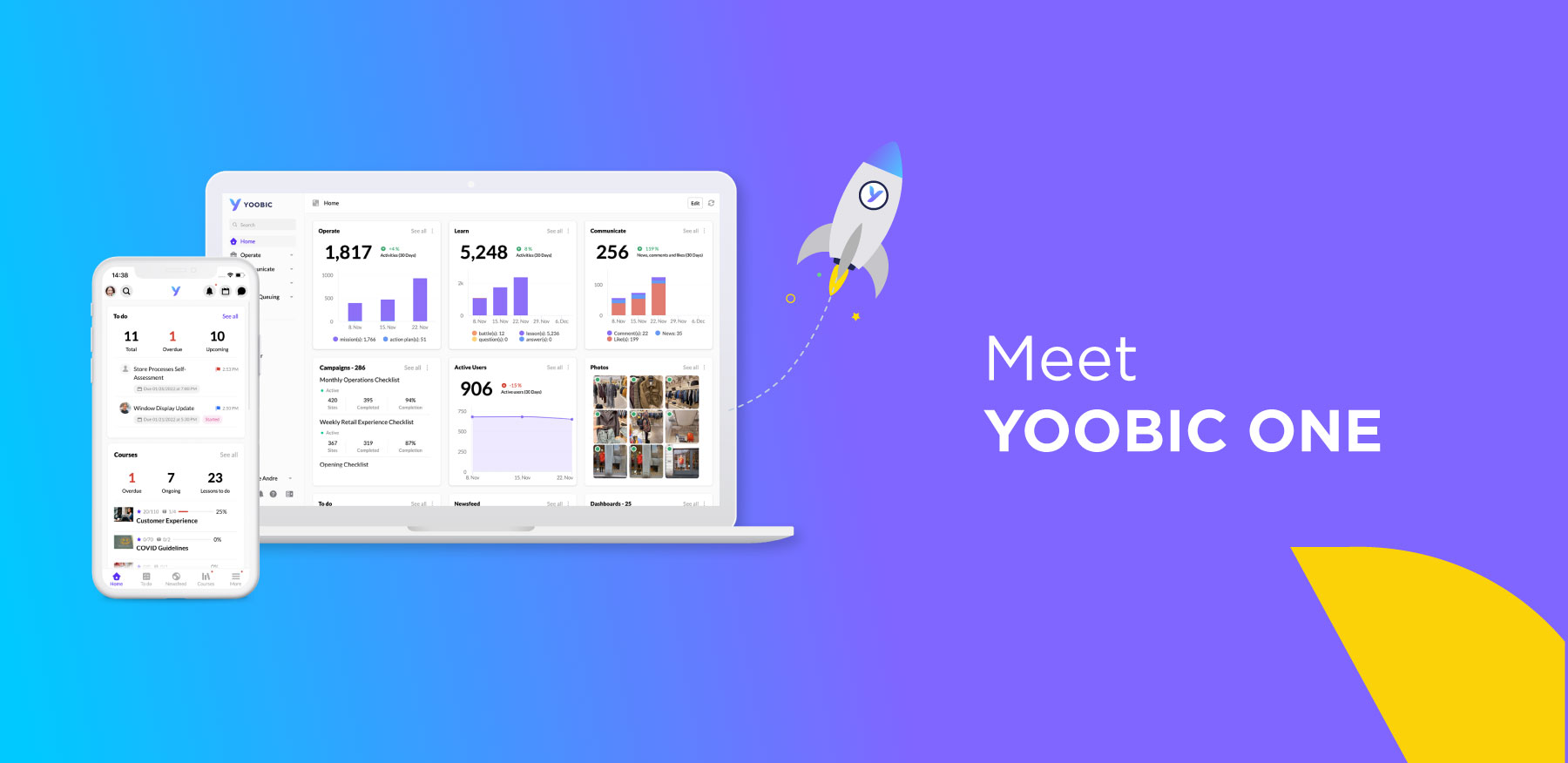 The way customers shop and dine has evolved. As a result, the roles of the frontline employees working in stores and restaurants have also evolved to include more responsibilities, heavier workloads and a constant need for knowledge and information to keep up with customers.
Throw in a labor crisis, and we have far fewer frontline employees fighting a daily battle that they just can't win.
Without the right support and empowerment, that is.
That's why we're launching YOOBIC ONE , the culmination of 7 years of research and development to build the best platform for deskless workers.
YOOBIC ONE is the latest evolution in our digital workplace technology.
There's ONE way to empower, engage and motivate frontline teams, and that's by unifying communications, learning and task management in a cohesive, user-friendly and fun app.
While there are a plethora of solutions for frontline team communications, task management and training and learning, they will inevitably disrupt the flow of work because they're separate tools. Jumping between solutions and applications adds complexity, costs frontline employees valuable time and reduces their productivity.
In addition, communicating, completing training and managing tasks are all interdependent and intertwined functions for frontline employees. Unifying them into one application was the logical next step for supercharging frontline team performance and measuring the impact of all communications, campaigns and L&D initiatives.
Let's illustrate this with the example of a retailer launching a new product collection across the store network.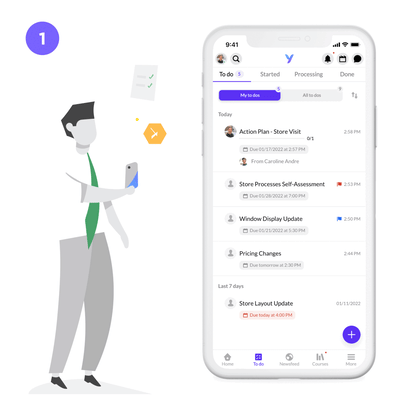 With YOOBIC ONE, a store associate first receives guidelines for the in-store launch on their personal or company device. The guidelines are coupled with short training videos and a gamified quiz so teams can learn about the new collection before implementing it in stores. Then, the store associate follows the step-by-step task instructions for implementing the new collection and communicates proof of completion back to regional and HQ teams. Once tasks are validated, HQ can share pictures of perfect implementation, best practices and shout outs to top performing stores across the entire network through the newsfeed.
Replicate this in every store, and you not only have an engaged and productive frontline workforce, but insight into how learning and internal communications impact task execution - and ultimately customer experience.
To succeed in 2022 and beyond, businesses with frontline employees must do 3 things:
Augment teams with tech so they can do more with less time and fewer resources
Elevate the employee experience to hire and retain the right talent, and
Get real-time, actionable business insights to continually improve performance
Our goal with YOOBIC ONE is to give businesses a simple but powerful way to achieve all of the above.
For us, this is a lot more than just a new release - it's redefining how frontline employees in retail, hospitality and more work every day, and making their employee experience a priority.
That's why we couldn't be more excited to be officially launching YOOBIC ONE today, and sharing 3 of the many new features that will help frontline teams be at their best.
1) A new home page for an instant overview of what matters
We've redesigned the homepage with a new mini-dashboard giving an instant overview of all missions, polls, requests, action plans and the details of your sites. The homepage can be customized by reordering the widgets.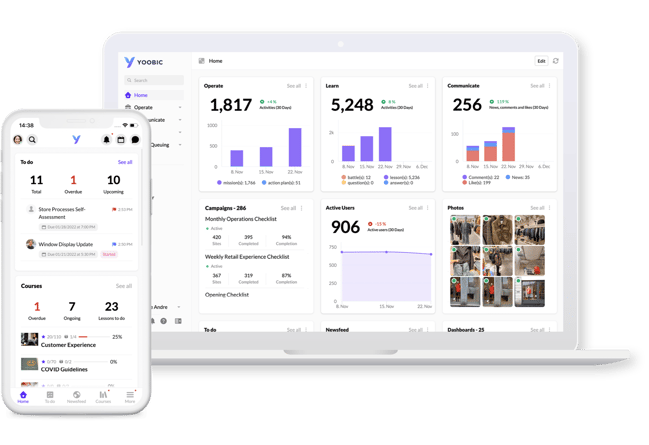 Whether their role type is a store associate, store manager or regional manager, YOOBIC users can now start their day with a bird's eye view into what needs to be completed, learned or communicated, what to prioritize and even which of their sites need the most support, which helps them plan more effectively and make every day productive.
2) A new to do page for effortless task management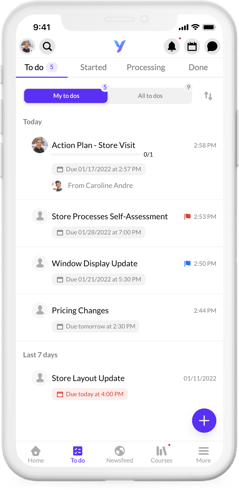 We've made the to do page more intuitive by centralizing all tasks (missions, requests, polls and action plans) in one place. Tasks can be prioritized with color flags, as well as sorted by date received, due date, priority or category.
Finally, site and area managers can switch between views of their own to dos, team to dos, and to dos to be validated.
With the new to do page, frontline teams manage their tasks instead of their tasks managing them. With an immediate view of individual and team to dos, managers can prioritize what they need to get done and can better support their teams in getting their tasks done too.
Having ONE to do page for everything communications, training and task related helps busy frontline teams streamline their heavy workloads.
3) New calendar view for better prioritization of limited time
Both the web and mobile calendars now have clearer views of what's on the agenda - missions, action plans, courses, events, visits, posts and tasks for individual employees as well as managers and their teams. You can even integrate items from other calendars so you won't miss a thing.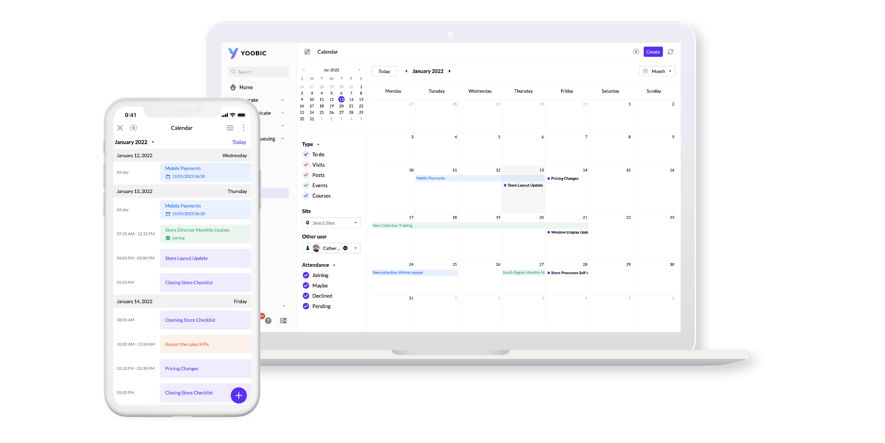 A crystal clear overview of what's coming up today, this week and this month helps teams at all levels make full use of their most precious and limited asset - time.
Store managers can have a visual aid to plan employee shifts and assign tasks.
Area managers can plan out their site visits better, and make sure workloads for each site are realistic and manageable.
And finally, HQ has full visibility into team schedules and can assign tasks at the right time for busy frontline teams.
--
Want to learn more about YOOBIC ONE?
See the new features for yourself, and find out why 300+ companies like Peloton, Lacoste, Boots, UNTUCKit and BurgerFi are already supercharging their frontline team performance and experience with our digital workplace!