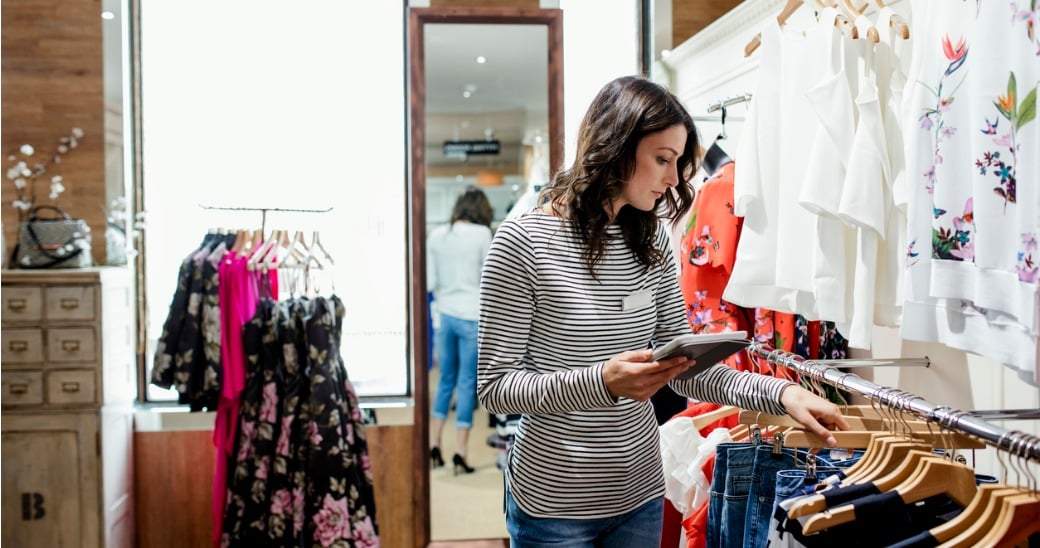 Over and over again, since the start of the pandemic, we've seen retailers cram years of digital innovation into just a few months.
Traditionally, brick and mortar's reputation has been the polar opposite of this. To stay relevant in an increasingly digital retail industry, the brick and mortar workplace also has to embrace digitization. For any retailer wanting to keep up, the best way is with a digital workplace.
This post will explain the benefits of a digital workplace, why retail employees need it and how to implement one.
What is a digital workplace?
Quite simply, it's a digital space specifically designed to give employees everything they need to perform their jobs to the best of their ability and improve their experience as employees.
A digital workplace is made up of technologies, platforms and apps that help employees:
Communicate easily by removing barriers between colleagues and teams in different locations and at different levels of the organization


Learn quickly by providing the right knowledge at the right time in the right amounts


Work productively by minimizing time spent on administrative tasks
The features of a digital workplace vary depending on the needs of employees from organization to organization, but crucially it should provide:
A collaborative newsfeed space which connects employees across teams, roles and locations.

A unified hub for all learning content and store process guidelines, enabling employees to access training material within their flow of work.

A tool which streamlines and automates daily tasks and enables HQ to provide real-time feedback.
Why do retail employees need a digital workplace?
As things stand, retail employees' day-to-day roles are mainly focused on transactional work - like completing tasks - instead of higher-value work, like building relationships and upselling.
Retailers need store associates to do more of the second kind of work to adapt and grow as a business. Survival depends on it.
Retail employees need a digital workplace specifically tailored to the realities they face every day - not just for the success of the business, but for their experience as employees.
Some of these realities are:
Not having a company email address or access to the same collaboration tools as HQ employees


Needing detailed and often technical product knowledge in the moment


Being deskless employees who spend the day on their feet, jumping between multiple tasks and even locations
The need for a digital workplace strategy has only intensified since the pandemic, because the role of the store associate has changed so quickly. When online shopping is so convenient, shoppers visit a physical store because they want a personalized experience that you can only get from exceptional in-person customer service. But now, a store employee is also a safety expert, order fulfilment specialist and anxious customer reassurer, on top of their existing responsibilities.
But while office-based employees might have solutions that help them manage their to-dos, instant messaging tools to talk to their colleagues around the world, and company subscriptions to platforms like LinkedIn Learning, retail employees typically have none of these. They don't even have a watercooler to gather around and bond with their colleagues.
A store only performs as well as the people working in it. And the bottom line is: a digital workplace gives retail employees everything they need to perform their best.
Retail without a digital workplace:
Disconnected stores
35% of retail employees feel disconnected from their organization. Source:YOOBIC Frontline Employee Survey 2021
Stores are left out of the loop on important company news and updates, because it's difficult for regional and HQ teams to reach them when the only computer they have access to is the one in the back office.
Ineffective learning
37% of retail employees are trained only once per year or less Source:YOOBIC Frontline Employee Survey 2021
The go-to methods of training store teams, like classroom sessions, shadowing and paper take-home materials, haven't changed much in years. They don't keep up with a retail employee's need for knowledge and progression.
Knowledge silos
Since stores are disconnected, knowledge isn't shared between locations so everyone can benefit from it. Irreplaceable expertise acquired from years of running stores and helping customers never leaves the shop floor and levels of understanding could be completely different in every store.
Related Infographic: A Guide to Improving Frontline Employee Learning
Inconsistent customer experience
Since each store has different knowledge and different ways of doing things, customer experience isn't the same in every store and brand reputation is damaged. The in-store experience is sub-par in many stores since employees have less time to spend with customers and struggle to retain product knowledge.
Unproductive store associates
Store processes are paper-based or completed using disparate applications like email and Excel. Store associates lose time and productivity searching for information and manually completing routine and one-off processes instead of spending it with customers.
Higher costs of operating stores
Regional teams have to make costly visits to stores to uncover and fix issues. Employees aren't as productive, autonomous or connected as they could be, so retailers have to throw more time, money and resources into managing stores.
Related Download: Retail Recovery: 4 Ways to Cut Costs and Boost Performance
Lost revenue
An inconsistent customer experience damages brand image and loses in-store conversions, which impacts revenue.
Benefits of a digital workplace
Related: 5 Benefits of a Digital Workplace for Frontline Employees
Employee engagement
Easier communication with HQ and regional teams, tools to quickly and accurately complete processes and accessible learning engage store teams, because it's easier to do their best work.
Reduced costs
Efficient stores, fewer regional team visits to correct issues and internal knowledge sharing are just a few ways a digital workplace slashes costs.
Productivity
Better business processes allow employees spend less time searching for information and less time on repetitive admin work, which leaves more time for high-value activities.
Accessible learning
A digital workplace brings learning content to retail employees, instead of the other way around. This boosts product knowledge and information retention.
Connectivity
A digital workplace connects stores to the rest of the organization by bringing company news and updates to them, and bringing stores into the conversation so they can share their questions, challenges and successes.
Collaboration
Since a digital workplace connects stores and facilitates information sharing, collaboration with other stores, regional and HQ teams is much easier, fulfilling every employee's need for being part of a team.
A better employee experience
Since employee needs and expectations like autonomy, teamwork and connection to a bigger purpose are being met, the work environment and their employee experience naturally improves, along with employer branding and retention rate.

Knowledge sharing
A digital workplace solution connects employees in different locations so they can share tips, concerns and ask questions, creating a knowledge sharing culture.
A better customer experience
Productive, connected and knowledgeable employees automatically improve customer experience and are the differentiator every retail brand needs.
More revenue
A better customer experience naturally boosts in-store conversions and basket size, which grows revenue.
Autonomous, empowered employees
Store teams have everything they need to perform their best, so they can autonomously make the right decisions and focus on empowering work.
Related: Why a Mobile Digital Workplace Empowers Retail Employees
Why and where are retailers getting it wrong?
Underinvesting in store teams
Even after retail employees have proven their resilience and dedication repeatedly over the two years, many retailers still don't see their work as a core business competency that's worth investing in. Customer-facing aspects of retail are still viewed as a priority for these investments.
Not providing store teams with digital tools
If it ain't broke, don't fix it, right? This attitude keeps store performance plateaued. Store associates drive the digital transformation of stores, whether it's a new virtual reality environment or a ship-from-store platform. All the while, they're still using paper and emails behind the scenes.
76% of retail employees think digitized processes would make them more productive Source:YOOBIC Frontline Employee Survey 2021
Not using the right tools
Even if a tool might seem perfect on paper, if retail employees have to disrupt their flow of work to access it (e.g. leaving the shop floor, checking email after their shift), adoption rates will stay low.
How to implement a digital workplace
Complete an audit - find out what platforms employees are currently using on the job for communication, learning and task management. These can include desktop computers, social media, paper forms and websites.


Talk to retail employees - ask how they could be better supported. Which tasks take a long time to complete and could be done faster digitally? What kind of training do they think would be helpful? What sort of communications would make them feel connected e.g newsletters/competitions/store of the month award?


Digitize processes - automate processes where you can. Many of the tasks your employees currently do by hand like checking expiration dates, taking inventory and completing opening and closing paper checklists can be digitized. This will give employees more time to spend on empowering work like helping customers.


Invest in one platform that can do it all - find a streamlined, mobile-first platform that can combine communications, learning and task management in one app. It's critical that the platform is accessible for every employee, so implement a BYOD policy or provide employees with mobile devices to use at work.


Lead from the front - encourage employees to use the platform by leading by example. In addition to delivering all tasks, training and business communications on the app, make it fun. Post videos and gifs celebrating promotions and birthdays, use games and leaderboards for training, create incentives for employees who complete the most tasks to perfection, and include surveys encouraging employees to give their feedback on their experience working for the company. If employees feel like the platform is fun, useful and beneficial to their employee experience, they will want to use it.


Where do I start?
Choose the right digital workplace
Is it accessible on mobile? Retail employees might not be around a computer, but chances are they're carrying a personal or company device at all time.
Is it scalable? Employees shouldn't require excessive training to start using a digital workplace, so the tool grows with your organization.
Is it engaging? Social media features like a company newsfeed and gamification are a few things to look for. This keeps adoption rates high.
Is it measurable? You can't improve what you can't measure. Whether this is adoption rate or engagement with internal communications content, the right digital workplace not only pulls the right data, but automates the analysis of it, so regional and HQ teams can make data-driven decisions without needing to be data scientist.
Is it unified? When you're as busy as a store associate, it really is best to have everything in one place. Jumping between different places searching for information will leave your retail employees constantly feeling like they've walked into a room and promptly forgotten why they came in there.

Pro-tip - combine store communications, learning and task management in one digital workplace tool.
How other retailers did it
Adore Me
Previously online-only intimates retailer Adore Me knew that a consistent in-store experience would be critical as they scaled up their brick and mortar presence. By using a dedicated digital workplace that combines tasks, store communications and training in one app, Adore Me keeps store teams engaged, motivated and working towards the same goal.
"This really brings alignment and a feeling of oneness that helps boost sales." - Paula Angelucci, District Manager @ Adore Me
-------
BurgerFi
Fast-growing restaurant chain BurgerFi replaced their outdated LMS and communication tools with an engaging and modern app. Now, BurgerFi can not only communicate critical information to their 3000 associates, but show them how it needs to be done. As a result, BurgerFi has achieved 100% adoption across the entire network.
"We have been able to rapidly deploy enhanced safety protocols to our teams and, most importantly, maintain constant communication with our BurgerFi family during these uncertain times" - Nick Raucci, Chief Operating Officer at BurgerFi
Key Takeaways
Retail employees need a dedicated digital workplace, because the store as a workplace hasn't kept up with their needs as employees.


A digital workplace should give store teams everything they need to work, communicate and learn without disrupting their flow of work.


Use mobile to make your digital workplace accessible and engaging for store teams.