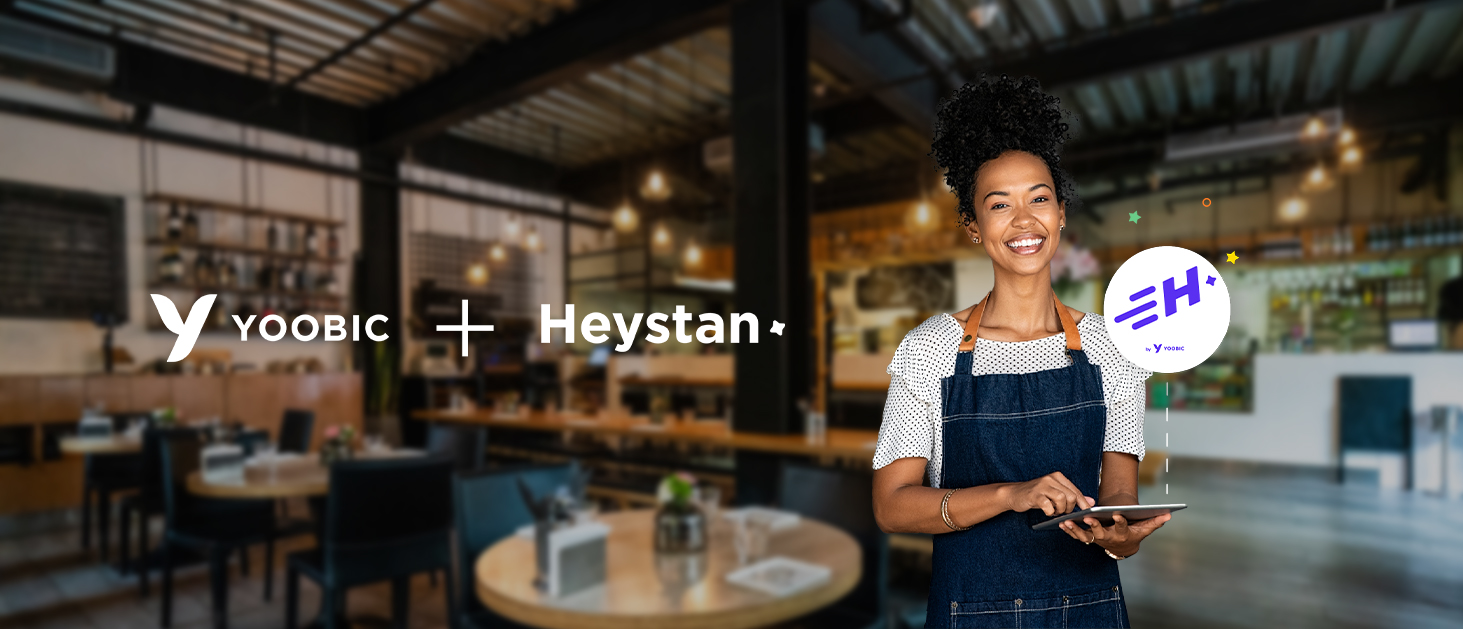 YOOBIC just announced the acquisition of Heystan, a digital training and knowledge management platform serving the catering and hospitality industries. To learn more about this new collaboration and why YOOBIC and Heystan make the perfect combo, we sat down with Fabrice Haiat, co-founder & CEO of YOOBIC, and Léo Corcelli, co-founder & CEO of Heystan.


Leo, this acquisition is a very exciting time for you and your team, can you tell us a bit more about Heystan?
Faustine, my co-founder, and I have a background in hospitality. Throughout our time in the restaurant industry, we came to understand that frontline employees are the main lever impacting the quality of the guest experience in restaurants. However, to deliver a good service, employees need to be trained properly and we both witnessed first-hand the challenges around staff training.
Indeed, when we interviewed restaurant owners and operators about their challenges, most of them told us the same thing: "I don't know how to consistently train my staff".
This is because most restaurant operators don't know how to standardize their processes and make sure frontline staff are following them consistently, especially when they are growing fast: they don't have the resources, neither the knowledge nor the time.
This is why we founded Heystan in September 2020. Our mission was to offer a solution for restaurant operators to empower their staff to deliver the best guest experiences. We created a turnkey solution for fast-growing restaurant operators that would enable them to standardize operational processes, transform these procedures into mobile learning content, and most importantly, deliver this content to their staff through an intuitive and gamified mobile app.


Fabrice, it's an important milestone for YOOBIC as it's your first-ever acquisition, why now?
Many tech businesses are hunkering down in the face of challenging market conditions, but YOOBIC has been going from strength to strength this year as there's an enduring demand for frontline employee enablement solutions.
In the midst of labor shortages, rising costs and supply chain disruptions, it has never been more important for organizations to invest in technologies that help enhance efficiency, increase performance and more importantly create a better frontline employee experience that drives employee retention and motivation.
We have had a surging global growth, with global sales leaping 40% year-on-year from 2020 to 2021. We have seen an explosive adoption in the North American market, with our user-base growing 80% in the first 5 months of 2022. Globally, YOOBIC onboarded more new users in the first 5 months of the year than in the whole of 2021!


Why do you think YOOBIC and Heystan make the perfect combo?
Fabrice:
We were very impressed with Heystan's agile team. They have driven rapid expansion since their product launch in 2021 and expect a 20X growth over the next 2 years. This really demonstrates the acute need for customized training and knowledge management for frontline hospitality workers.
This comes as no surprise when we see the results of our 2022 Frontline Employee Experience Survey: 49% of frontline retail and hospitality workers don't think that onboarding prepared them well for their job and 58% don't feel their organization has invested in their professional development.
It's clear that in the retail and hospitality industries, frontline worker investment is table stakes.
YOOBIC already has extensive QSR capabilities, trusted by dozens of household names including BurgerFi, Domino's, Urban Plates, and Bonchon Chicken, but this acquisition will help us to double down on both our training offering and our Hospitality and QSR market expertise.
Leo:
When we met with Fabrice and the YOOBIC team, we realized we had exactly the same ambition. We both wanted to create people-centered technology to help companies with frontline staff solve their biggest operational challenges while empowering their teams to deliver the best customer experience.
The YOOBIC platform is very advanced while the Heystan team has developed an expertise to support clients in not only digitizing their processes but also standardizing and transforming them into digital training content. Together, we can deliver the best frontline team enablement solution for hospitality organizations.
Also, Fabrice and I share the same vision when it comes to managing our business and rewarding the people that make it happen. We believe that, wherever our employees come from, with commitment and determination, they can achieve great things.


What do you want to achieve together?
Leo:
Careers in the restaurant and hospitality industries can be extremely challenging, but also deeply rewarding. Together, we will expand our ability to deliver agile, tech-forward solutions to help hospitality workers take pride in the value they create and better serve their customers while driving real bottom-line results for their employers.
Fabrice:
Heystan will continue to deliver customized training content and programs on YOOBIC's highly-awarded and top-rated platform. And thanks to the Heystan team, the YOOBIC team will gain additional training management and hospitality sector expertise, so we can develop new features and provide our customers with best-in-class digital enablement and collaboration solutions to reach operational and human excellence.


Where do you see the retail & hospitality industry going in the next 3 years?
We believe that the biggest challenges retail and hospitality organizations will face, not only in the next 3 years but the next 10 years will be people related.
Frontline-driven organizations will need to reimagine the employer-employee relationship to attract talent because many employees don't feel rewarded and recognized for their work and aspire to a career path. Employers will need to invest in attracting, empowering, and retaining their employees in an economically sustainable way.
Also, as costs increase, customers will become more and more demanding when it comes to customer experience and service. The only way for retailers, restaurants, and hotels to meet these expectations is through good management, support, and training of their staff: technologies and digital tools allowing them to do this consistently and at scale will be instrumental in helping organizations overcome the frontline staff management and engagement challenges ahead.


To learn more about how YOOBIC and Heystan help 300+ businesses drive operational excellence while drastically improving the frontline employee working experience, get a demo!