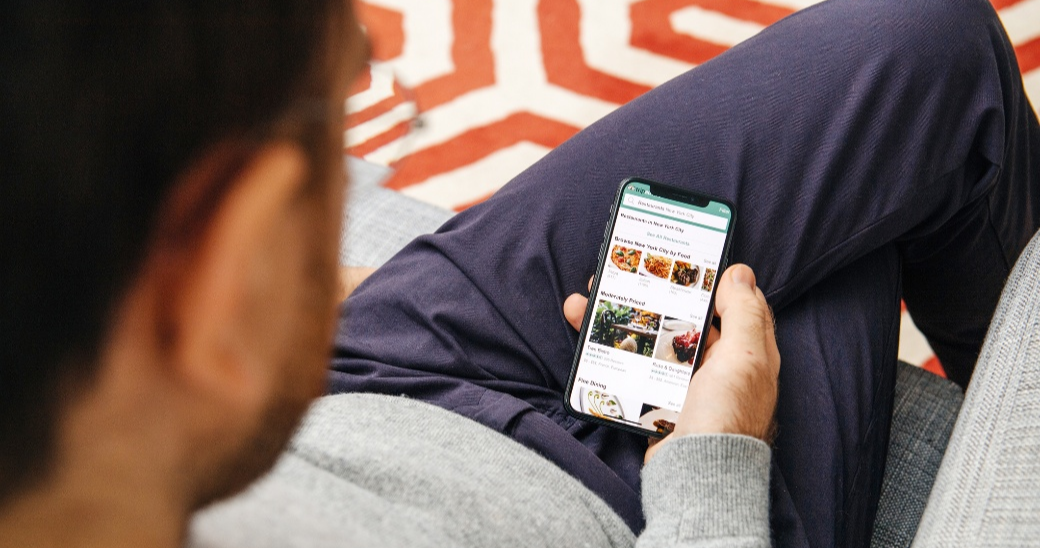 You know how they say the customer is always right? Well, never has that phrase been more relevant than it is today.
Online reviews can make or break a business. In the past, word-of-mouth publicity was limited to a customer's friends and family; now, a review can be seen by pretty much anyone in the world.
There's no room for bad reviews any more - and that means the hospitality industry needs to up its game.
That's why we've created a brand new YOOBIC feature: the Reputation Dashboard.
The Reputation Dashboard consolidates reviews from Yelp, Google, TripAdvisor and Facebook Pages, giving you an instant overview of your brand's reputation across your entire network.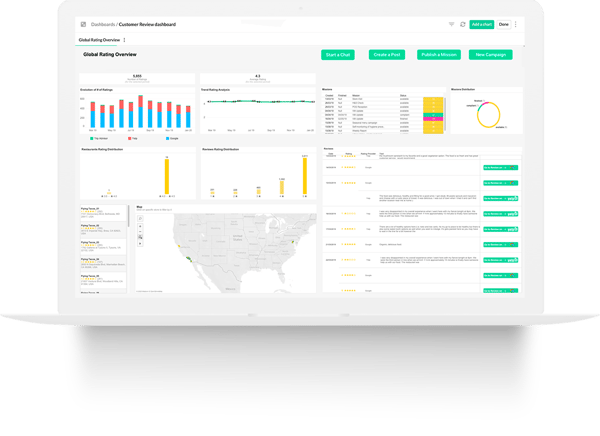 Why Review Tracking is Important
Star ratings matter to the average consumer - so much so, that it can make or break their restaurant choices.
91% of consumers use the internet when choosing a restaurant. It doesn't take a genius to figure out that less-than-stellar service will majorly impact your revenue.
According to a study by Harvard Business School, a one-star increase in your Yelp rating can increase revenue by up to 9%. So it stands to reason that pinpointing exactly what kind of feedback people are posting about your brand, and taking action to improve, will work wonders for your image and your bottom line.
However, only 14% of restaurant owners surveyed by TripAdvisor are looking to invest more in online reputation management in 2020. A significant chunk of restaurateurs are missing out on key insights into their brand's reputation that could help them improve the way they operate.
Now we've covered exactly why your restaurants will benefit from review tracking, let's get to the good part: all the awesome features in YOOBIC's Reputation Dashboard that will help you along your way.
What HQ can do
Easy access to these top review sites all in one place means being able to monitor feedback in real time, providing HQ with a greater understanding of what really matters to their customers. The food quality, the service, the ambience, the bathrooms… this is the best way to discern all the little things that make a big difference to a dining experience.
HQ can use the dashboard to launch campaigns for specific restaurants based on the feedback received at the click of a button. In addition, they can task area managers with giving specific instructions to sites, for example to ask customers to leave a review about their experience. This feedback can then be analyzed and used to further improve customer service.
HQ users can also gauge the effectiveness of any new concepts, initiatives or menu changes by looking at how their brand's ratings have evolved over time - a level of insight that you don't get on the likes of Google Reviews or Yelp.
What area managers can do
Just like HQ, area managers are able to identify which restaurants are performing well, and which ones need additional help and support, by accessing the full list of sites sorted by their average rating.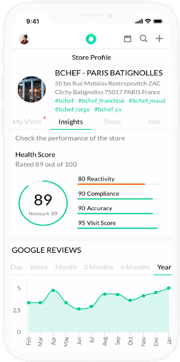 For a more in-depth look at an individual site, you just have to access its profile to check out its "health score" in the analysis tab, which takes into account statistics such as compliance and audit score. Then, if a particular restaurant is getting bad reviews or low scores, the area manager can start a chat with the restaurant manager to figure out what is going wrong and schedule a visit.
Going directly to the source makes it much easier to determine the root of the problem, and enables area managers to create tailored training programs to resolve it.
Area managers also receive notifications when a new review is posted, and can respond to them directly within the app, making it easier than ever to forge meaningful connections between the brand and the consumer.
This provides a unique opportunity: 45% of consumers are more likely to visit a business if it responds to negative reviews online. Actively responding to negative reviews, and having a strategy for doing so, can change the minds of people who might otherwise have written you off entirely.
What site managers can do
As a restaurant manager, you take pride in making your restaurant the best it can be. To do that, it's imperative to have easy access to your branch's reviews and ratings in order to keep things running smoothly and nip any issues in the bud.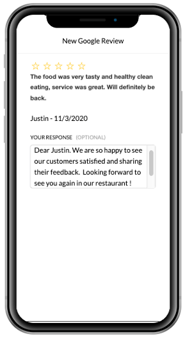 Restaurant managers get a notification every time a new review is posted about their restaurant, and can respond to them directly in the YOOBIC mobile app, just like area managers. They can also track their site's KPIs and how they've changed over time, giving them greater insight into their progress.
A validation loop with an area manager or HQ user can also be set up to monitor the quality of the responses, and the restaurant manager can also give their teams regular updates on both positive and negative ratings to identify areas for improvement.
The impact of the Reputation Dashboard on employee engagement
The vast majority of restaurant reviews are specifically about a customer's interactions with staff. Ultimately, this is the most important part of the dining experience - guests will remember how their server behaved and made them feel long after they've forgotten about the food they ate.
Poor service is likely to stop guests from coming back, and will almost certainly result in negative online reviews. The good news is, it works both ways. Great service does not go unnoticed, and guests that feel they were well-looked after are more inclined to shout about it.
This is a great opportunity to nurture and engage your employees. Use YOOBIC to set up targeted challenges and incentives for underperforming sites to help them improve, and reward the sites that are doing well.
Then, use the YOOBIC newsfeed to give shout-outs to the sites with the best reviews, best comments, biggest improvements or even individual employees - quite often, a server will be mentioned by name in a review. When you show employees that they're appreciated, the positive reviews will soon come rolling in!
---
Ready to take your restaurants to the next level with our Reputation Dashboard? Request your free personalized demo below!