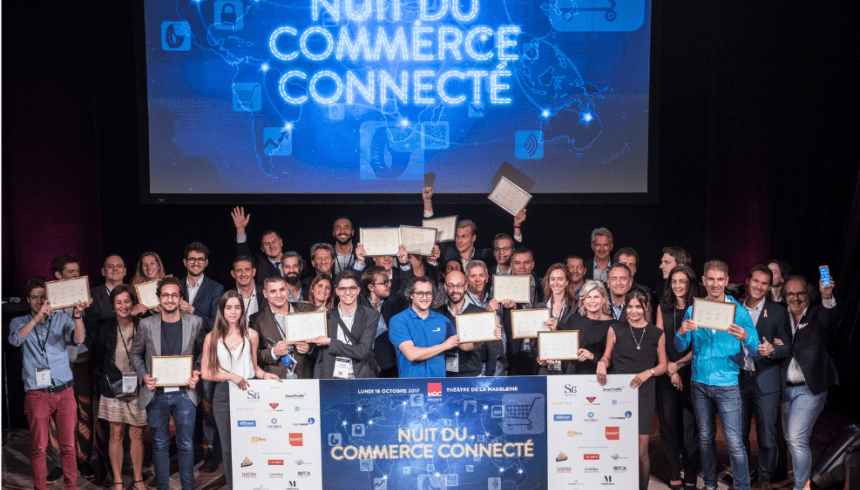 The Golden Award in the category « Best B2B Innovations »
YOOBIC, a mobile solution enabling retailers to monitor in-store operations in real time, was rewarded with the 1rst prize in the category "Best Innovations B2B – Optimization & POS Performance" at the Night of Connected Retail, a major retail event which took place on Monday 16th of October in Paris. "I would like to thank the jury, my team and especially our clients as this great reward is the fruit of their commitment and the confidence they have placed in us." expressed Fabrice Haiat, CEO of YOOBIC.
Jean-Paul Mochet, Managing Director of Franprix, a grocery store chain part of the Group Casino (900 stores), explained why the jury voted for YOOBIC: "It's an innovative B2B app which drives operational excellence and enables an immediate ROI. It's easy to use and it's also an excellent communication tool between HQ, regional and store teams". Jérôme Tafani, Vice President & Managing Director of Quick & Burger King and member of the jury added: "What I retain from this project which is crucial and well-conceived, is that it enables to ensure that everything is executed in the same way, simultaneously and everywhere across a store network".
A high profile jury
This year, the Night of Connected Retail gathered a jury of well-known retail experts: 19 retail executives from various industries such as grocery, fashion or specialized retail. Indeed, the 2017 jury was composed of the Managing Directors of leading retailers & brands such as Go Sport, Fred (LVMH group), La Maison du Chocolat, Nicolas, Kusmi Tea, etc.
The 50 finalists, nominated in 3 categories (Best B2B innovation, Best B2C innovation, Most digitalised retailer) were chosen among 86 candidates. They came to defend their project in front of the jury on Wednesday 27th of September. At the end of the day, the jury selected the winners of each award and they were announced during the ceremony on the 16th October 2017.
A major retail event
The 4th Night of Connected Retail took place on Monday 16th October at the Madeleine Theatre in Paris. This year, more than 800 people from the retail industry attended the award ceremony. "We are lucky this year to present more than 50 innovations in different categories such as client acquisition and loyalty, payment, data analysis, logistics, and supply chain" explained the organizers.