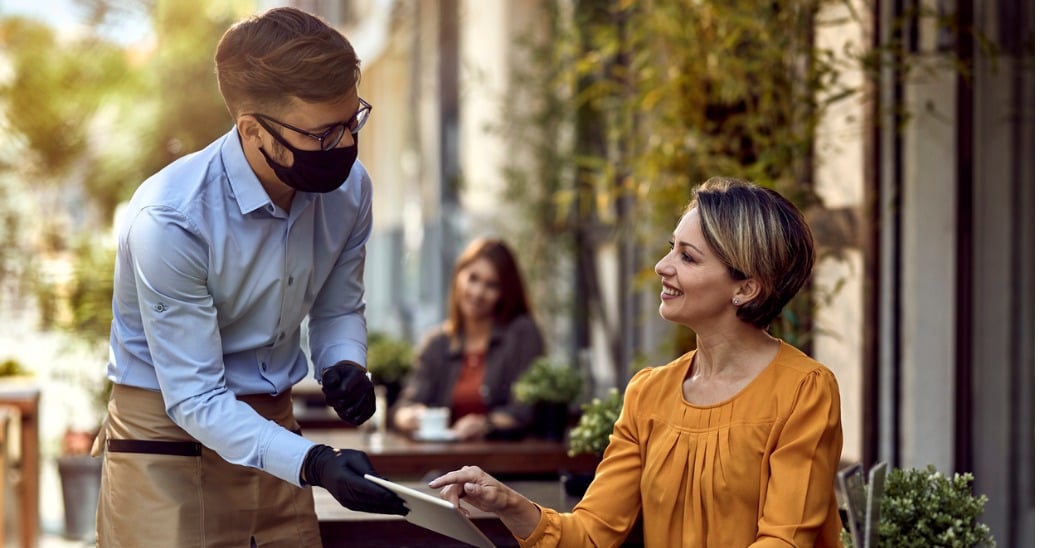 What would you say is the difference between an ok dining experience, and a great one? More often than not, it comes down to the staff.
The whole point of going to a restaurant is to have an experience, rather than just a meal. It's no wonder 78% of consumers have missed eating at their favourite restaurants over the pandemic.
And the dining experiences that guests actually appreciate and remember are the times when a server has gone the extra mile for them - be it by asking about their day, recommending their own favorite dishes, or just making the effort to be friendly.
In fact, a study of customer satisfaction in the restaurant industry found that the knowledge, politeness and attitude of restaurant employees was more important to customers than anything else, including price.
And in 2021, that interaction between customers and restaurant staff is even more important. Many consumers are understandably still nervous about dining out, and those that are willing to go to restaurants need the right health and safety measures in place in order to feel comfortable.
To put these customers at ease, restaurant staff must be on the ball at all times, as well as friendly and welcoming.
A great team of servers is the best weapon in a restaurant's arsenal.
Related: What do your restaurant employees need from you to be fully empowered in 2021? Download our 2021 State of the Frontline Employee Workplace Survey to find out!
That's why we've put together some of the top qualities we think a restaurant employee should have, and how you can nurture those qualities in your staff.
Short on time? Watch this short video summary instead:
1. They should be knowledgeable
A big part of a server's job is answering guests' questions and providing them with information about the food.
What does the steak come with? What kind of sauce is on that burger? What are your gluten-free options?
Restaurant employees have to be ready for any question that might get thrown their way, which means knowing the menu inside out. They should be able to tell you the ingredients of each dish, including - and this is absolutely crucial - any allergens that guests should know about.
In addition, bar staff should know every cocktail recipe by heart, and all staff should know pricings and be aware of any discounts, offers or promotions.
It's not just about the knowledge restaurant employees have, though - it's about how they use it. Just because restaurant staff have been trained in health and safety procedures, for example, doesn't mean they actually follow them.
It's important not to underestimate the value of staff that take what they've learned on board and utilize it, especially in the wake of the COVID-19 crisis.
A restaurant checklist must always be followed to the letter, and with stricter health and safety measures in place than ever before - hand sanitizer, plexiglass screens, face masks, and the like - restaurants simply cannot afford to slip up.
A well-informed server can vastly improve guest experience, and boosts the restaurant's brand image as the kind of place that hires professional and conscientious restaurant staff who prioritize the safety and comfort of their guests.
2. They should be customer-focused, always
Any customer-facing role requires a certain amount of social skills. Being friendly and approachable should be the minimum requirement for working in hospitality, but a truly great server takes those natural skills and hones them to create the best possible customer experience.
And now that certain restaurants are only offering table service to reduce the risk of spreading coronavirus, customer service is more important than ever.
Part of this is knowing how to read the mood of a table and adjust your approach accordingly. A friendly chat is pleasant for some guests, whereas others find those niceties a little forced and would prefer not to make small talk.
Reading both verbal and non-verbal cues, and really listening to and understanding the customer's needs, are therefore essential to providing the perfect experience for them.
Interacting with guests can be challenging at times - anyone working in hospitality has dealt with their fair share of rude or difficult customers. This will inevitably be heightened in the COVID-19 era, with staff having to contend with both nervous customers who are concerned about safety, and customers who don't want to comply with health and safety measures at all.
The very best restaurant employees, though, will know how to deal with these incidents without losing their cool, always keeping the customer top-of-mind.
3. They should be able to adapt to any situation
Anyone who's worked in hospitality knows that you're constantly in demand, with your attention split multiple different ways at all times. Everything is running smoothly one minute, the next thing you know the lunch rush has started and you're run off your feet for the next two hours.
Deskless workers like restaurant staff should be flexible and adaptable. Jumping from serving customers, taking phone calls and bookings, clearing tables and everything in between - now with the added risk and pressure of being a crucial frontline worker - isn't for the faint-hearted.
Quick learners who are always ready for a challenge will thrive in this environment, and that enthusiasm should be nurtured.
---
That brings us to how, exactly, restaurants can encourage these qualities in their staff.
Although all of these characteristics are desirable - essential even - to building a restaurant team that will provide guests with an impeccable dining experience, there is one thing that must never be forgotten: employee engagement.
Related download: A Guide to Restaurant Employee Engagement

Unengaged employees across all industries cost the global economy an eye-watering $7 trillion a year, according to Gallup.
Solving the dilemma of employee engagement is in the hands of employers. But where to begin?
Check out this short recap of our webinar with restaurant chain BurgerFi to find out how they use YOOBIC to empower their frontline staff. Enjoy!
This article was originally published in 2019, and has been updated for relevance and clarity.