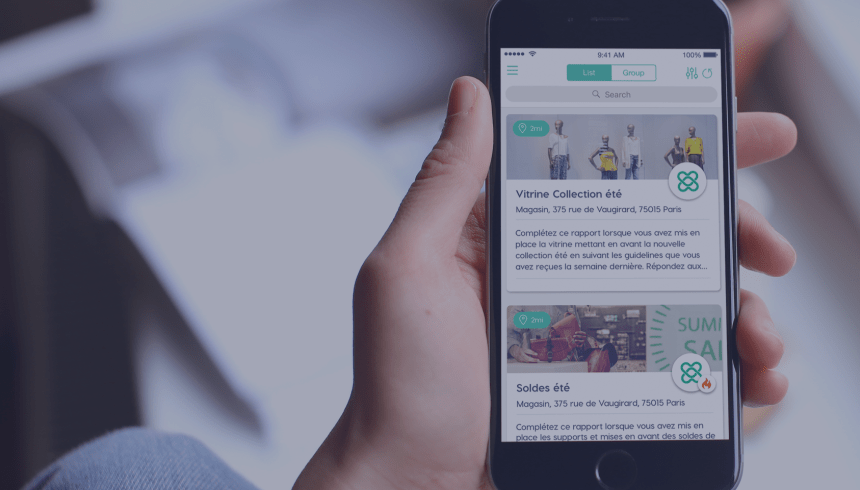 Stores' digital transformation is not only about digitizing customer experience but also processes and internal tools.
Emmanuel Locati, International Retail Director at Etam, one of France's leading clothing companies with 550 stores across Europe, explained in an interview to LSA magazine that in order to improve the customer experience you must also allow your teams to gain efficiency so they can have more time to focus on customers.
For that to happen, Etam equipped its stores with tablets, using them to digitize back-office operations, adopting the Yoobic mobile solution to do so.
The Yoobic solution enables Etam to ensure that the visual merchandising, operational and commercial strategies are correctly implemented in each one of their stores. Yoobic allows Etam to share merchandising guidelines with the in-store teams and to inform them when a change must be completed.
Store teams can then send an execution report to the headquarters so VM merchandising teams can monitor the operational execution in real time and collaborate with stores to deliver feedback and correct discrepancies, if needed.
Emmanuel Locati explains: "With Yoobic, we send missions to the teams, such as new products' implementations, window displays to put in place or even storage area to be to re-organised. To check the implementation in store, the store manager will take a picture of the window display, the store layout or the storage area to notify the work has been done."

Emmanuel Locati carries on "We aim to reduce non-sales related tasks and stay on top of the technology. And we make sure that the replacing tool changes the current way of working, without adding workload. Our goal consists of being the most efficient team possible to focus our time on customers."
The Yoobic solution enables Etam to digitize its processes and operations, execute them efficiently and measure compliance centrally in real time. This way, the brand can improve both their in-store execution as well as their store team's efficiency in order to provide its customers with a flawless shopping experience.