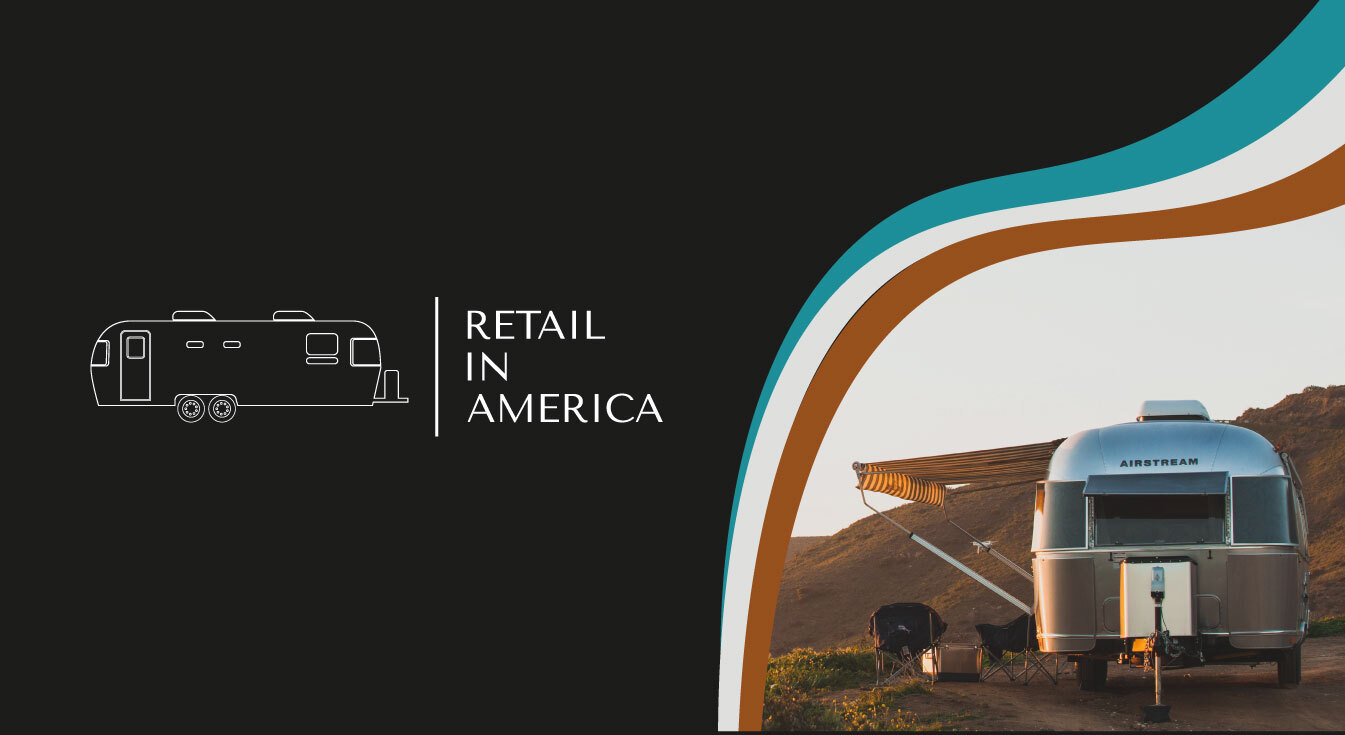 One bestselling author. One AIRSTREAM trailer. One year. Countless U.S. retail success stories.
6 in 10 Americans have worked a retail job. And those that haven't still with engage with retail as part of their everyday.
Retail is woven into the fabric of the community.
It's where most teenagers get their first job. It's where kids go to meet Santa at Christmastime. It's where people buy engagement rings, bridesmaids dresses and furniture for new homes. It's where friends meet to hang out, and it's the industry that comes together most often when communities face a natural disaster, need a donation drive, or see an opportunity to raise money for a cause.
Everyone, everywhere, every day. That's the impact of retail in America.
But who's telling the stories of the people who breathe life into our cities and shopping malls every day?
That's where the idea for the Retail In America Tour was born.
Bestselling author and Global Top 100 Retail Influencer Ron Thurston will be leaving his hometown of New York in April in an airstream trailer and embarking on a year-long 20 city road trip traveling the length and breadth of the USA.
His mission: to discover and celebrate the frontline retail teams from America's top retail operators.
From New Orleans to California, from national brands to startups and small businesses, Ron will be meeting and sharing the stories of the unsung heroes of the retail industry.
Before taking to the road in his airstream Ron will be hosting several events in NYC stores to kick off the tour and celebrate the iconic retail scene of New York City. He will then begin his journey across the states, meeting with industry leaders, retail tech innovators, entrepreneurs, students, store managers and their sales associates. The insights he gathers in each city will be forged into a full suite of content to offer a compelling new look at the changing face of American retail, including a "fireside chat" podcasts, curated audio and video content, blog posts, live-streaming events, and a new book to be published after the tour.
"I fell in love with retail because of the amazing people — the entrepreneurs and visionaries, the hard-working folks on the sales floor, and of course the customers. I can't imagine a better way to spend the next year than traveling the country and telling their stories," Ron said.
"Retail isn't just an economic powerhouse — it connects us all and embodies the spirit and identity of communities across our nation. Our retail teams are everyday heroes, and I'm on a mission to hear their stories and celebrate their successes — and to do it loudly!"
This venture perfectly aligns with the YOOBIC mission, hence why we were keen to get on board as the title sponsor. YOOBIC's ethos is centered around empowering frontline teams, working closely with retailers to give employees the experience they deserve. Therefore we're incredibly excited at the opportunity to hear their stories as Ron dedicates 12 months to living on the road and meeting with them.
In the words of our CEO, Fabrice Haiat:
"Ron is arguably the single most important champion of America's frontline retail teams, and with employers of all kinds struggling in the face of the Great Resignation, his perspective has never been more urgently needed. Like YOOBIC, Ron is committed to making retail an attractive career option for smart, talented, and ambitious people and believes that we need to do more to motivate and empower our retail employees. The Retail in America Tour is an important step toward that goal, and we're thrilled to be along for the ride."
Follow us on Linkedin to follow along on the journey! You can also keep up by subscribing to the Retail in America newsletter, Spotify podcast & playlist, and YouTube video series. Visit https://www.retailpride.com/ and follow Ron on Instagram @retailpride.