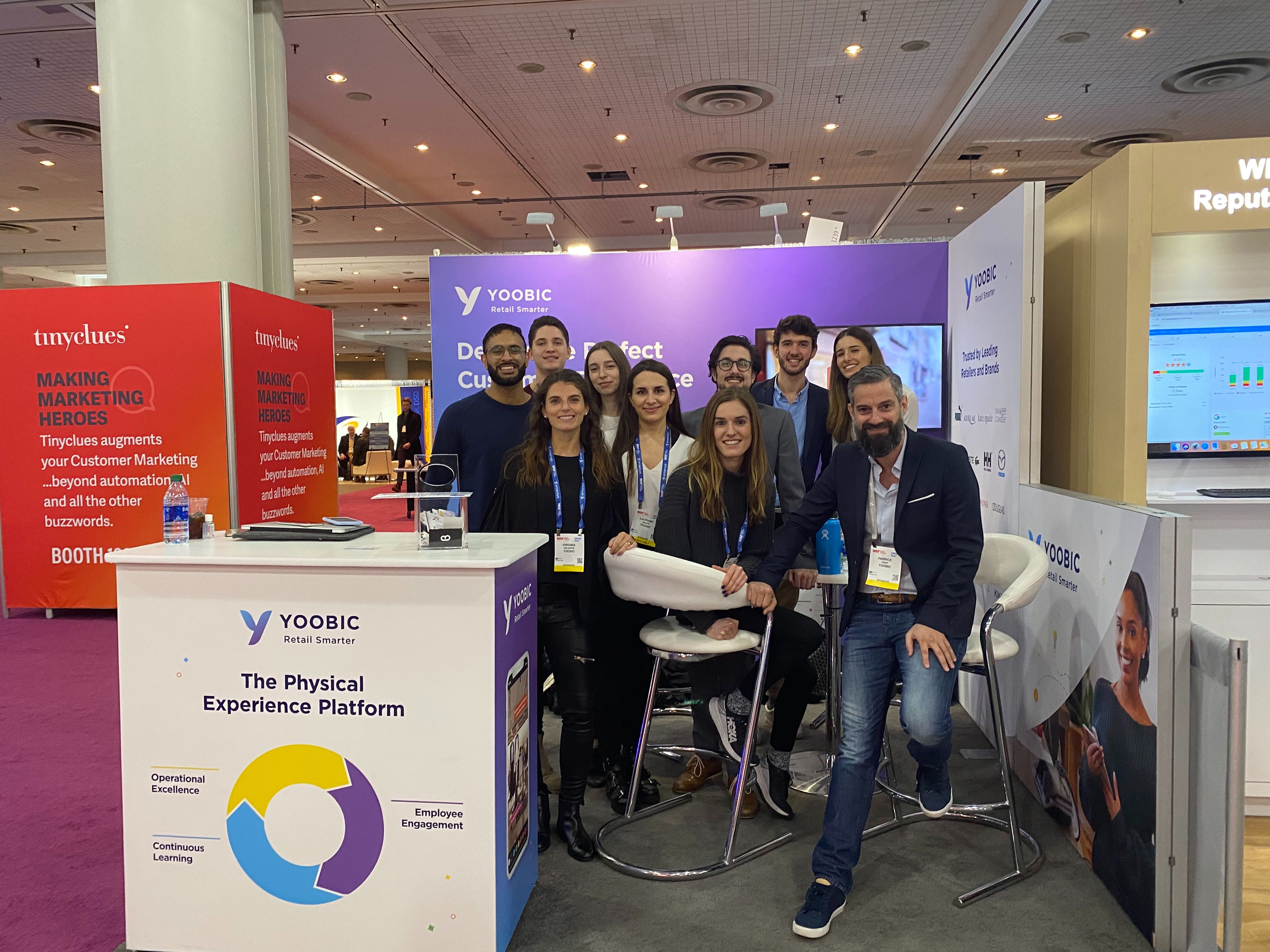 Earlier this week, our US team - including CEO Fabrice - headed to the Javits Center in New York City for the biggest retail event of the year: NRF 2020. What an amazing way to kickstart the year!
It was great to be around so many inspiring and innovative retail professionals, and we've come away with a renewed excitement for all the possibilities this new decade in retail has to offer. Here are our top 3 takeaways from the conference:
#1 - Brick-and-mortar is back - but only for those who innovate
It's been a bumpy few years to say the least, but this year there was a real air of optimism amongst speakers and attendees alike.
For retailers who have been bold enough to innovate, brick-and-mortar offers an abundance of opportunities. It's all about thinking outside the box - like Nordstrom, for example.
According to CEO Erik Nordstrom, categorizing retail into "channels" should be a thing of the past. Customers aren't thinking about separate channels when they shop - they just buy in the way that best suits them, switching fluidly from online to in-store and back again. If people don't shop the way they used to, why would retailers cling to the old way of selling?
This mindset seems to be working. They finally opened a New York flagship in 2019, and also opened two merchandise-free locations, Nordstrom Local. Opening a store in which you can't actually buy anything is certainly one way of shaking up old routines!
#2 - DTC brands want in on physical retail
Not only is brick-and-mortar alive and kicking, it's also attracting the very e-commerce players that have been "threatening" it. The clicks to bricks phenomenon has been on the up for a little while now, and it's clear why. Customers want an experience, not just a transaction - and only physical stores can provide that.
The key to getting this right is nurturing what made your brand successful in the first place. We were thrilled to collaborate with Camille Kress, Director of Retail at intimates brand Adore Me, on a session entitled "Making Store Execution Your Superpower."
Camille explained how, when the successful e-tailer decided to open physical stores a year ago, their concern was whether they'd be able to translate the strong brand values they had cultivated online into a physical retail space.
That's where YOOBIC came in. Our all-in-one platform helps Adore Me maintain a consistent brand image by ensuring perfect execution of store guidelines across every location, allowing them to keep the spirit at the core of their brand whilst providing shoppers with an impeccable customer experience.
"With YOOBIC we saw enhanced productivity everywhere." - Camille Kress, Director of Retail, Adore Me
#3 - Employee engagement is at the core of retail success
We were certainly happy to hear talk of employee engagement at NRF this year, because it's kind of our thing.
Download: A Guide to Retail Employee Engagement
At a session on retail employee communication, there was discussion of how best to communicate with store teams. Part of it is creating the right blend of information: keeping it interesting with different formats like text, videos, gifs and infographics.
There's also the importance of transparency to consider. Employees that feel like they're in the loop will engage with your brand and what it stands for, and will show up every day ready to give their all.
This is another thing Adore Me was looking to achieve as they entered the world of physical retail. Camille explained how important it was that their employees embody the company's values and identity - sales associates are on the frontline after all, representing the face of your brand.
As enthusiastic users of YOOBIC's employee engagement tool, Adore Me have been able to communicate effectively with their teams and create a fun, nurturing environment where employees feel heard and supported.
---
We can't wait to do NRF all over again next year! In the meantime, request your free personalized demo below to learn more about how we can do for you, what we've done for Adore Me.