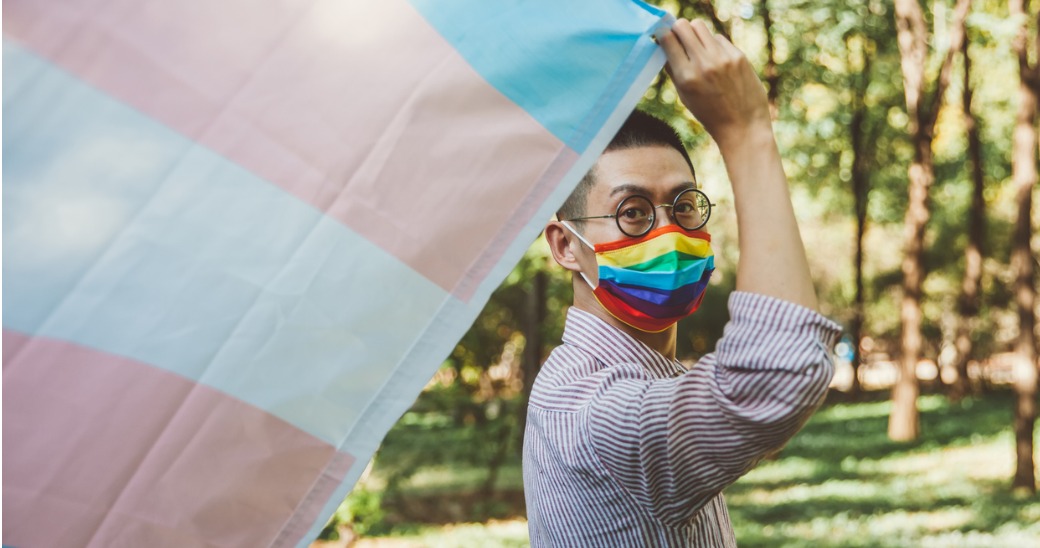 Today, 96% of Fortune 500 Companies have non-discrimination policies that include sexual orientation and 94% have non-discrimination policies that include gender identity. From this statistic, it would be easy to assume that in 2022 most workplaces are accepting and understanding environments for people of all genders and sexualities.
You'd be wrong.
35% of LGBTQ+ employees in the UK and 40% in the US are closeted at work for fear of being discriminated against.
These fears are not unfounded.
75% of LGBTQ+ workers have experienced negative interactions related to their LGBTQ+ identity at work.
Other studies revealed that almost 1 in 5 LGBTQ+ workers had experienced negative comments or conduct from colleagues because they're LGBTQ+ and 12% of trans employees have been physically attacked at work because of being trans.
LGBTQ+ employees in customer-facing roles like delivery drivers and store assistants face an increased risk as they come into direct contact with the public every day. Retail, hospitality and manufacturing have the worst rates of employee wellbeing across all industries, and frontline employees don't benefit from the wellness initiatives that may be in place in an office.
For all the rainbow emojis, flag-waving and sparkly banners, corporations are falling short when it comes to genuinely creating a safe and inclusive environment for employees.
So what should corporations be doing to show support that goes beyond a company statement and a rainbow instagram filter? This post will list practical ways in which employers can create genuinely effective and meaningful change within their company.
Connect them
39% of frontline employees have an isolated work environment and 34% feel disconnected from their company. Industries like retail, manufacturing, logistics and hospitality can be isolating as it is, with frontline employees spending all day working alone or in small teams. When your colleagues are spread across multiple locations and shift patterns, it can be difficult to find like-minded people and develop a support system at work.
This is especially true for LGBTQ+ employees in more rural areas. In big cities, 16% of those surveyed had experienced prejudice from colleagues due to their sexual or gender identity, but this rises to 22% in smaller towns. More rural and isolated areas often lack diversity and tend to have more conservative voting records, so aren't as safe a space for those who don't conform to traditional ideas of sexuality and gender. Check in regularly with LGBTQ+ employees in these locations to ensure that they feel supported and safe.
Establishing a digital LBGTQ+ network which enables employees to connect with and support each other helps resolve this. Companies like GAP and Oracle have taken this approach with their LGBTQ+ networks, providing online groups for employees to create business opportunities, organize company events such as attending Pride parades, and share resources. Using forums and virtual chats will offer a support network for employees to connect, organize events, share experiences and receive guidance when they need it.
Let them lead the discussion
A Glassdoor report last year found that LGBTQ+ employees are less satisfied than their non-LGBTQ+ colleagues. This shows that workplaces are generally set up to cater to straight, cisgender workers as they are not as able to fulfil the needs of anyone who does not fall into this category. The best way to understand what LGBTQ+ employees need is to listen to and amplify their voices.
For example, Eli Lilly and Company have a reverse-mentorship program where LGBTQ+ employees are paired with members of senior management to guide them through inclusivity training. Hiring quotas are even more effective, especially in senior roles. A more diverse management is better placed to act in the best interests of a diverse workforce (and a diverse range of customers!).
On a day to day level, try using surveys to collect feedback from employees and be made aware of any pain points where more training or resources are needed. These can be sent out using a mobile app where employees can rate their mood and provide feedback in just a few taps.
Use language mindfully
Communication needs to be inclusive at every level. Make it standard practice to ask employees their preferred name and pronouns when they join the company and ensure that these are used when introducing them to colleagues, writing rotas and adding them to HR systems.
Offering the option for customer-facing workers to have their preferred pronouns on their name badges, as Tesco have done, can reduce the risk of them being misgendered by customers.
Fund relevant healthcare
LGBTQ+ employees are more likely to develop mental health problems including depression, anxiety, self-harm and eating disorders. One of the biggest ways employers can offer support is by providing paid time off for employees to attend medical appointments and access mental health services.
Offering health insurance that covers gender confirmation counselling and surgeries or treatments related to gender reassignment provides enormous financial relief to trans employees. Starbucks have led the pack in offering exactly this, providing healthcare plans that include all surgeries for transgender employees, including ones that aren't usually covered by health insurance.
Additionally, providing free STI tests and condoms to every employee helps them to protect themselves against the spread of infections and raises awareness of traditionally stigmatized conditions such as HIV.
In a global pandemic, employee overwhelm is frighteningly high and making healthcare accessible for employees eases the psychological and financial pressure.
Gender neutral toilets and dress codes
If you don't have them already, providing gender neutral toilets creates a safer space for those who don't identify with the sex assigned to them at birth. This can be as easy as changing a sign on a door. Wagamama have been introducing gender neutral bathrooms across their restaurant network.
A genderless dress code is also important. 31% of non-binary employees and 18% of trans employees don't feel able to wear work attire representing their gender expression and 1 in 5 LGBTQ+ workers have been told or had coworkers imply that they should dress in a more feminine or masculine manner.
This doesn't mean you need to completely overhaul your uniform standards, you just need to ensure that the same expectations and standards are in place for all genders. For example, if a female employee is allowed to wear makeup on shift, all employees should have the option to wear makeup if they wish to do so.
Acknowledge intersectionality
Not every LGBTQ+ employee faces the same amount of oppression. A study by Stonewall found that 10% of black, Asian and minority ethnic LGBTQ+ employees have been physically attacked because of their sexual orientation and/or gender identity, compared to 3% of white LGBTQ+ employees. Ensure that non-white LGBTQ+ employees are represented at the decision making tables and that they are leading discussions about how to be more inclusive.
Make reporting easy
1 in 8 lesbian, gay and bisexual people wouldn't feel confident reporting any homophobic or biphobic bullying to their employer and 21% of trans people wouldn't report transphobic bullying in the workplace.
An investigation by the Human Rights Campaign revealed that the main reason for this reluctance to report bullying is that workers don't think that any action would be taken and they don't want to hurt their relationships with coworkers.
Management needs to lead by example with a zero tolerance policy for homophobic, biphobic and transphobic conduct and emphasize that there is an open-door policy for reporting this behaviour. Communicating to employees that there are safe spaces available to report their concerns makes them more likely to speak up.
Confrontation training and body cameras which employees can switch on if they feel unsafe aid the ability to successfully report and take action against threatening behaviour and harassment.
Invest in training
Diversity and inclusion training is a need-to-have for every employee in every workplace. Employers should provide ongoing opportunities for employees to further their learning about how to make the workplace more inclusive.
According to Out & Equal, the two themes that consistently arise in effective allyship training are acknowledging that every person in the workplace represents a distinct identity and highlighting tangible ways to be an ally.
Unconscious bias training is a great tool to emphasize the value of training to employees who may not have much prior understanding of the need for inclusivity, as it highlights the prejudices we all hold even if we are unaware of them. IKEA have discovered the power of unconscious bias training by using it to improve hiring and promotion procedures.
Scenario-based quizzes will enable non-LGBTQ+ employees to consider how effective they are as allies by presenting them with situations (e.g overhearing a transphobic comment made by a customer) and allowing them to reflect on how they would respond.
Integrating inclusivity into team targets provides clear pathways for employees to become better allies. A target could be for an employee to spend 15 minutes talking to a coworker they don't know very well, add their pronouns to their social media bios or listen to a podcast hosted by a member of the LGBTQ+ community.