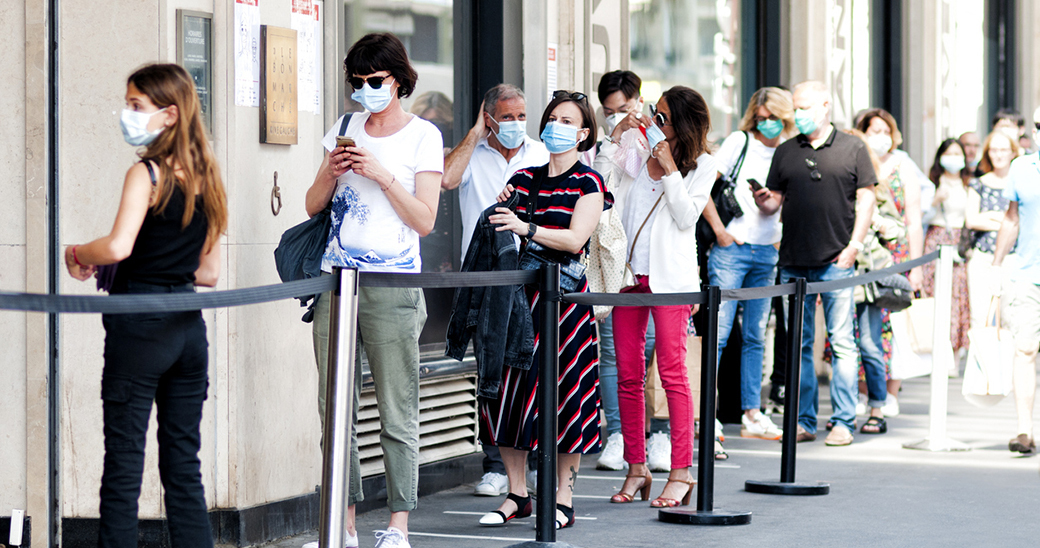 With retailers forced to shut up shop for several months, consumers confined to their homes and a recession rearing its ugly head, 2020 has been pretty tough so far. Now we're headed towards the holiday season, the industry as a whole is being forced to ask itself: how could the holiday shopping season possibly continue in the COVID-19 era?
It's a very good question. In theory, Black Friday alone is a social distancing nightmare. We've all seen the footage of swarms of shoppers barging through the doors at midnight, and people getting into fights over the last bargain microwave.
74% of U.S. shoppers are reportedly planning to do more online shopping than they have done in previous years. But how about those who would still prefer to shop in-store? Enter, virtual queuing.
Virtual queuing maximizes customer safety and creates a seamless shopping experience by reducing waiting times and maintaining social distancing measures. Read on for 4 reasons why every store needs this invaluable tool this Black Friday and throughout the holiday season.
RELATED: The Complete Guide to Virtual Shopping and Virtual Queuing Post COVID-19
1. It eases pressure on store teams
With guidelines constantly changing and nobody quite knowing where we stand, it hasn't been easy for store employees to keep calm and carry on - but they have.
In addition to the stress of working during a global pandemic, store teams are facing a number of added challenges, including:
Fewer employees on the rota
Increased foot traffic as guidelines are eased
Greater strain on each individual store, as fewer branches have reopened
Long lines outside stores
Completing curbside pickups quickly and efficiently
Working for longer, as Black Friday is expected to be extended to a full week
Keeping customers safe while also building excitement
These extra pressures weigh heavily on your store teams, but virtual queuing ensures that they're not overburdened and are able to get on with their other duties while keeping customers safe.
2. It gives customers control over their experience
It's not just store teams that are struggling under the pressure of government guidelines. It's hard for consumers too - entering a physical store at all is a big deal for a lot of people right now. That's why it's important to make sure shoppers feel at ease and in control of their shopping experience.
Virtual queuing is the perfect tool to facilitate that. Removing the stress of being in a crowd of strangers is hugely valuable, as it builds a certain level of trust for your brand. It also provides an air of exclusivity, as if shoppers participating in virtual queuing are part of a private club with added benefits.
In fact, the advantages of virtual queuing from a customer perspective could last long after COVID-19 is a distant memory. Nobody enjoys waiting out in the cold, after all! Going the extra mile for your customers right now, when times are tough, is something they will remember later down the line.
3. It helps you make the most of the increased foot traffic
Regardless of whether they decide to shop in-store or online, people's shopping habits will certainly look different this year. In the past, consumers tended to pile their shopping carts full of pretty much anything they could lay their hands on. But as people have been forced to tighten their belts in the COVID era, a good deal is more valuable than ever - and brand loyalty is a luxury most can't afford.
With a more focused and practical approach expected to shopping this year, many people will prefer to shop online or opt for curbside pickup. But it is still the holidays, and there will inevitably still be a drastic increase in foot traffic. Those that do venture into the store will be hoping for a quick and efficient visit, with as little interaction with others as possible.
Virtual queuing helps make that a reality.
Shoppers who might otherwise have been put off by the thought of a crowded store will be more likely to brave it if they know there's a tool in place to provide them with a smoother shopping experience. And with that peace of mind, who knows? Maybe they'll be tempted to throw a few extra items in the cart once they're in the store.
4. It gives retailers data to plan for the future
None of us know what the future holds for retail as we head into a post-COVID world, and planning can seem a little futile right now. But plan we must, and the key to good planning is leveraging the information you already have.
This is where virtual queuing gets even better. With the data you gather over this Black Friday and holiday season, you'll gain a better understanding of metrics such as average wait time, dwell time, foot traffic figures, and more.
Based on this information, you can then begin the process of future-proofing your stores. Nobody can plan for every eventuality - none of us could have expected what 2020 had in store for us - but arming yourself with customer data will at least give you a solid foundation for retargeting and planning for the 2021 holiday season, whatever it might throw at you.
---
Join retailers like Vans, Puma and Petit Bateau in making your in-store experiences safer, faster and better with virtual queuing from YOOBIC.