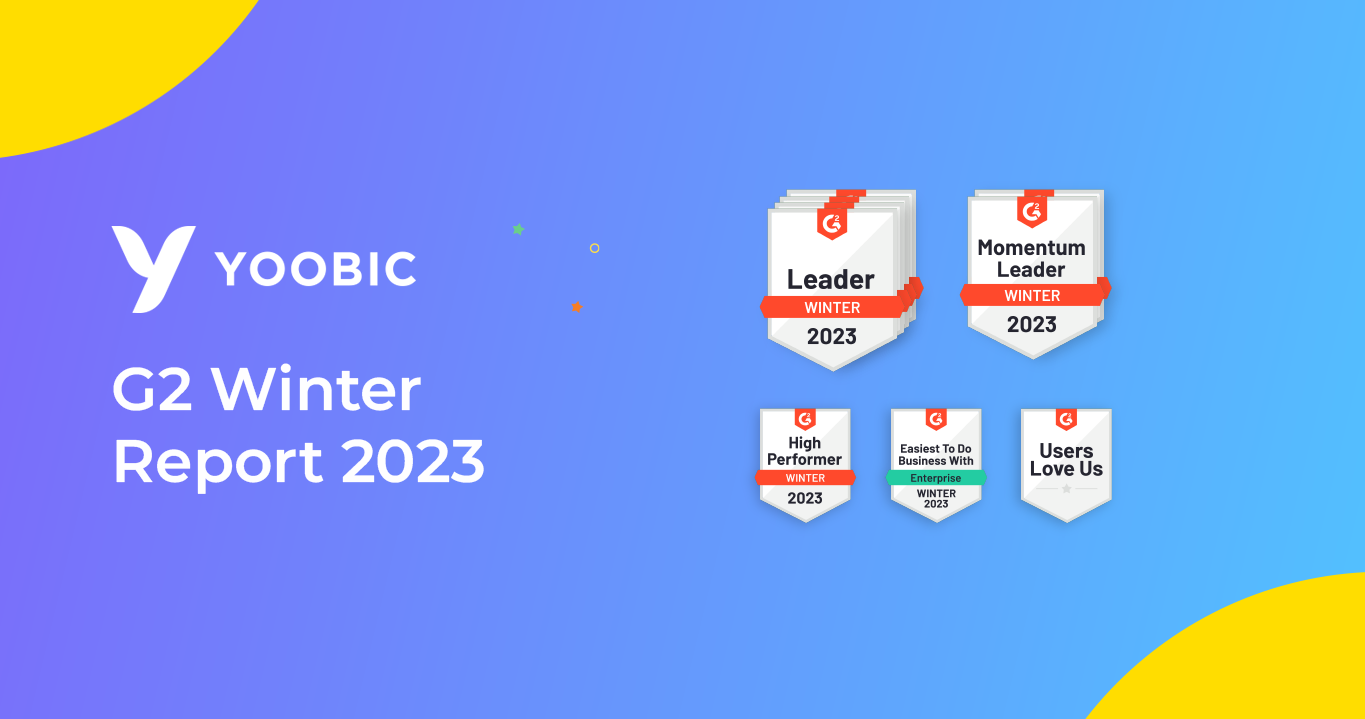 As 2022 comes to an end, the team at YOOBIC is proud to have been awarded 9 badges by G2, reaffirming our position as the #1 leader in the Frontline Employee Experience Platform (FEXP) space.
This marks the end of a remarkable year for us at YOOBIC — a year that saw surging global growth, including 270% year-over-year sales growth in North America. YOOBIC is now used by 350+ global brands like Levi's, Gamestop, and Lacoste. There are over 1.3 million frontline employees using our platform to elevate performance, level up their skill sets, and drive scalable success for their organizations.
Our success in G2's Winter 2023 Report reflects the amazing experience of our customers, so we couldn't be happier to be recognized.
G2 is the largest and most trusted software marketplace. More than 80 million people annually, including employees at all Fortune 500 companies, use G2 to make smarter software decisions based on authentic peer reviews.





In its Winter 2023 report, the peer-to-peer software review site has awarded YOOBIC 9 badges in 5 product categories, which represent all the capabilities of YOOBIC's all-in-one platform for frontline teams:
Retail Task Management Software: Leader and Momentum Leader
Retail Execution Software: Leader and Momentum Leader
Employee Engagement Software: Leader and Easiest To Do Business With
Employee Communications Software: Leader
Learning Experience Platforms (LXP): High Performer
These badges are all awarded based on positive G2 reviews from a wide variety of customers and users of the YOOBIC platform.
---
Retail Task Management Software Category
In the Retail Task Management Software category, YOOBIC was awarded the Leader badge. Products in the Leader quadrant are rated highly by G2 users and have substantial Market Presence scores.
YOOBIC was also identified as the #1 Momentum Leader in this Grid. G2 Momentum Grid identifies products that are on a high-growth trajectory in their space, based on user satisfaction scores, employee growth, and digital presence.
The Retail Task Management Software category includes platforms like YOOBIC that:
Allow tasks to be assigned to various users with details and due dates
Facilitate communication between the head office, district managers, and store managers
Provide reporting on completed store tasks
---

Retail Execution Software Category
YOOBIC was recognized as the Best Retail Execution Software on the market by G2. Our solution was identified as the #1 Leader and the #1 Momentum Leader, with an overall G2 score of 91 out of 100, way above competitors' scores.
The Retail Execution Software Grid ranks solutions like YOOBIC enabling retailers to:
Plan retail execution activities for sales and marketing
Manage territories and associated teams and activities
Ensure compliance with brand policies or pricing rules
Monitor the performance of field and in-store retail activities
Provide intelligence to support retail execution activities
---
Employee Engagement Software Category
In the Employee Engagement Software Grid, YOOBIC was identified as a Leader and was also awarded an 'Easiest To Do Business With' badge.
The Employee Engagement Software category includes products that:
Enable users to conduct employee pulse surveys to gauge employee satisfaction
Allow users to design and distribute custom pulse surveys
Organize and maintain data collected from pulse surveys for reporting purposes
Promote employee recognition through internal communication channels
---
Employee Communications Software Category
In the Employee Communications Software category, YOOBIC was identified as a Leader. In this Grid, G2 ranks products that enable businesses to:
Create internal content campaigns
Personalize distribution of communication
Segment company into designated groups
Allow employees to subscribe to topics or content of interest
Analyze performance of content shared within the application