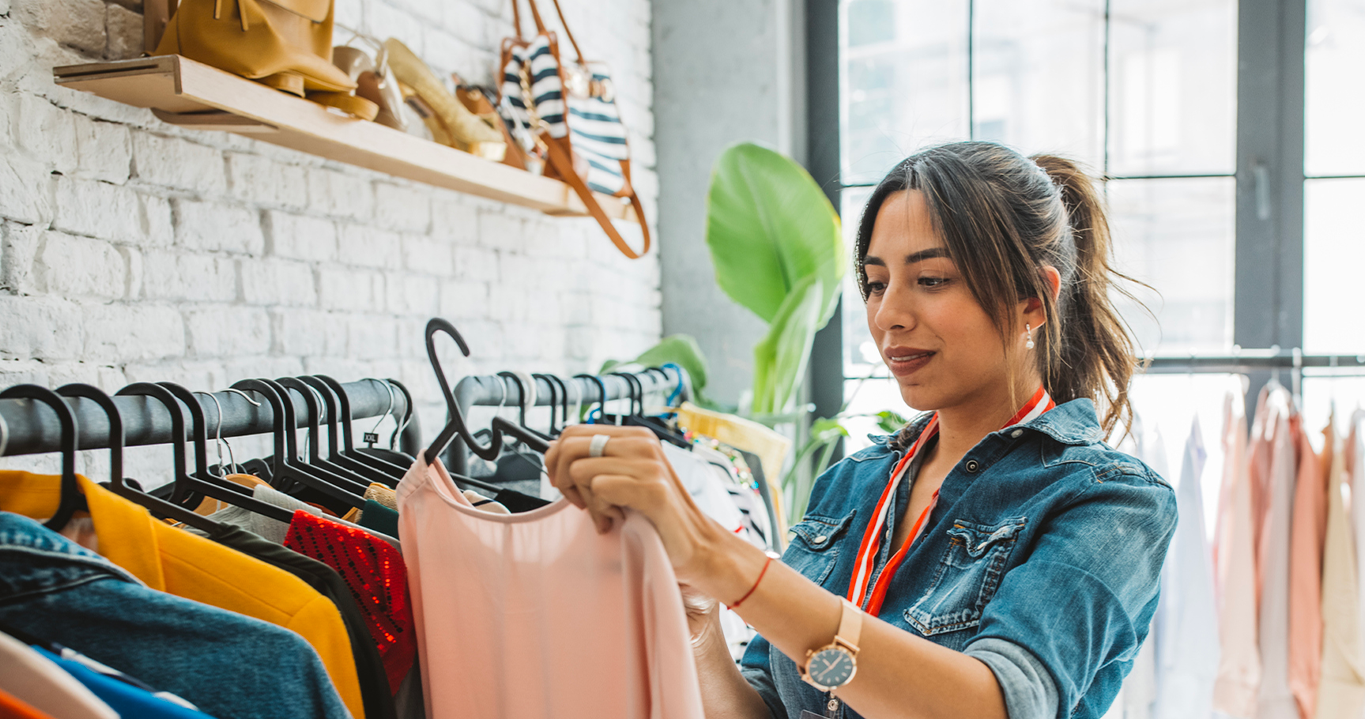 This article shares key takeaways from our webinar The New Retail Standard: How Frontline Team Management Must Change to Future-Proof Your Retail Organization. Watch the on-demand recording.
Economic uncertainty, inflation, shifting shopper habits, evolving employee expectations… Changes have come fast for retail and hospitality in the post-pandemic landscape.
Some leaders are adapting to meet the challenges of this complex, new consumer paradigm.
Others are stuck firmly in the status quo and at risk of becoming irrelevant. (How often have we witnessed an established industry leader's unwavering commitment to its existing operational framework lead to its eventual downfall?)
If enterprise retailers want to build a business that is future-proof, their omnichannel strategy must place the frontline worker experience at the core — and the time to do it is now.
So then what are the critical factors of change management that differentiate the most successful retailers?
On June 28th, 2023, YOOBIC invited retail experts to explore this question during our live webinar: The New Retail Standard: How Frontline Team Management Must Change to Future-Proof Your Retail Organization. (Watch the on-demand recording.)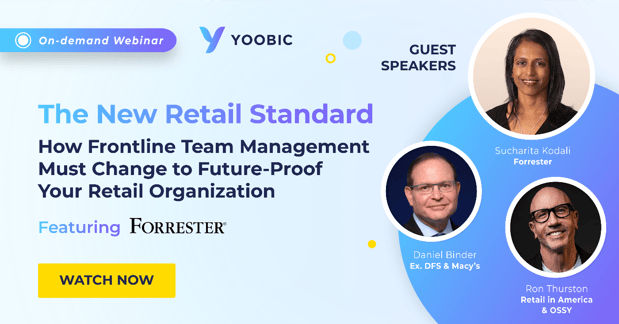 In this article, we'll be sharing key takeaways from their candid discussion, including:
Strategies for future-proofing your frontline operations
The role employee experience can play to improve customer experience amid changing consumer habits
Why the most successful retailers place the store at the core of their omnichannel strategy
The rising view of frontline teams as knowledge workers
Our panel of retail experts
Sucharita Kodali

VP and Principal Analyst at Forrester, renowned for her expertise in e-commerce, omnichannel commerce, and consumer behavior

Ron Thurston

Host of the Retail in America podcast and co-founder of retail consultancy OSSY, brought to the table his wealth of experience in leading retail operations for America's top brands

Daniel Binder

A senior advisor and former senior executive at prominent retailers like DFS (LVMH group) and Macy's, with over 35 years of global retail acumen under his belt
Better Engaging Frontline Employees: Insights from Forrester
Sucharita Kodali, VP and Principal Analyst at Forrester, kicked off the discussion with some context-setting market research that underscores the importance of the retail employee experience. The quality of this experience is often the defining factor in a brand's image, considering that these employees are the brand's first point of contact with customers.
In an April 2022 survey, 63 percent of workers said that staff shortages are contributing to burnout, and 52% said that their workload is causing burnout.

Stress leads to an estimated 550 million lost workdays per year in the US, while depression and anxiety cost an estimated $1 trillion in lost productivity.


Workers who frequently experience burnout are 63 percent more likely to take a sick day, 13 percent less confident in their performance, and 2.6x more likely to leave their employer.

Attrition is costly. Replacement costs run between 0.5x to 2.0x an individual employee's annual earnings; according to research by the Work Institute, replacing a retail employee who makes $10 per hour costs $3,328 per employee on average.

The brand suffers. Your brand is inextricably tied to employees' perception and experience of your organization. Over half of people buy from, advocate for, or choose to work for brands based on values.
According to Kodali, while businesses tend to believe they're providing adequate resources for their employees to support customers, there seems to be a disconnect or cognitive dissonance.
The majority believe they are empowering their employees through digital tools and training, yet turnover rates in retail remain higher than the industry standard.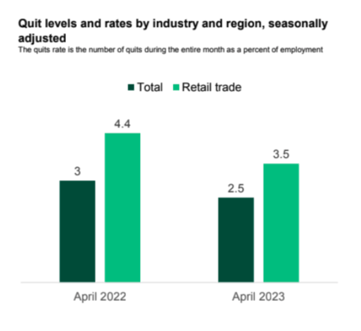 Source: Bureau of Labor Statistics, "Table 4. Quits levels and rates by industry and region, seasonally adjusted," accessed June 8, 2023
Despite purported investments in customer experience and a slight improvement in turnover rates in 2022, the retail sector faces enormous challenges in retaining employees and creating viable career paths.
According to Forrester research, the root causes of these challenges stem from the following hourly worker pain points:
Inconsistent and unpredictable scheduling
Limited career paths
Lack of employee benefits
Understaffed and bad workforce management
Often, frontline employees lack the necessary tools and technology for efficient communication and task management.
Meanwhile, the lack of paths to promotion and exposure to different parts of the business creates a perception of retail jobs as 'dead-end jobs'.
Kodali also pointed out the issues with inadequate staffing procedures and untrained managers. Without strong leadership in retail establishments, employees are likely to leave for other opportunities.
She concluded by emphasizing the detrimental consequences when employees are not well-managed, and high stress levels or burnout prevails. Retention is cheaper than replacing employees, making the investment in a great employee experience and finding suitable employees initially a cost-effective strategy.
A compromised employee experience doesn't only harm the employee but also negatively impacts the customer experience and the brand image. Thus, retailers must strive to manage their employees better to ensure their brands thrive in this changing landscape.
The People Challenges Faced by Retailers and What It Means for Them
Understanding and addressing the people challenges in retail is key to improving both employee and customer experiences.
During the webinar, our industry experts highlighted four major challenges for retailers:
Complex Customer Journeys. Daniel Binder pointed out that the customer journey is no longer linear or simple. With the advent of mobile technology, customers now transact in a multitude of ways, and this often requires more from the frontline workforce. As such, there is a growing need to adapt and understand these complex customer journeys to provide a seamless experience for both the customer and the retail employees.

Workload and Staffing Dilemmas. Ron Thurston echoes this sentiment, explaining that the increased workload on frontline teams is compounded by ongoing headcount reductions and a decrease in hours. Furthermore, the rise in minimum wage increases the cost of doing business. This predicament results in an unsustainable situation where businesses must balance high workloads, low staffing levels, increased wage pressures, and high turnover rates. One solution Thurston proposes is a reevaluation and more explicit delineation of employee roles.

Physical Stores and Brand Affinity. Sucharita emphasizes that despite the digitalization of retail, physical stores continue to be a significant aspect of the customer's brand experience. This includes personal interactions with associates and the aesthetics and upkeep of the store, all of which contribute to the brand's image. Hence, there's a need to invest in store associates' training and retention, as these factors directly impact the overall customer experience.

Post-Pandemic Workforce Changes. Sucharita further underscores the impact of the pandemic, as millions have exited the labor force or upskilled, effectively shrinking the pool of hourly labor. This change means retailers must compete harder for top talent, likely having to offer higher wages while also reducing the total number of employees. The challenge lies in managing these constraints and ensuring retention amidst high employee turnover costs. This might require a shift in HR practices and increased investment in technology to empower employees and improve efficiency.
Meeting Frontline Workers' Needs and Aspirations
The panel proposed strategies to overcome these challenges and align with the evolving needs of frontline workers:
Skillset Alignment and Role Definition. Daniel believes that it is crucial to align the skill sets of retail associates with the evolving needs of the customer journey. Ensuring that associates are carrying out tasks they are best suited for, and defining their roles with a high level of detail, enhances their ability to provide optimal customer experiences.

Actionable Feedback and Learning Opportunities. A vital component of improving frontline workers' experiences is establishing clear and actionable feedback loops. This allows retailers to understand customers' needs directly and develop action plans. Furthermore, these experiences can be harnessed as learning opportunities, fostering personal growth and development among employees.

In-Person Conversations and Active Listening. Ron added that understanding the needs of frontline workers begins with in-person conversations. Leaders spending time in stores can learn not just from customer feedback, but also from the team's needs. This approach fosters a culture of active listening and responsiveness, which leads to higher employee retention. Thurston posits that the most impactful way for a company to respond to feedback is to implement changes based on it.

Better Personalization through Feedback: Sucharita emphasized the importance of feedback from the frontline to the business. This feedback often uncovers unique challenges or demands in different geographies or stores, contributing to better personalization and an overall enhanced customer experience.

Technology Investments for Empowerment: The panelists suggested that investment in store mobile associate devices has significantly grown over the past decade, giving store associates crucial information at their fingertips. Technology can be leveraged to address different challenges across different types of retail sectors and enhance the service provided to customers.
All these aspects underline the necessity of human connection, active listening, and responsiveness in the retail industry. It's important for retail leaders to step out of their offices and into the stores to better understand the real challenges and aspirations of their frontline workers, hence finding solutions to match them.


Justifying the Investment in Frontline Employee Experience
In the current economic context, investing in frontline employee experience has become an imperative rather than a choice for retailers. Our panel echoed this belief and they highlighted reasons why retailers should start investing in the employee experience sooner than later:
Turnover Cost, Financial Profitability and Customer Loyalty. As Sucharita pointed out, in the face of a tight labor market and high turnover rates, not investing in the employee experience can lead to higher overall replacement costs, brand attrition, and customer disloyalty. Failing to get the experience right upfront can lead to a higher cost later. Furthermore, replacing loyal customers is even harder than replacing employees. Hence, investing in an enriching employee experience can prevent such undesirable consequences.

Ron emphasized that without investing in people, achieving financial goals in stores can become difficult. With the current focus on reducing high return rates and increasing low conversion rates, investing in frontline workers can slow down turnover, increase sales, improve profitability, and build customer loyalty. These outcomes can further justify the investment in frontline workers, leading to more training and career path opportunities.


Quality Over Quantity Approach. Sucharita also stressed that the focus should be on quality rather than quantity of employees. This involves hiring fewer but more skilled employees, paying them better, training them more, and cross-training them. The value of a well-trained and motivated worker is far greater than a temporary employee brought in just to serve as a body to process transactions.


Investment Imperative and Partnering with Employees. Daniel sees the investment in frontline employee experience as a non-negotiable imperative. He advocates for a partnership approach with selling associates, allowing them to help define what the investment should be. The digitally savvy customers of today expect frontline workers to be well-prepared and informed. An all-in-one Frontline Experience Platform (FEXP) like YOOBIC can provide store associates with the necessary information and data to enhance their position and service.
Just like investments in e-commerce and supply chains have become non-negotiable, investing in frontline workers is similarly crucial for a superior customer experience.
In a challenging economic context, retailers must prioritize their employees' experience to increase efficiency, reduce turnover, enhance customer loyalty, and ultimately, improve their bottom line.


Strategies for Better Frontline Employee Experience: Who is Getting it Right?
The panel highlighted that successful strategies involve the thoughtful use of technology, excellent execution, and a people-centric approach.
Technology and Customer Experience. Daniel, with his background in luxury retail, shed light on the use of technology to cultivate a one-to-one relationship with customers. Technologies that provide real-time information about stock availability or pricing on shelves, for example, significantly enhance the customer experience. The ability to respond swiftly to an out-of-stock situation or to answer a customer's pricing question is proving to be a winning strategy.


Execution and the Role of Store Managers. Ron, while reluctant to name specific brands, emphasized the role of execution. He noted that regardless of budget or brand scale, what matters most is the execution capability of the store manager. He described them as "entrepreneurs of their own four walls," explaining that these individuals have the ability to create "magic" within their stores, driving superior retail experiences that truly shine. High or low tech, what stands out is their extraordinary execution level.

People-centric Strategy: Francesca's Case Study. YOOBIC customer Francesca's, a women's clothing chain with nearly 500 locations in the US, serves as a practical example of implementing a successful people-centric strategy. Despite being a non-luxury brand with a limited budget, the company leveraged technology to enhance employee engagement and deliver a better frontline employee experience.

After emerging from Chapter 11 bankruptcy, the new team at Francesca's started to seek feedback, establish feedback loops, and look for a new Learning Management System (LMS). Upon finding YOOBIC, they realized that they could roll task management, learning, and frontline employee communications into one comprehensive package. This was an instrumental step in driving their people-centric strategy.

In less than three years, Francesca's returned to profitability, boasting an excellent company culture. Today, they effectively use YOOBIC's frontline employee experience platform to continue to further their strategy.

This example illustrates how a well-planned, technology-backed, people-centric strategy can revive and enhance a retailer's success.
>> Read Francesca's success story here.
The right combination of technology, execution, and a people-centric approach can greatly improve the frontline employee experience. Whether the retailer is a luxury or budget brand, these three components stand out as winning strategies in today's retail landscape.

Prioritizing the experience of frontline workers is no longer a choice but a business imperative for retailers
Frontline employee experience not only plays a crucial role in employee retention but also directly impacts customer satisfaction, brand loyalty, and ultimately, the retailer's bottom line.
In the face of turnover issues and a tight labor market, investing in frontline employee experience can result in lower overall employee and replacement costs, less brand attrition, and an increase in customer lifetime values. It's a preventative measure that is easier and more cost-effective to implement upfront than having to repair the damages down the line.
Strategies involving thoughtful use of technology, focusing on execution, and implementing a people-centric approach have emerged as winning practices, driving better frontline employee experiences. However, there is no one-size-fits-all solution.
Every retailer, big or small, luxury or budget, must start the conversation internally. This conversation involves engaging with frontline teams to gain a first-hand understanding of what works and what doesn't within the unique context of their operations.
By fostering an open dialogue and establishing feedback loops, retailers can create an environment where frontline staff feel heard and valued. Such an environment, powered by continuous improvement and learning, is where exceptional customer experiences are born.
As we look forward, it's evident that the frontline employee experience is not a passing trend but a fundamental aspect of the evolving retail landscape. The retailers that recognize this truth and act upon it, will be the ones to thrive in the coming years.
To stay competitive in today's dynamic market, it's time for retailers to put the frontline employee experience front and center.
---
YOOBIC's Frontline Employee Experience Platform helps retail associates and retail leaders at 350+ retailers including Mattress Firm, Aeropostale, and Gamestop work smarter, communicate better, and learn faster. If you'd like to explore how YOOBIC can help you put the webinar insights into action, get in touch with one of our experts!