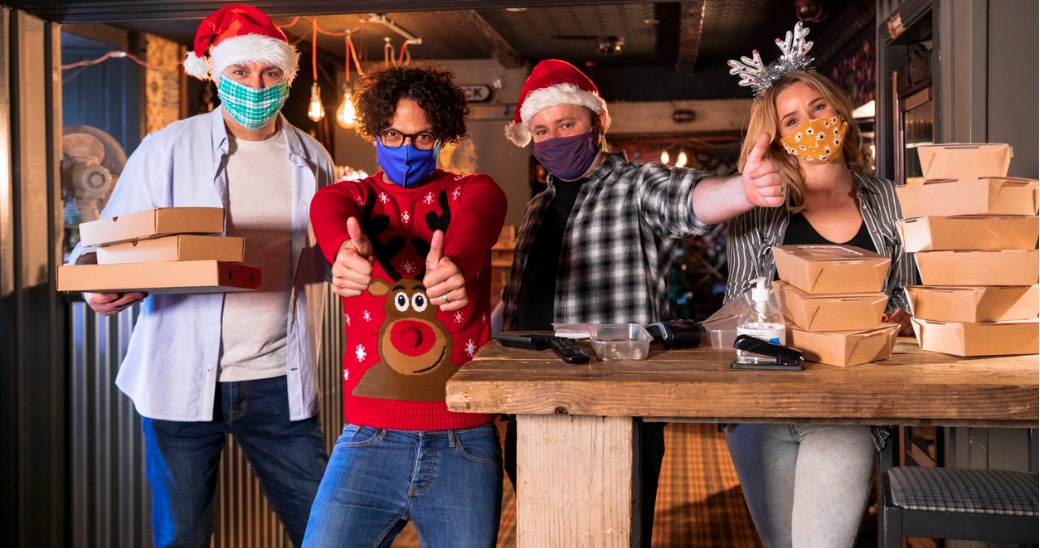 The labor shortage is upon us in full force. Retail, restaurants, logistics and manufacturing are amongst the hardest hit. The U.S. retail industry labor shortage is estimated to be approximately 350,000 workers, 170% of non-management QSR employees are churning and the US is also short about 80,000 truck drivers.
Some employers have incentive-led approaches to the hiring crisis and are offering things like increased wages, benefits and sign-on bonuses. But when these perks are struggling to make a dent in the labor shortage, where do employers turn next?
Combined with the looming buzz of the holiday season, which piles hundreds of thousands of seasonal roles onto an already saturated job market, these stats are enough to make most employers down a pint of eggnog and bury their head in a pumpkin pie.
It's unavoidable that any employees you do hire will need to be more efficient, productive and knowledgeable than usual to make up for the shortage and still meet customer expectations.
Seasonal hires have to get up to speed fast at the busiest time of the year - in 2020, holiday shopping accounted for 19.5% of total annual retail, plus it's Christmas and NYE party season, which creates a hectic time for restaurant servers and bar staff.
It's equally important for delivery drivers or warehouse operatives to be on their A-game, as stressed out shoppers won't appreciate mistakes or unreliable customer service.
The consequences of poor service are serious: roughly 50% of customers say that they would switch to a competitor after just one bad experience and it's 6-7 times more expensive to acquire a new customer than retain an existing one.
Effective training is critical for ensuring that seasonal hires are properly equipped to handle the pressure. Here's 3 tips for training seasonal employees to perform their best when teams are small and resources are stretched.
Related: How to Retain and Attract Restaurant Employees in a Hiring Crisis
1. Fit learning into the flow of work
It could be tempting to rush training for seasonal employees or skip over parts, as the new joiners are only contracted to stick around for a few weeks or months. This is a mistake.
In the age of retail ecommerce and Deliveroo, customers have chosen to visit a brick and mortar store or restaurant because they want an experience. They want to interact with products and attentive and knowledgeable employees before committing to a purchase.
It's therefore crucial that employees are trained properly, otherwise their presence will be more of a hindrance than a help.
But seasonal employees have even less time to train than permanent hires and need to be onboarded even faster - so they need a way to learn that meets them at their point of need but doesn't disrupt their hands-on responsibilities.
It's possible to train seasonal hires properly without overwhelming them with information by training them in the flow of work. This means that rather than spending days being buried in training content, employees can learn on the job.
You can do this using bitesize microlearning that can be accessed on a mobile device so employees can get the info they need when they need it - 70% of frontline employees agree that app-based training would be easier. Microlearning enables employees to absorb information in focused, bitesize courses only a few minutes long at a time, so learners stay engaged, take in the most important points and avoid being overwhelmed.
Employees will be able to work more productively and customers will be served by more knowledgeable employees and therefore will have a more positive experience.
Related: Why Frontline Employees Need to Learn in the Flow of Work
2. Crowdsource knowledge through social learning
All the knowledge your new seasonal hires need probably already exists within your existing employee base. Instead of training in a traditional top-down classroom format, use social learning to connect seasonal workers to their peers and build stronger relationships with coworkers.
Using digital features like forums enables new hires to ask questions and experienced workers to share best practices.
Provide incentives for learning like shout-outs on company communication channels or team rewards. Making training social can help them to feel part of the team, so delivering learning content through collaborative games like battles or quizzes and displaying results on a leaderboard will make them feel involved in the company culture from day one.
Related: Social Learning: What It Is, And Why It's Crucial For Frontline Employees
3. Don't forget to highlight opportunities for growth
It's to be expected that some seasonal hires will leave after the holiday season - after all, they might have only been looking for a short-term contract. But with the right employee experience, many may be motivated to stay with the company longer-term.
Investing in onboarding, upskilling and continuous learning makes employees more likely to stick around. A great onboarding experience improves retention by up to 82% and 94% would stay in their current role for longer if they felt that their company was invested in their learning.
A great way to frame a seasonal job as a starting point for a longer-term career is to tie learning to progression.
For employees to feel incentivized to progress through the company they need to know the steps to get to where they want to go.
Create digital, personalized learning paths which map out what training employees need to complete to progress. The best learning tools allow businesses to target training content by team, location and role, and use AI to suggest courses based on learning that employees have previously enjoyed. This ensures that learning is tailored to employee needs and they can progress quickly without being overwhelmed with information that isn't relevant to their role.
Related: How to Use AI in Frontline Employee Training
To implement these tips when training seasonal employees, you need a tech stack that can support app-based microlearning, social learning and map out customized learning pathways for team members.
Seasonal employees deserve investment in their learning as all other employees do. A digital workplace makes this possible.
--
Find out how retail chain Adore Me uses a digital workplace to achieve a flawless holiday season here!