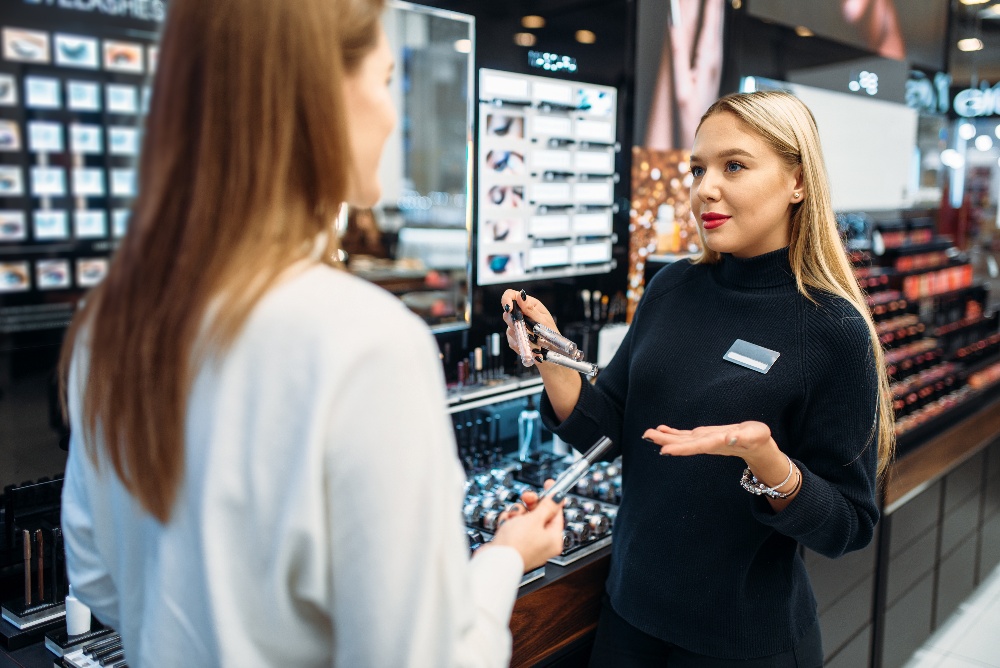 With disruptive new direct-to-consumer players quickly winning over customers, traditional cosmetics retailers need to seriously shake up the way they work to stay in the game. The best way to do this is by increasing visibility into store and field operations.
Only this level of insight into what happens in-store will enable brands to maximise their efficiency and provide a consistently perfect customer experience. Here's why it is so essential:
1. When beauty advisors have the full picture, they can do their job better
Everyone in the industry knows that beauty advisors are a key pillar of retail success. And now more than ever, authenticity is a winning value over heritage, with newer brands like Glossier doing incredibly well without a legacy to back them up. Makeup is a very personal thing, and consumers don't just drop $40 on a bottle of foundation unless it has been personally endorsed by someone whose opinion they value and who has colour-matched the product to their skin tone.
This is nothing new - it used to be the Avon Lady that we trusted to sell us our cosmetics, personally showing up at our door with the latest products. In the online age, brands such as Glossier and Volition Beauty rely on their loyal customer base to serve as brand ambassadors instead, posting pictures of themselves wearing the products and giving their reviews. Far more trustworthy than an airbrushed supermodel, right?
But in spite of the popularity of influencer-led beauty marketing, there is still nothing that can beat the real deal - getting help and advice from a real person, face to face, who understands the products and can tell you what will work best for you.
Unfortunately, beauty advisors often have a tough time doing their job effectively. A quick glance at Glassdoor reviews reveals that the biggest complaints are unrealistic sales targets and products being out of stock.
Having better visibility into why beauty advisors aren't hitting their targets would help brands to be more realistic with targets, as well as providing them with solutions. For example, if a store is consistently running out of certain items, HQ can easily remedy that, enabling BAs to reach their goals.
Providing BAs with transparency into their own professional progress will also motivate them to grow and improve, which will in turn boost productivity and create a better in-store atmosphere.
What's more, it will give HQ greater insight into what they need to do to help stores do their best (e.g. providing enough testers), as well as flagging up which stores need a little extra help achieving their targets.
A positive experience with a beauty advisor can keep customers loyal to a brand for years, so it's essential to make the right impression by giving your BAs the support they need to properly represent the brand.
2. Improved visibility leads to stronger relationships between brands and retailers
Visibility is also an important factor in the relationship between cosmetics brands and the retailers that stock their products.
Most cosmetics brands sell their products via concessions rather than in stand-alone stores, so the pressure is on to maintain consistently high sales figures so that their products can be kept in the store.
Brands invest a lot of money and effort in new product launches, and if they underperform, it can cause major issues: the brand loses momentum and gets lost amongst all the other concessions competing for attention in the store, and the relationship between the brand and the retailer can become tense.
If a product launch does fail, having greater visibility into the details of the launch will help brands to understand why it failed, allowing them to learn from their mistakes and improve for the next time.
Even on a day to day level, brands should be able to evaluate their in-store processes to continuously evolve and become more efficient.
For example, visibility into store counters helps brands make VM procedures easier and quicker for store teams, giving them more time to interact with shoppers and forge that authentic connection that makes beauty retail so special.
The beauty retailers that best understand how to keep the consumer's attention are already innovating and becoming seamlessly omnichannel brands. A big part of this revamp is transforming the look and feel of their stores and concessions, and this doesn't come about without also scrutinising operational processes.
Essentially, cosmetics retailers that increase visibility into store operations will gain a better grasp of how to create the online/offline synergy demanded by today's shopper, which will naturally aid the transition from traditional retailer to beauty trailblazer.
---
YOOBIC helps brands like Pixi Beauty, KIKO, Nuxe and By Terry make visibility into in-store execution flawless, so stores are always on fleek.