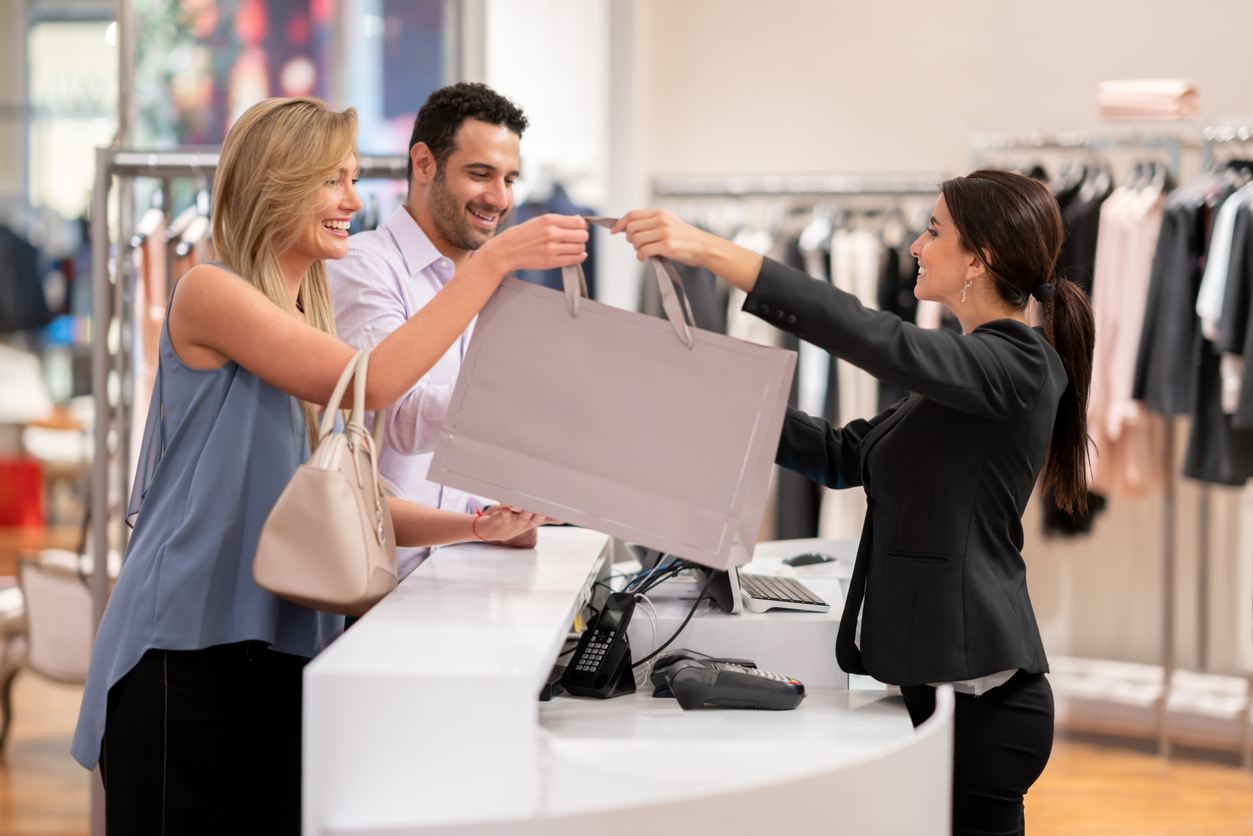 What would you say is the difference between an ok shopping experience, and a great one? More often than not, it comes down to the sales associates.
Short on time? Watch the video blog summary here:
Customers don't find anything remarkable in just walking into a store, getting what they want, purchasing and then leaving. But they do remember the times when a sales associate has gone out of their way to help them out, be it with product recommendations, ordering out-of-stock items for them, or even just making the effort to be friendly.
And in the wake of the pandemic, impeccable customer experience is more valuable than ever. Customers have grown accustomed to the ease and comfort of online shopping, so when they venture into a physical store they need their journey to feel worthwhile, and their interactions with store employees can either make or break that experience.
Related: What do your sales associates need to be fully empowered in 2021? Download our State of the Frontline Employee Workplace Survey to find out!
A good store team is the best weapon in a retailer's arsenal. That's why we've put together the top 3 qualities we think a great sales associate should have, as well as some of the retailers we think have cracked the code.
1. Unparalleled product knowledge
It should go without saying that if you ask a sales associate a question about any product in the store, they should be able to give you an answer. That can be a tough ask - especially in areas like electronics, which require a lot of technical knowledge. But with the right learning and development tools and enough support from managers, it is possible for sales teams to have all the information they need at their fingertips.
And it's not just about knowing things, but about utilizing what you know in the right way. When a customer asks a sales associate a question about a product, they're not just looking for facts. They can find all of that online, often by looking things up on their phone while they're in the store.
Whether they say it or not, what they're really looking for is an opinion - some kind of endorsement of the product to confirm that they're making a good decision. So a sales associate shouldn't just regurgitate information, they should tell customers why they think it's worth buying.
Brand loyalty has been completely disrupted by the COVID-19 pandemic, but providing uncertain customers with the confidence to buy will drive sales and keep them coming back in the future.
2. Excellent communication skills
That leads us to our next point: the importance of communication. Being friendly and approachable should be the minimum requirement for working in retail, but a truly great sales associate takes those natural skills and hones them.
Say for example you're in a department store buying a dress. An engaged sales associate won't just sell you the dress. They'll ask you what the occasion is, recommend some shoes or accessories that will match, and maybe even tell you about a lipstick in the beauty department that will go great with your new outfit.
Having been taken care of by someone looking to improve your in-store experience, chances are you'll leave the store in a great mood, with everything you needed and more. People come into stores for a reason, after all - to have an experience, something they wouldn't get by just shopping online.
However, it is also crucial to read the mood and adjust your approach accordingly. A smile and a 'how are you today?' is a much-needed social exchange for some customers, whereas others would prefer to be left alone. Reading both verbal and non-verbal cues, really listening to and understanding the customer's needs, are therefore essential to providing each customer with the right experience for them.
3. Adaptability
Anyone who's worked in retail knows that you're constantly being pulled in a hundred different directions. That's the nature of the job - one minute you're stocking shelves, the next minute helping a customer, then being called to the cash desk. Sometimes you'll have a quiet morning and then all of a sudden three different people will want your attention at once. And of course, new products are being launched all the time, which means there's even more to keep track of.
That kind of variety is exciting, but it can also be stressful. The ability to prioritize and multitask makes it so much easier to switch between all these different tasks without getting overwhelmed.
Related: The Complete Guide to Retail Task Management
And with COVID-19 guidelines changing constantly, store teams have to be able to take on new information quickly and adapt to new rules and regulations.
Adapting to new in-store technology is also becoming increasingly important. Digitized store operations are becoming the norm in retail, particularly since the pandemic hit. And although for the most part this move is now being embraced by stores, there is inevitably a learning curve. Sales associates that embrace in-store technology and work with it to achieve their goals will help their stores' conversion rates to skyrocket.
So, how do you get your sales associates to excel? By providing them with the right training!
Related: Why Frontline Employees Need Task Management and Training in One Place
Sure, some people are naturally better-suited to customer-facing roles than others, but the top qualities we've outlined here are skills that can only be properly refined by being taught and nurtured by your employer.
Here are a few examples of the retailers that understand the importance of the sales associate and make the effort to train their teams for success:
Lush
Lush prides itself on its customer-centric approach, with sales associates who are always ready to offer advice and give product demos. To ensure teams are able to wow customers with in-depth product knowledge, Lush regularly collects feedback and opinions from employees so they can rapidly create the extra training or resources that employees need the most. Plus, Lush employees are given the power to perform 'random acts of kindness', so if they click with a particular customer or someone looks like they're having a rough day, they can surprise them with a free gift!
Related: Store Review: Lush Liverpool, putting the fizz back into retail
Lidl
Knowing your customers and understanding what satisfies and frustrates them is at the core of being an agile and proactive store associate. Budget supermarket Lidl understands that customers hate waiting in long lines, so employees are given the power to open a new checkout whenever a line exceeds a certain number of people. Having this process in place means that store associates are set up to provide a positive customer experience.
Waterstones
Luke Taylor, Waterstones' retail director understands the unique value of sales associates in the literary chain of bookstores: 'You can't replace what a bookseller can do with an algorithm on Amazon. It's about good old-fashioned knowing your customers and knowing your books'. Waterstones ensure that they draw the most value from store associates by empowering them on the job, frontline employees are given the power to decide which stock to order, what discounts to offer and which events to hold. Employees feel fulfilled and are able to use this responsibility to curate a tailored customer experience based around their knowledge of the local customers.
Sephora
Pre-pandemic, cosmetic giant Sephora took every opportunity to encourage visitors to test out products in-store. In a post-2020 society, Sephora has had to adapt their strategy so that customers can interact with products whilst prioritising enhanced health and safety measures. Store associates have been trained to thoroughly santitize a product before and after use. Additionally, sales associates are given the tools to provide efficient, safe yet personalized product experiences using tech. Sephora's 'Any Time, Anywhere, On Any Device' policy means that sales associates can use digital tools such as interactive face charts to help people find products best tailored to them, without needing to physically test lots of different samples!
---
See how YOOBIC's digital workplace gives retail employees at brands like Lacoste, Peloton, and Lancôme, the tools they need to work, learn, communicate, and perform their best - schedule a demo now!