Lovers of a lux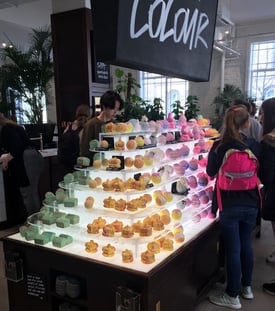 urious bathing ritual owe a lot to Lush. In 1989, co-founder Mo Constantine revolutionized bath-time when she invented the bath bomb in her garden shed. Since opening the first Lush store in 1995, the ethically-focused beauty retailer has expanded to 49 countries, and most recently opened its largest ever store in Liverpool on March 15.
As the dedicated retail experts and beauty lovers we are, we just had to check out this new store and see what all the fuss was about. Read on to find out what we thought.
It's much more than a showroom
As we just mentioned, the new Liverpool branch is now the largest Lush store in the world - 1,380 square meters, to be exact. Having 9 million bath bombs'-worth of space to play with means there are endless opportunities to try something new, and oh boy, do Lush know it.
Far from being your ordinary store, some of the features of this new branch include:
A HairLab where you can get a treatment, haircut, color, or just a fresh new style
A permanent in-store florist (also a feature at the H&M concept store - we're sensing a trend!)
A tea and coffee bar
A Lush Spa on the top floor with six treatment rooms, including a party room for group bookings
A library nook at the back of the store with a collection of perfumery books, as well as scents to try out for yourself
Lush clearly understands that the modern consumer wants a reason to take their time in a store rather than just rushing in and out. Providing all these fun extra elements invites customers to stop and smell the roses - or in this case, the bath bombs.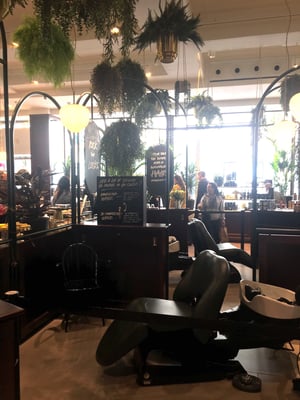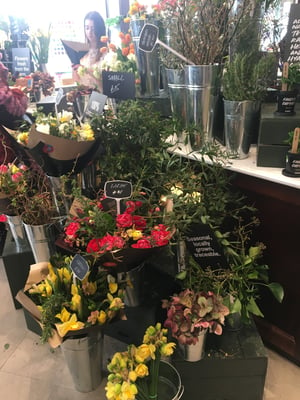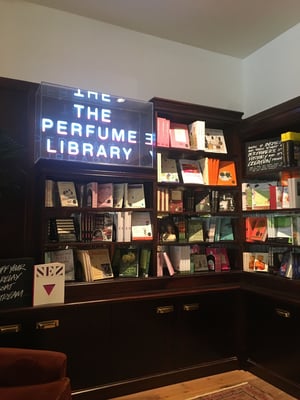 The store looks as good as it smells
And it's not just about the extras. The products themselves are showcased so beautifully that sometimes the displays look more like art installations, like the huge color wall featuring a rainbow variety of goodies, or the sushi-style conveyor belts full of the brand's signature bath bombs. There's a novelty element to all of this, of course, but displaying their wares in such imaginative ways is also part of a wider visual merchandising revolution - if you want to draw people in, you have to catch their eye with something.
And after all, Lush's products have always been beautiful, so why display them in a boring way?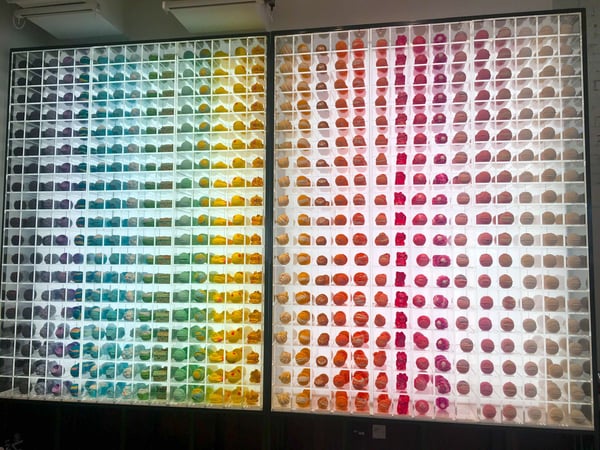 All You Need Is Lus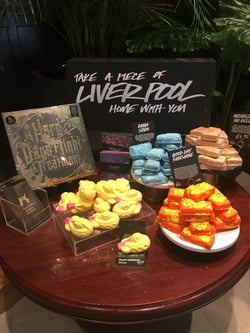 h
Lush have also taken the opportunity to add a touch of local flavor to their offerings. Customers can take home exclusive Beatles-inspired products, such as a Yellow Submarine bath bomb. They've even come up with a spa treatment named the 'Hard Day's Night Treatment' - perfect for the millions of Fab Four-loving tourists who visit the city each year. It's exactly this kind of small but powerful detail that makes a store feel like something special, and not just another branch in a huge network of stores.
They're staying true to their roots
With a big project like this, where retailers have so much scope for imagination and innovation, it's possible to get carried away with the sheer amount of possibilities. But in Lush's case, they haven't lost sight of the ethical, cruelty-free, all-natural ethos the company was built on. In fact, that strong brand identity is stamped all over every inch of this store. The flowers on sale are all locally sourced and in-season; the refreshment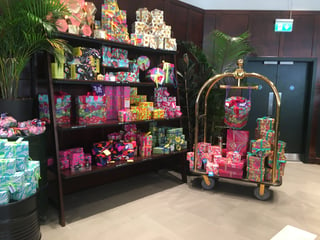 s at the tea and coffee bar are also locally sourced, 100% vegan and with not a scrap of single-use plastic in sight.
The store is certainly Insta-friendly, and let's face it, in 2019 that is important. But Lush isn't just doing this for the 'gram. They want to create a multisensory retail experience that gets people excited about shopping in-store again. And judging by the amount of customers in the store when we visited, it's working.
---
Here at YOOBIC, we love to shine a light on the brands embracing the retail revolution. Leave a comment below to let us know which store we should review next!