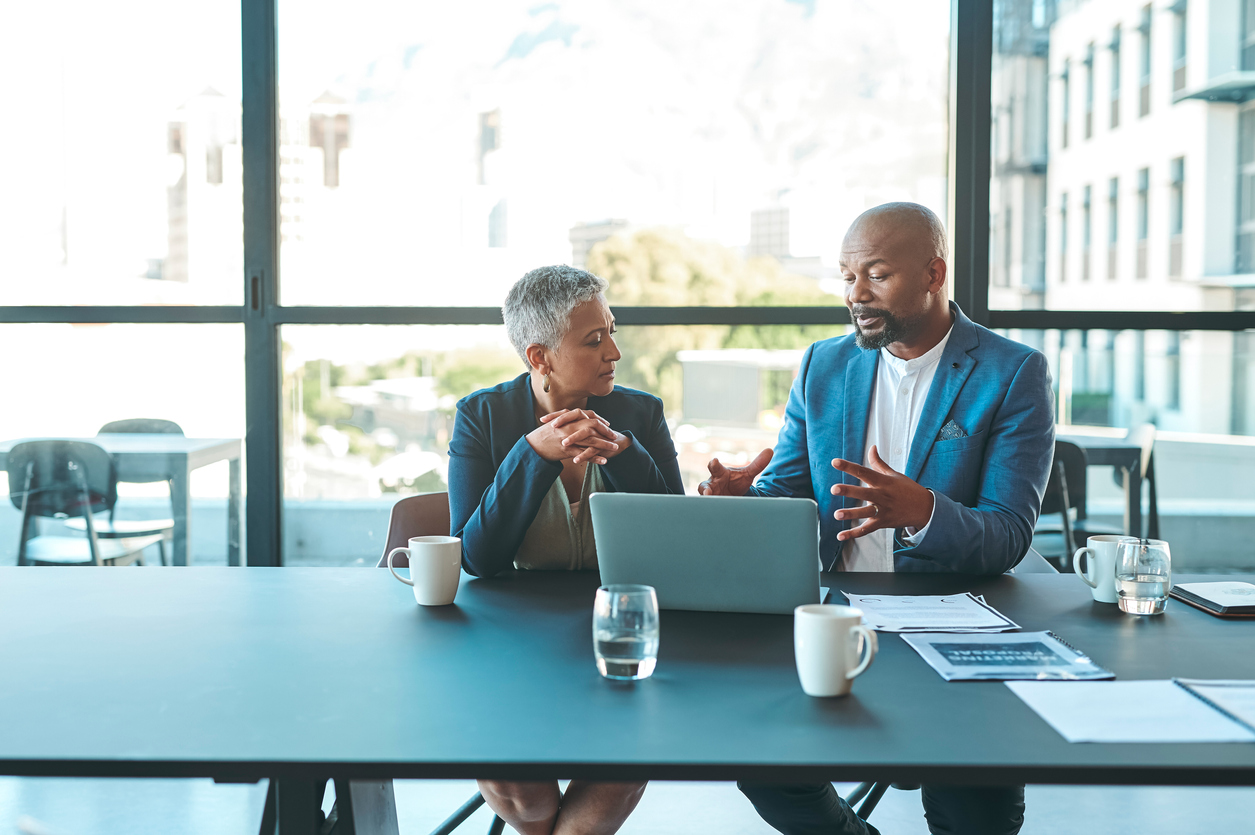 In recent years, a tide of digitalization has swept across the world. It started with digital transformation in IT and continued with the need to pivot and change while bracing for impact from a global pandemic.
Now, the world has changed, and with the challenges, it's brought opportunities for companies to have empathy with deskless workers — and to redefine the frontline worker experience to drive business forward with their input.
This wave of innovation has been especially strong in the retail and hospitality industries, where the economic aftershocks have brought the biggest changes.
These industries need to do more with less and manual processes are giving way to more intelligent, technologically enhanced ways of working. In today's increasingly competitive landscape, companies need to lean into this trend and leverage new strategies to not only survive, but to thrive.
That starts with embracing technology to facilitate these changes.
According to McKinsey & Company, 60 percent of retailers plan to invest in more technology than prior years, and Frontline Employee Experience Platforms are the top solutions to create effective, next-gen digital workplaces.
These solutions enable frontline employees to have the right tools to operate more efficiently, productively, and intelligently. After all, when the employee experience is fixed, the customer experience and brand consistency is elevated.
What is a Frontline Employee Experience Platform?
A Frontline Employee Experience Platform, or FEXP, is the next generation of a Digital Workplace. It's designed to bridge the gap between workforce orchestration, execution, and employee experience.
An FEXP provides teams with a virtual space or digital workplace designed to facilitate employee communication, display all the resources they need, get continuous training in the flow of work, and effectively manage frontline work like daily operations and tasks.
It's also a platform where people can connect with each other and their leaders to build a sense of company community and support and increase employee engagement.
This solution is particularly crucial for your frontline staff — the employees who are the first point of contact for customers, such as retail associates.
These employees are often on the move, interacting directly with customers, and need access to information and resources at their fingertips.
As a retail operations leader, implementing an FEXP is a strategic move that can empower these frontline workers by eliminating geographical, technical, and bureaucratic barriers.
They provide a unified, digital work environment that enables staff to perform at the very peak of their ability. Information, resources, and responsibilities in this centralized hub can be accessed across an array of different digital devices — tablets, smartphones, kiosks, workstations — regardless of location.
It's a human-centric approach that cultivates team unity and creates a culture of community, where frontline workers aren't just a number but have career-path opportunities and can create meaningful connections.
You might be asking yourself: Do frontline workers really need an FEXP?
In a highly competitive market, improving the employee experience directly translates to better customer satisfaction.
IDC's Retail Consumer Survey revealed that about 50% of customers will abandon a store or shop elsewhere at the slightest inconvenience.
The same holds true for frontline employees. With the expansion of omnichannel shopping and increased customer expectations, frontline workers need technology to reduce complexity and help them succeed.
Moreover, HQ teams need solutions to bring visibility and real-time line-of-sight to distributed locations. That's exactly why frontline teams need an FEXP to increase success.
Choosing a Frontline Employee Experience Platform? Ask these 12 key questions first
An FEXP is a tool that can boost frontline workforce productivity, enhance employee retention, increase customer satisfaction and help you meet strategic retail goals faster.
The right technological investment can be the secret to unlocking new levels of strategic success for your frontline operations.
Before choosing an FEXP, it's important to do your homework. There's nothing worse than investing significant amounts of time and money into a digitization initiative only to have the product fall flat because of low adoption or missing the mark to support business needs.
To get the correct platform for your organization, you must assess the unique needs of your frontline employees and your business use cases.
Here are some important questions that all leaders should ask before selecting an FEXP.
Is it accessible? Frontline staff don't spend their days sitting at a computer. Make sure your solution is accessible for employees on the move. For these teams, ensuring the FEXP is a mobile app and not just an online portal, will give them what they need at their fingertips, when they need it.

Is it unified? An FEXP solution needs to reduce complexity, not create it. The solution needs to deliver a cohesive, unified experience with seamless access to everything — internal communication, collaboration, learning, and task management — that your employees need. This allows them to be more agile, increasing efficiency and customer service outcomes.

Is it engaging, fun & social? For any new technology, user experience determines adoption. Seek a solution that is easy to use for your end users and that makes frontline employee communications engaging and fun. It should contain the best elements of social media, such as newsfeeds and chat tools, to foster a sense of connection. The solution should be self-serve and not even require user training. It should feel familiar to digital natives from the moment they login. Also, Look for an FEXP with a high degree of gamification, interactive features, and social add-ons like challenges, competitions, and leaderboards to promote healthy competition and adoption.

Is it built for your business workflows, or do you have to fit your workflows into the platform? This is an important question to ask, so be sure to gather information from other senior leaders in your organization. An FEXP should help you reduce redundant software across your business and be able to scale and grow. The last thing you need is to have to rip and replace the solution because your company rapidly outgrows the platform's capabilities. It should heighten your employees' enjoyment of everyday jobs by eliminating low value, repetitive, or manual work. If you have to create workarounds and alter successful processes or SOPs, you do not have the correct solution fit.

What does implementation look like? Deploying new technology can be a daunting task and you shouldn't have to boil the ocean and disrupt your entire organization in the implementation process. Look for a platform that fits your comfort level and a vendor that will assist you in a staged approach if you need it. Flexibility is key so a platform with features like a no-code content builder, dedicated implementation, customer success resources, and strategic planning throughout your time as a customer will be key to success.

What does after implementation look like? It is important to understand what the day-to-day admin experience and management of the platform will be like. You should get a clear understanding of the resources you need, if you will receive a dedicated customer success manager, account manager or both, and what ongoing training you will be provided. Questions you should ask to understand this are:
Will you have to email in support tickets?
What is the SLA on answering questions or assisting with an issue?
Is support an added cost?
Will we have weekly, monthly, or quarterly meetings?
Will a customer success manager help me with my platform in any way?
How do I get training on product launches or updates?
Ask these questions to ensure you get the right level of customer service you need to be successful.
Does it work worldwide? Global workforces need global solutions. Look for a platform designed to work worldwide, or at least in the regions you need it. Too often, organizations fall into the trap of multiple solutions for each area or region, but that quickly grows into a major pain point to manage. It also creates reporting complexities and massive headaches. Another key element to consider is having a native translation tool in the platform that can help employees translate content. This can make sure all regions feel connected. Bringing opportunities for content to be in your teams' native language instills a sense of togetherness despite the distance.

Is it measurable? To get the most out of your solution you need to be able to quantify the results it's generating. The best platforms will offer rich data covering everything from adoption rates, sentiment analysis, learning resources consumption, task completion, and compliance KPIs, to name some of the top metrics. Evaluate what the platform measures, what templates it provides, and how customizable reporting and dashboards can be. There is no point to invest in the time it takes to launch a platform — even if it is seemingly an all-in-one solution — if you will reach a ceiling with templates and customization. Another important point is to understand how you can provide access to your stakeholders. Can you automate reporting? Offer dashboards to location or district managers? And how will you be enabled to communicate success across the business? Will your customer success or account management team help you with business planning and reporting?

Does it integrate with your current technology ecosystem? Assessing integrations and ecosystem management are critical — does the solution integrate with existing workforce management, HRIS, payroll, advanced payroll, POS, and other technology tools? Be sure to prioritize real product integrations, open APIs, and the ability to create a link library (or company app hub) by linking to other systems or resources via integration, SSO, or deeplinks. The solution should reduce both manual work for admins and complexity for users.

Another piece to consider is what the integration ecosystem can provide business operations as a whole. Some FEXP solutions can integrate with POS systems to provide a correlation between engagement, employee training, operations performance, and sales performance. There are also solutions that track incidents like theft, inventory, and business risk factors or do ticketing for maintenance requests. Knowing what the software can and can't do will be critical to planning — even if you don't use everything from the onset.

Is the vendor a true partner? From customizing products or problem solving, to suggesting new features, building an effective FEXP requires an ongoing partnership with your software provider. Don't work with reps who are just looking for a quick deal — seek an engaged and responsive vendor with an accomplished customer experience team and a track record of providing great service.

Does the vendor know your industry? The use of an FEXP is very use-case centric. When looking for a solution, focus on vendors with deep industry knowledge and a healthy list of customers.

Is the vendor growing & having a high-level of innovation? Software solutions need to grow alongside your business with the ability to add users and functionality over time. It's also important to select a platform that offers a high level of innovation in areas such as automation. AI and ML are fundamentally changing how frontline workers operate, so seek a solution that's spearheading development in this space.
Choose an FEXP that can scale & grow with your business needs
Frontline workers don't have the time or the will to juggle multiple digital tools. They want a simple way to communicate, learn, and manage work-related tasks in the same digital space.
At the same time, decision makers at the HQ need a real-time understanding of business performance and the ability to swiftly cascade actions to meet business goals.
The real value of an all-in-one FEXP is that it streamlines the frontline experience, as it can perform a wide variety of functions from a single, easy-to-navigate hub and provide unparalleled insights.
Before selecting an FEXP, think very carefully about your business cases and workflows. Don't forget, the best solutions can be upgraded and expanded over time. Be sure to pick a vendor who's in it for the long haul.
For more detailed insights, download IDC's Technology Assessment Guide to FEXPs here.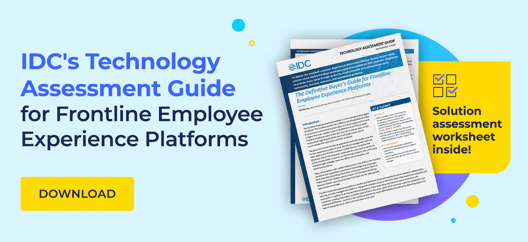 ---
350+ retailers have already adopted YOOBIC's all-in-one FEXP. With streamlined internal communications, mobile learning, and digitized task management, YOOBIC drives operational excellence and productivity while helping to reduce employee turnover through better employee satisfaction. Want to see how? Request a demo!