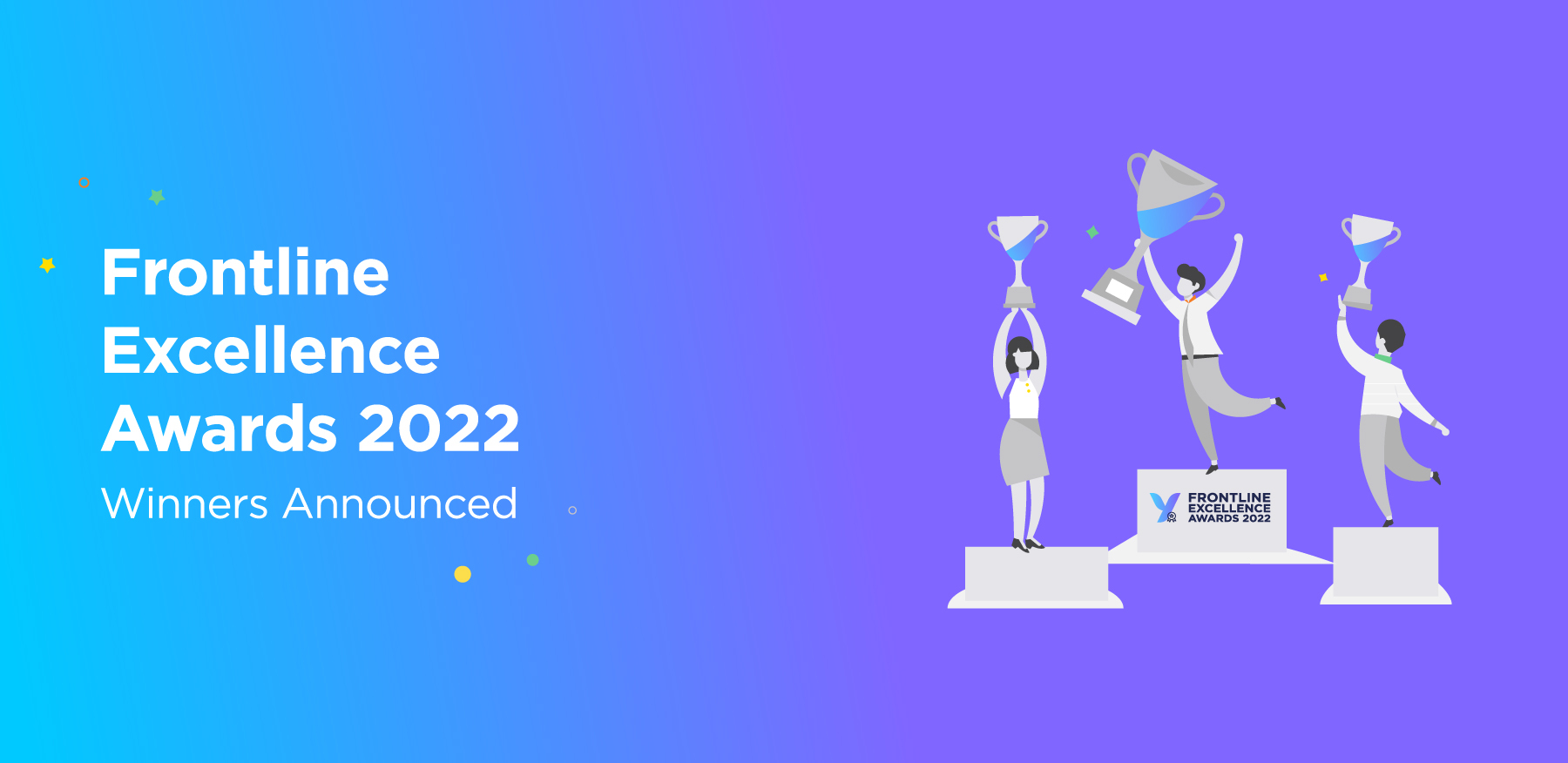 Businesses are powered by frontline employees who curate customer experiences and fuel growth.
To celebrate the companies, executives, managers, and employees that have invested in and redefined the frontline working experience leading to exceptional operational performance and outstanding business results, YOOBIC has launched the 2022 Frontline Excellence Awards. These awards are the first of their kind to recognize frontline success on a global scale.
The results are in for 2022!
Out of 300+ global companies, their hundreds of thousands of frontline team members, and HQ leaders who use the YOOBIC platform every day to perform their best, winners have emerged across 9 categories. YOOBIC is honoring these exceptional individuals and pioneering teams delivering game-changing solutions to their businesses.
Meet the Winners!

Individual Awards ⭐


Chief Yoobic Officer of the Year
The executive / director who has created a substantial business impact for their organization by making YOOBIC a key success factor.

Winner: Brent Paulsen from UNTUCKit and Tim Goossens from VF EMEA 🏆

UNTUCKit's YOOBIC deployment drove streamlined communications, consistent in-store experiences, and new learning opportunities, while VF EMEA used YOOBIC as a central tool for communications across all brands with an active user rate of 100%, ensuring frontline workers feel more connected, visible, and valued. Watch Brent Paulsen's interview below:
A highly engaged admin user who has shown excellent drive and creativity in managing YOOBIC for the organization.

Winners: Simon Trottier-Lacasse from RDTS and Maggie Sullivan from Peloton 🏆

Simon Trottier-Lacasse covered 5,000 sites across hundreds of campaigns, while Maggie Sullivan went above and beyond to launch YOOBIC as PeloPULSE supporting operations, communications, and work-life balance for her teams and to win user adoption. Logitech, Fastrack, and Roots were also singled out for commendation as finalists in the Game Changer category.
Best District Manager of the Year
Winner: Paula Angelucci from Adore Me 🏆

Paula Angelucci was recognized for her efficacy in using YOOBIC to elevate the level of interaction with her store teams in areas such as store visits, in-store execution, coaching, comms, and training. Watch Paula Angelucci's interview below:
Frontline Hero of the Year
The frontline employee who has consistently used YOOBIC to increase the overall performance and efficiency of their location and teams.
Winners: Isabelle Gaudet from RDTS and Sara Cosentino from Adore Me 🏆

Isabelle Gaudet was recognized for her successful use of retail audits to support RDTS clients, while Sara earned praise for using YOOBIC's streamlined communications tools to stay focused on delivering amazing customer experiences. Watch Sara Consentino's interview below:
Team Awards 👥


Frontline Experience Program of the Year
Best program driving an exceptional employee experience with a combination of all YOOBIC capabilities to deliver a strong business impact.
Winner: InVivo Retail 🏆
InVivo Retail was recognized for leveraging YOOBIC as their central collaboration platform named "Digi'Mag", standardizing processes, improving operational excellence, and driving exceptional employee experiences. YOOBIC has been a core asset in InVivo's digital transformation to realize substantial per-store time savings and productivity gains. TFG was also honored as a finalist in this category.


Frontline Operational Excellence Program of the Year
Program that successfully increased the level of operational excellence within the organization.
Winner: Pinko 🏆
Pinko received the award after using YOOBIC to save hundreds of thousands of euros in travel costs while giving managers and supervisors significantly improved visibility into store compliance and performance. Douglas, Maje, and Claudie Pierlot were also named finalists for their work increasing levels of operational excellence within their organizations.
Watch Pinko's customer testimonial video to learn more >
Frontline Communication Program of the Year
The program which has streamlined business communications channels and generated the best employee engagement and satisfaction.
Winner: GANT 🏆
GANT was recognized for streamlining business communications channels with the GANT Academy Social Club Newsfeed, which is now the company's No. 1 channel for communication in and between stores, and has significantly reduced training costs while enabling teams to share best practices at scale. Watch this interview with Karin Magnusson, Global Head of Retail Training at GANT, below to learn more:
Read GANT's case study to learn more >


Frontline Learning Program of the Year
A program that successfully improved the level of adoption and frequency of training for frontline teams.

Winners: Sportscene and Mazda 🏆

Sportscene and Mazda tied for this award, in recognition of their success in improving the level of adoption and frequency of training for frontline teams. Sportscene drove 85% engagement for its learning platform with consistent and outstanding incentive programs for the best learners, while Mazda published over 30 learning modules to help onboard hundreds of sales consultants.
The organization that adopted YOOBIC within the last 12 months, and has since performed outstandingly.

Winners: GPE and Faherty 🏆

GPE and Faherty tied for Rookie of the Year in recognition of their outstanding performance as new adoptees of YOOBIC's solution, with each seeing 80%-plus employee engagement rates. Paydens and Johnston & Murphy were also honored as finalists in the Rookie category.


Congratulations to all!


---
Meet our Judging Panel
Applications were reviewed by a panel of retail pioneers and industry experts alongside key YOOBIC personnel.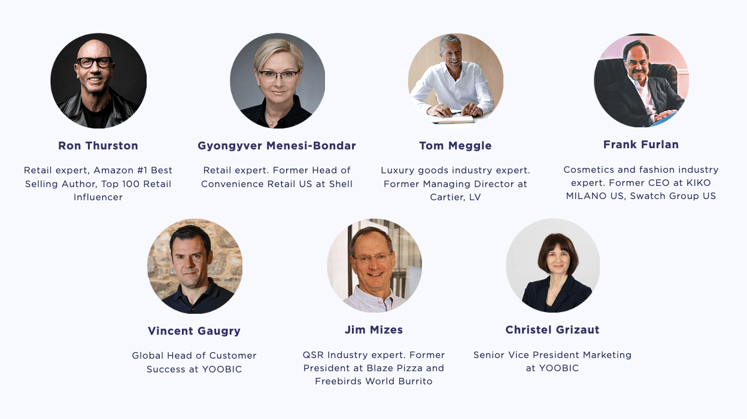 Jury members were impressed by the quality of the numerous applications from across the globe and the business impact of all projects and individuals nominated for the awards.
"The caliber of entrants for this year's Frontline Excellence Awards was simply extraordinary, and the winners and finalists should feel deeply proud of all they've achieved over the past 12 months. Frontline workers have never been more important, and these awards honor the companies that have done most to innovate and elevate the frontline experience. This year's winners richly deserve to be recognized for the work they've done to support frontline teams, generate tangible benefits for customers, and deliver value for their businesses." - Frank Furlan, Judging Panel member and former CEO at KIKO MILANO US. Swatch Group US.
The YOOBIC platform allows retail organizations to consistently elevate the employee and customer experience and increase sales conversions, while reducing operational costs.
Want to see it in action?