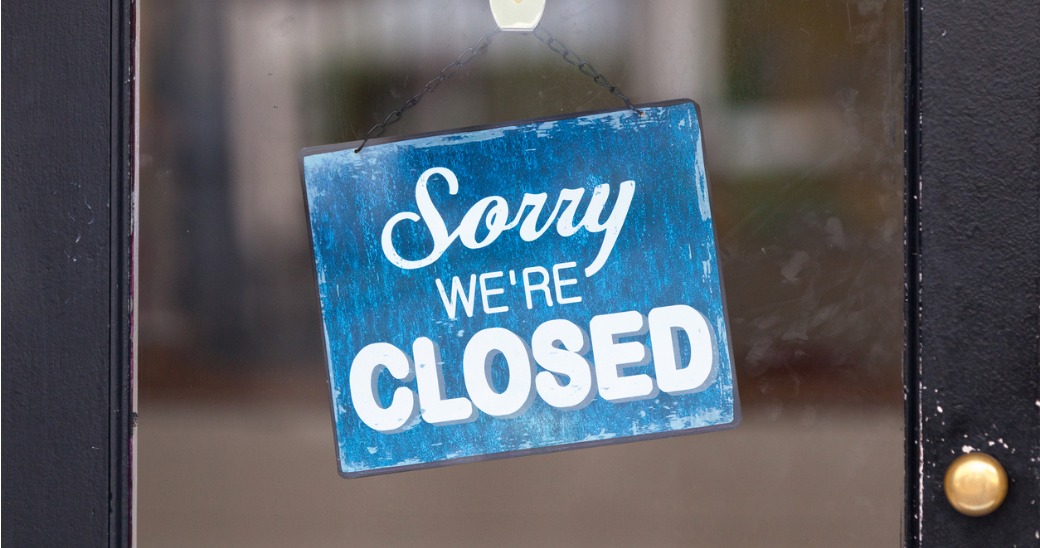 2019 was another big year for brick and mortar retail bankruptcies.
Fixtures of every trip to the mall or high street like Forever 21, Payless Shoe Source and Debenham's have left huge empty stores in their wake.
And with many more retailers predicted to wind up in danger this year, the gulf between retail's winners and losers seems to be widening every month.
Today we can say with certainty that the retail apocalypse is over, and it probably wasn't ever a thing.
That's because not keeping up with changing shopping habits and failing to innovate can hardly be considered an apocalypse.
But why do the bankruptcies continue month after month? And with so many examples of what not to do, why do the retailers we all know and love(d) continue to bite the dust?
There are a plethora of different factors determining which retailers sink and which retailers swim, and it would be reductive to simplify this complex issue to just one cause.
But it's undeniable that one thing the most successful retailers all do is continually invest in the physical experience stores provide and consistently give shoppers a unique new reason to shop in-store.
Here are 3 reasons retailers close their doors by failing to invest in the experience stores provide.
Short on time? Watch this short video summary instead:
1) Failing to understand and adapt to the new role of stores
Retailers who filed for bankruptcy last year all had one thing in common, and that was the purpose of their stores as the end of the purchase funnel.
Stores still account for 80% of purchases, and are the preferred purchase channel for 82% of millennials, but their role has evolved to so much more than a place where customers complete their purchases.
Today, the most successful retailers understand that stores are places where shoppers physically experience their brand.
Sure, most of the time this experience ends with a purchase then and there, but not always.
73% of today's shoppers start their purchasing journey on one channel and finish on another, and most organizations engage consumers through 8 different channels.
The role of the store in an omnichannel shopping experience couldn't be more different than its traditional role.
Back in the day, the role of stores was to make sales.
Today, the role of stores is to answer this question: Why do we exist as a brand?
Retail futurist Doug Stephens describes the ideal store as a "living, breathing advertisement for all the brand has to offer."
Failing to adapt to this new role means that stores don't evolve, and we can see this in practice when retailers rely too heavily on foot traffic, keep underperforming stores open and stick with the tried and true instead of reinventing stores with new concepts.
Case in point: Canada Goose's newest concept store in Toronto stocks zero inventory. Instead, it has a crevasse complete with cracking ice sounds as consumers walk through it, a cold room simulating Artic conditions where shoppers try on coats, and finally brand ambassadors waiting to answer questions and help them purchase their new coat.
2) Failing to master the basics of an incredible in-store experience
Stores need to be the embodiment of your brand's values, so guess what customers think when they see sloppy, cluttered visual merchandising and inefficient operations?
Exactly.
The most immersive and innovative store concepts won't mean a thing if retailers never master the basics like flawless visual merchandising and efficient store operations.
So while the popular saying goes that millennials killed the department store, in reality, messy merchandising and cluttered layouts are the real culprits here.
Higher price points, plus a shopping experience that's "not that different to Zara," doesn't give millennials or anyone else much of a reason to visit any department store.
And not to point fingers here, but it's evident that all the fast, convenient and affordably priced products won't save you if your stores are 3 floors of clutter.
95% of our purchase decisions are subconscious, according to Harvard Business School Professor Gerald Zaltman. That's why well-executed VM is so crucial when it comes to an incredible in-store experience.
54% of consumers value prompt service most of all when shopping in-store, and prompt service can't exist without operational efficiency. And with researchers estimating that it now costs 10.8% more to run stores, operational efficiency has never been more important for keeping costs down.
Case in point: When online lingerie retailer Adore Me started opening brick and mortar stores, they used the YOOBIC platform to help store associates master flawless, consistent VM and fast, effective store operational tasks.
3) Failing to equip store associates for their behemoth role in the customer journey
It's no coincidence that most retailers who go out of business don't have an employee experience that makes the news.
If stores are the living and breathing advertisement for your brand, then store associates are your walking and talking brand ambassadors.
And just like the role of the store, the role of store associates has changed too.
The relationship building, friendly assistance and personalized advice store associates provide are a huge part of what makes brick and mortar retail so special. In fact, 94% of shoppers would buy more from a knowledgeable store associate.
Retailers expect a lot from their store associates and typically offer little recognition or reward in return.
But the thing is, if you want your store associates to be perfect brand ambassadors, you should probably make sure they like their jobs.
That means employee engagement, and employee engagement means making a lot of changes to the typical retail store employee experience.
Let's start by equipping store teams with tech to refocus their time on helping customers.
Employee engagement happens when employers demonstrate that they will empower store teams to succeed by equipping them with everything they need to excel, from tech to fun and rewarding training.
Case in point: In an age where you can just order that shiny new laptop or gaming console online, Best Buy gives customers a real incentive to visit stores - knowledgeable employees equipped with tech who are ready to help them find everything they need.
The best way for retailers to future-proof themselves in an intensely competitive retail climate is to keep giving consumers unique reasons to step inside their stores.
And even if that's guaranteed to be different for every retailer, understanding the immersive role of stores, mastering the basics and engaging store employees are sure-fire ways to keep winning at retail.
--
YOOBIC's physical experience platform helps you turn every store into the store of the future by streamlining operations, fun and collaborative team training, and fast and transparent internal communications.