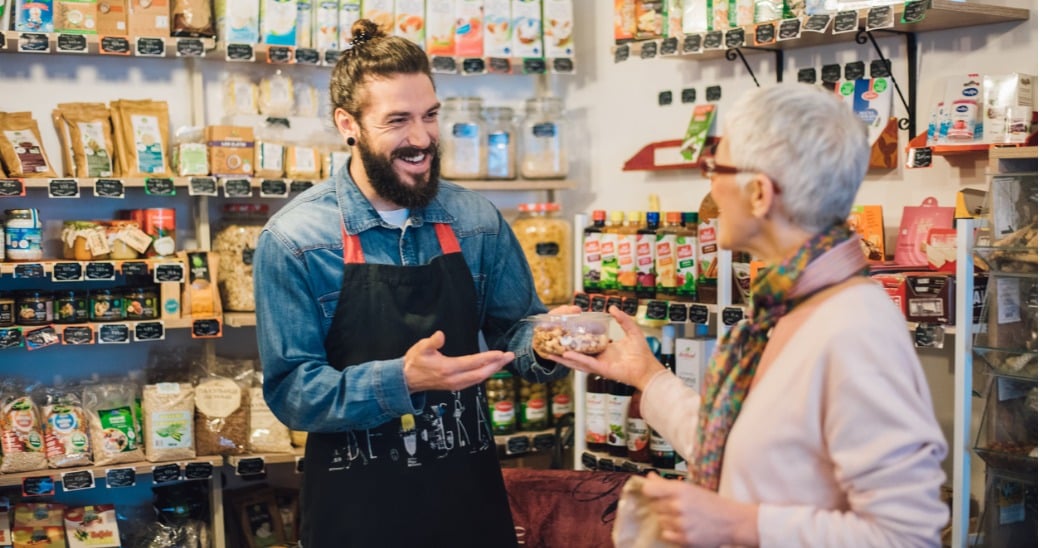 The role of retail workers has completely transformed over the past few years. No longer are they simply stackers of shelves and processors of transactions. They're curators of the customer experience, fountains of product knowledge, enforcers of health and safety regulations and absorbers of new processes.
As the role of the store associate is transformed by additional responsibilities, higher customer expectations and the rise of experiential retail, it's clear that retail employees are primarily working with their brains, not their hands.
The time has come to start recognizing them for the types of workers they now are: knowledge workers.
What's a 'knowledge worker'?
The term 'knowledge worker' was coined by Peter Drucker in 1959, referring to those who use in-depth knowledge to generate value in their work. A knowledge worker is someone who thinks for a living instead of carrying out physical labor.
According to the Corporate Finance Institute, the characteristics knowledge workers possess include:
Accessing and Applying Information
Communication Skills
Motivation to continue developing knowledge
The definition of 'knowledge workers' has typically been drawn along the theoretical line between white and blue collar workers - those who work behind desks versus those who work in manual roles. Therefore, the scope of those perceived to be in the 'knowledge worker' group has not usually extended to retail workers.
This post will explain how retail employees demonstrate each quality required to be identified as knowledge workers and what this means for those who employ them.
1. Accessing and Applying Information
In a dynamic and often hectic store environment, retail workers need to be able to access information to make quick decisions. They prioritize and carry out tasks including daily checklists, managing stock, maintaining the store environment and recalling products, and they need the right information to be able to do this.
They also are responsible for understanding and enforcing changing health and safety regulations and quickly getting to grips with new processes like curb-side pickup or operating as a fulfilment center for online orders. Furthermore, they need to have a thorough knowledge of the brand image they need to portray and the products they stock in order to create the right experience for customers and make sales.
All of this involves accessing and applying information from a variety of sources, including company guidelines, inventory, HQ, other stores and customer reviews.
2. Communication Skills
Retail workers need to operate within a complex communicative network. It's imperative that they exercise incredible communication skills to be able to perform their jobs effectively. They need to:
Communicate with customers
They are the human face of the brand in-store, so they need to project brand values and curate the perfect customer experience. They guide customers to a purchase, answer questions and handle complaints.
Store workers need to know that they're meeting expectations. In a fast-paced working environment, they need rapid answers to any questions they may have about their duties. They have to effectively communicate with HQ to ensure that things like displays and promotional materials are being set up correctly and processes are being carried out in the right way. They need to work with constant feedback loops with HQ to enable the organization to be agile in response to obstacles.
Communicate with each other
To work most productively, retail workers need to share knowledge across teams and store locations, communicate best practices and celebrate successes. Store employee roles are social by nature, so store employees must master their communication skills to become great social learners.
3. Motivation
The role of the retail worker is constantly evolving, so retail employees need to be motivated to evolve with it in order to keep up. Customers are becoming increasingly more knowledgeable. Typically, 81% of shoppers now conduct online research before making a purchase, so retail employees need the right knowledge to feel empowered to be able to keep up with these customers.
Additionally, new stock, processes, technology, regulations and campaigns all come with new information which employees have to have a deep understanding of. Store associates are continuously learning and upskilling as more responsibilities are added to their workloads.
What does this mean for retailers?
As the role of retail employees has evolved, retailers need to understand how to support their store teams and invest in them the same way as they would invest in their office-based employees.
All retailers are feeling the pressure of the hiring crisis, but giving frontline teams the right tools which recognize them as knowledge workers and enable them to succeed in their roles is crucial for attracting and retaining the right people.
You can't just throw anyone into a frontline retail role. Retail workers are expected to have a high standard of knowledge and a thorough understanding of complex tasks and processes. For this, retailers need to have a strong onboarding process in place and tools which enable employees to continuously improve their knowledge.
This means equipping employees with engaging training which employees can fit into their flow of work. Microlearning on a mobile device is a great way for employees to continuously upskill without impacting their productivity on the shop floor. Additionally, gamified learning builds employee knowledge in a way that is fun and motivating for employees.
To find out why retailers including Puma, Lacoste, H&M, The Kooples, Timberland, Boots, Lidl and Vans use the YOOBIC platform to give their employees the tools they need as knowledge workers, schedule a demo!