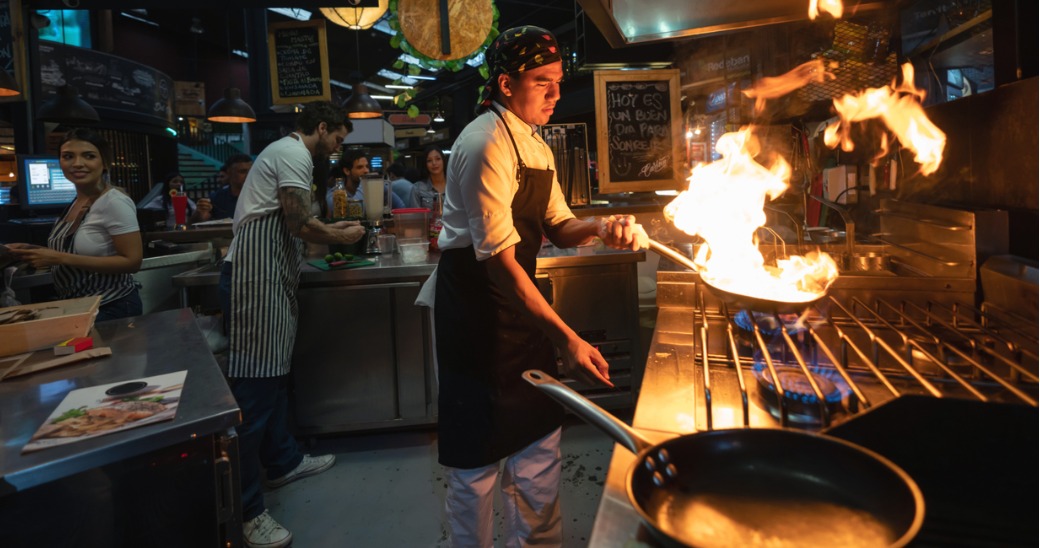 Restaurants are struggling with the cost of operations. The closing months of 2021 have done little to aid this, with a labor shortage and supply chain turbulence driving expenses up and profitability down.
Data from Goldman Sachs indicated that nearly 100% of restaurants and QSRs surveyed had seen an increase in operating costs this year.
Operating costs include staff wages, the cost of food, logistical expenses and maintenance.
These have increased due to:
Fortunately, there is a clear way to combat this. According to a recent survey by Coresight Research, 79% of organizations who had invested in digital workplace technology reported reduced operational costs.
You might be wondering: 'What's a digital workplace?'.
A digital workplace is a platform which provides frontline employees with easy access to everything they need to work, collaborate and learn.
This blog post will explain the reasons why digital workplaces are so effective in reducing operational costs for restaurants and QSRs.
A digital workplace reduces labor costs
The labor shortage means that restaurants and QSRs are operating with reduced teams, forcing each employee to take on an increased workload. Yet 73% are still using outdated formats such as paper forms for tasks like opening and closing checklists, cleaning schedules and stock reports, which slows teams down.
Using email, Whatsapp or spreadsheets to communicate task completion also throws up barriers to productivity, as these platforms aren't designed specifically for this purpose. Emailing back and forth to get feedback from HQ or manually checking spreadsheets means that time is lost.
A digital workplace reduces labor costs by making individual employees more efficient. 71% of frontline employees think digitized processes would make them more productive,
Digitized tasks can look like:
Using digital checklists to tick off completed tasks which are automatically sent to HQ.


Teams being able to take and send photos of completed tasks to HQ in the digital workplace platform.


HQ being able to provide feedback on tasks in real-time.
Digitized tasks enable frontline employees to work most productively and do more with less. This reduces labor costs as restaurants can operate successfully with smaller teams and reduces the likelihood of employee overwhelm - which in turn reduces employee turnover.
A digital workplace minimizes wastage and the risk of mistakes
Using a digital workplace for communication and delivering task instructions minimizes the risk of error and wastage. Food wastage accounts for $2 billion in lost profits for restaurants. Clear instructions on how to prep and serve food and automatic tracking of inventory data helps remedy this.
Currently, 54% of frontline employees receive company communications via email, yet 76% would feel more connected if they could access company communications on a mobile device. A mobile-first digital workplace with features like news feeds and forums for frontline employees encourages teams to ask questions and share knowledge. This creates more knowledgeable teams who make less mistakes.
Furthermore, a digital workplace offers a platform to deliver training in the style of 'microlearning', which means employees can learn on the job. 70% of frontline employees agree that app-based training would be easier. If an employee is unsure about how to prepare or serve a new dish or beverage, they can watch a short video or complete a 3 minute training session to ensure they get it exactly right, without needing to disrupt their flow of work.
Related: How to Train Your Restaurant Employees
Digitized tasks also contribute to preventing mistakes. If promotional materials aren't being displayed properly or the restaurant is not safe and well-presented, revenue will be lost. A digital workplace enables teams to send photos to HQ to ensure that signage and promotional materials are being displayed correctly, cleaning tasks have been carried out to the expected standard and that equipment is being used in the right way.
A digital workplace reduces administrative costs
Digitized tasks cut the cost of paper and the cost of running multiple softwares for communication, learning and task management.
The visibility into restaurant operations offered by a digital workplace and clear lines of communication between branches and HQ makes remote audits and restaurant visits possible. This saves the travel costs needed for regional teams to check up on under-performing stores.
Related: Interview: How Urban Plates Is Serving up Better Operational Processes with YOOBIC
Furthermore, digitized tasks and better communications ensures that promotional and merchandising guidelines are set up properly so they don't have to be re-sent to branches. When HQ has a clear line of sight into which stores have completed which merchandising and promotional tasks, a more accurate understanding can be gained on the ROI of each campaign or promotion.
A digital workplace reduces repair and maintenance costs
The combination of digitized tasks, accessible training and streamlined communication means that maintenance procedures are easy to follow and processes to carry out repairs are simplified.
The speed of repairs and maintenance is crucial to restaurants and QSRs - if a piece of cooking equipment malfunctions or the dishwasher breaks down, the consequences can be huge. It can mean limited menus, slow service, or needing to shut altogether until the issue is fixed.
When frontline teams can report maintenance issues via an app which sends a notification directly to maintenance teams instead of emailing back and forth, repairs can be completed faster.
A digital workplace uses data to help each location operate at max efficiency
A digital workplace provides a restaurant HQ with access to the latest sales, training and operational data from each location. The best tools have the capabilities for advanced analytics, Integrating data sets and enabling HQ to filter data by branch, region and country to recognize patterns. This makes it simpler to identify root causes of higher operational costs and find solutions.
Related: Operational Excellence: The Complete Guide to Success
Instant access to data enables HQ to see which teams have completed specific tasks or training courses, so targeted tasks can be sent out to different locations based on their needs. A more tailored approach to task instructions and training helps restaurants and QSRs feel better supported and avoids bombarding frontline employees with irrelevant information.
--
See how YOOBIC's digital workplace helps QSRs like BurgerFi, Urban Plates and Dominos streamline operations and reduce costs!