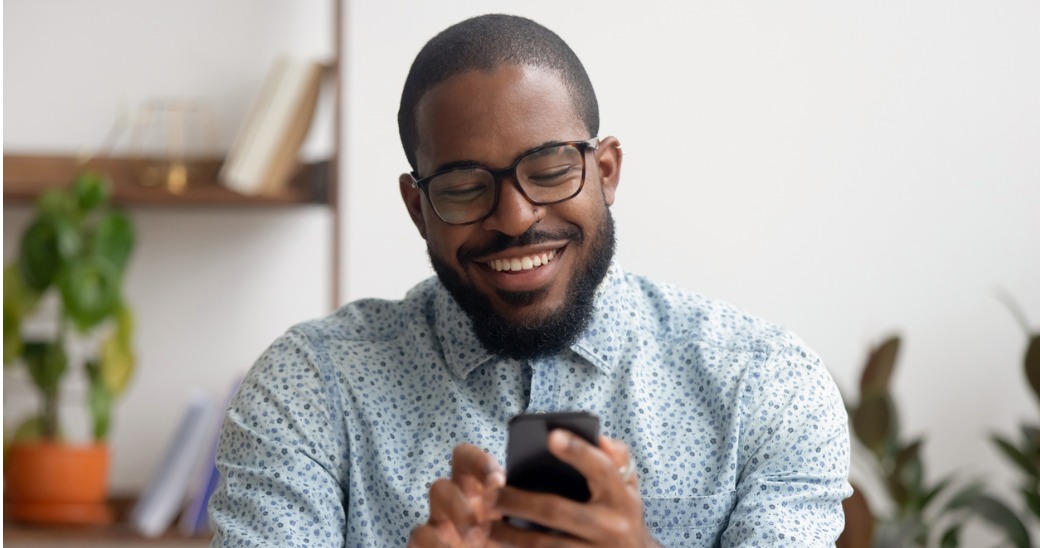 Remember when you thought 2021 might mean seeing your colleagues in-person again?
Feeling "completely Zoomed out for the day" will still be a thing for the foreseeable future.
But for learning and development professionals, these conference calls and webinars are most logical replacement in-person training.
What happens now that employees are becoming increasingly overwhelmed by them?
2020 pushed the evolution of workplace learning at the speed of light. Technologies like mobile learning, gamification and even augmented reality have become increasingly common.
So is the best way to improve workplace learning in 2021 to simply toss conference calls and training webinars out the window?
Not necessarily.
Enter blended learning - the best way to make your training better for every employee.
What is blended learning?
Blended learning mixes instructor-led training (classroom sessions done in-person or via video/conference call) with digital learning (mobile learning, elearning, microlearning, etc).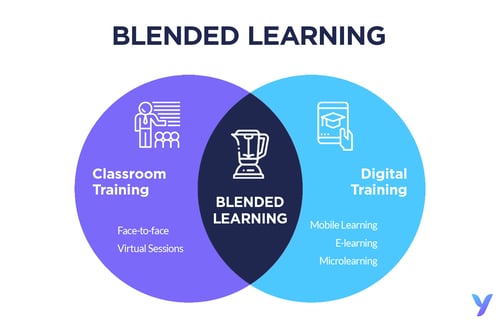 An example: a team of regional field sales reps is gathered together for a training session in the office (or over Zoom post-COVID) to learn about the company's latest offer. At the end of every module the instructor covers, the salespeople complete a quiz on an app to test their knowledge.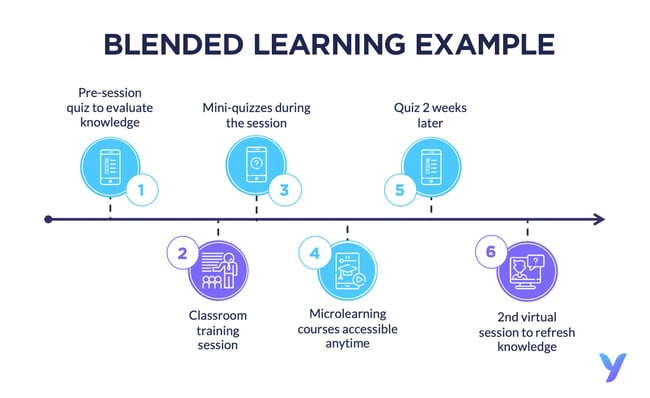 The goal of blended learning is to make training more engaging and more effective for employees.
Blended learning has been proven to be more successful than using only one approach.
What are the advantages of blended learning?
It's flexible.
For some, an afternoon of instructor-led trainings over Zoom induces a dramatic eye roll and a reach for the coffee mug.
But for others, completing courses on a laptop or mobile device is anxiety-inducing and confusing.
Blended learning gives employees the best of both worlds. If they're not the biggest fans of one approach to learning, not to worry. They can also learn in a way that suits them better.
It's ideal for diverse workforces.
Blended learning's flexibility makes it the best choice for a workforce comprised of different age groups and comfort levels with tech. Less tech-savvy employees can learn in a more traditional way, and Gen Z and millennial employees can learn online (ideally using mobile learning) in the way they're most comfortable with.
It's social and collaborative
Instructor-lead and online learning both offer spaces for employees to collaborate and learn socially, albeit in different ways. In classroom sessions, employees can ask questions and network with their peers. With digital learning, employees can learn informally from each other, share best practices and even compete against each other for points, badges and prizes.
Related: Social Learning: What It Is, and Why It's Crucial for Deskless Employees
It's more engaging.
Variety is the spice of life. It's also the spice of your workplace training. Presenting different topics through different delivery mechanisms makes your training program structured, which keeps learners focused and engaged.
It boosts information retention.
When it comes to making information stick, it's all in the delivery. That's why blended learning is best for this - you can choose the best way to present learners with information so they engage with it and retain it afterwards.
Creating the right blended learning strategy for your learners involves much more than mashing a few different learning approaches together and calling it a day.
Here are 5 best practices for creating a blended learning approach your employees will thank you for.
1) Design with goals in mind.
Consider your organization's goals before designing a blended learning approach to get the best results. Your goals will influence the learning approaches you pick to be part of your training.
Noticing low engagement rates with training content from your largely Gen Z and millennial workforce? Include mobile learning content in your blended learning strategy.
Is product knowledge post-training not what it should be across the board? Include frequent assessments in classroom sessions so employees can apply what they've learned.
2) Get feedback from your learners.
It's going to be tough to create the right blended learning approach if you have no idea what your employees think of your training to begin with.
If the majority of your workforce dislikes classroom sessions that last longer than an hour, it's not the best idea to include lots of them in a blended learning approach.
And if your employees think your LMS is old fashioned and a pain to use, it's probably time for an upgrade.
Getting feedback shouldn't be a one-time occurence. It should be continuous - as you're designing your blended learning strategy, as you're deploying it, and even more regularly once it's up and running.
Pro-tip: Use a mobile learning platform like YOOBIC to collect employee feedback after each quiz.
3) Switch between different approaches for learning and applying knowledge
"Old school" approaches to training like classroom sessions (whether in-person or remote) and newer approaches like mobile learning and microlearning don't have to be mortal enemies.
In fact, they actually complement each other. Mix them together strategically, using one approach to present the information, then another to reinforce and apply it.
For example, use an instructor-led webinar session for a mandatory training about post COVID-19 sanitation protocols. But at the same time, use a mobile learning app to quiz employees:
Before the classroom session, to measure their existing knowledge on the topic and tailor the session around that


During the session, so employees apply each new concept they learn in a structured way


At regular intervals after the session, to boost information retention even more
4) Measure the impact.
Designing and deploying a blended learning strategy isn't going to mean much to the rest of your organization unless it's tied to measurable outcomes.
The right blended learning strategy should turn training from a mandatory chore into something employees actually look forward to. But what does that look like quantitatively?
Here are a few of the best metrics to start tracking:
Course completion rate (across employee groups, regions etc.)


Average scores on quizzes


Time spent on mobile learning courses


Most popular courses


Employee NPS scores - because great training improves the employee experience


Customer NPS scores - because better trained employees improve the customer's experience


Sales KPIs - because great training helps employees sell more
5) Use the right tools.
Blended learning is flexible learning. Flexible learning should be accessible whenever and wherever employees need it.
So while video or in-person classroom sessions may be a supporting pillar of your blended learning strategy, employees should be able to review and add to what they've learned in those sessions whenever they need to.
Here are a few must-have blended learning tools:
An up-to-date, mobile-accessible knowledge base with everything employees need (recordings of classroom sessions, training documentation, FAQs, etc.)


A mobile learning platform


Microlearning (the best choice for reinforcing and applying information)


Gamification (to make training fun and engaging)
A mobile learning platform - ideally one that presents content using microlearning and gamification - is the best choice for complementing in-person training.
Related download: How to Choose a Mobile Learning Platform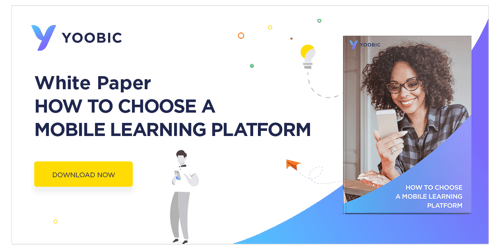 Each of these 5 best practices has a common theme: a deep and continuous understanding of employee needs and organizational goals. As an L&D professional, you know these needs and goals best.
Take the time to reflect on what you want to achieve and get feedback from employees. Then, use different training formats, measure progress and invest in the right tools, and you'll be well on your way to creating a blended learning strategy that every employee will love.
--
Empower your workforce to learn faster and perform better by using YOOBIC's mobile microlearning platform as a part of your blended learning strategy.