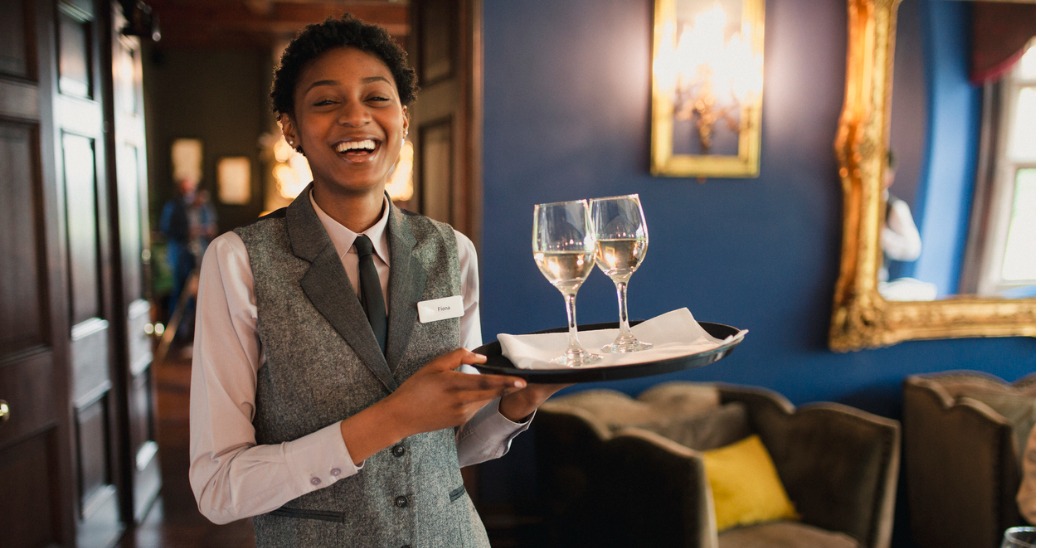 For restaurant staff, training isn't working. Employees are abandoning the industry as they develop suspicions that they are stagnating in their roles due to a lack of development.
Their suspicions are true!
In a recent survey, 43% of frontline employees working in hospitality reported a lack of career growth. It's clear that the restaurant staff training plans that businesses are using are falling flat.
Something needs to change.
This post will explain how to implement a training program that creates adaptable, confident restaurant employees who deliver the company vision to every customer, every day.
Why is training critical for success in restaurants?
In 2021, the average job tenure of a restaurant employee is just one month and 26 days. The average cost of replacing a restaurant worker is $5,864. Obviously, this means turnover is very high and very expensive.
This is not sustainable, especially in a labor shortage.
A key reason for this level of turnover is lack of opportunities for training and development - 94% of employees would stay in their current role for longer if they felt that their employer was invested in their learning.
The long-term consequences of failure to invest in training are serious. 80% of restaurant managers started their restaurant industry careers as entry-level workers, so if entry level employees aren't being well-trained or inspired to progress in their career, there won't be enough experienced employees qualified to manage restaurant teams in the future.
Related: How to Retain and Attract Restaurant Employees in a Hiring Crisis
Where are restaurants getting it wrong
There are several common pitfalls that restaurants encounter when training employees:
Information dumps and then nothing
32% of restaurant employees report a lack of training. This is unsurprising, as 40% of frontline employees are trained once a year or less! Often, new employees are bombarded with an 'information dump' at onboarding and then receive very little training thereafter. This training strategy is a waste of time as it leads to cognitive overload, which essentially means that employees zone out and can't take in anything else.
Irrelevant information
Restaurant teams work in varying locations, roles and shift patterns under one company umbrella, but this means that training materials include information that's not relevant to their individual jobs. Overloading learners with unnecessary information makes it more challenging for them to remember the important bits that they actually need.
Outdated formats
68% of restaurant owners provide their new employees with an employee handbook to use for training. This is not practical for employees who are constantly on their feet, juggling multiple orders, cleaning tasks and admin responsibilities, as they can't access learning at their point of need. Leaving the bustle of the restaurant to check a handbook in a back office or break room wastes time and is disruptive to the flow of work.
Related: Why Frontline Employees Need to Learn in the Flow of Work
Failure to champion learning
Learning takes time and effort on the part of the learner, and restaurant employees will often have other priorities demanding their attention, such as other jobs, studies or family commitments.
Some level of turnover is inevitable in an industry filled with workers employed in their first job or fitting work around studies, but all employees deserve the opportunity to develop their skills. But 32% of frontline employees don't feel recognized for their efforts at work, so why would they bother putting extra energy into learning when they don't see what they get out of it?
How to improve: a restaurant staff training checklist
Frequent opportunities to learn
Learning is not a one-off event. Training needs to be continuous and employees need to be given regular opportunities to learn so they can consistently progress in their roles. Microlearning is great for this, as it enables employees to learn in bitesize, to-the-point chunks, allowing them to take in information without being overwhelmed with irrelevant content. As microlearning modules are so short (typically under 5 minutes), they can be created and rolled out rapidly, so the most up to date, relevant training can be pushed out fast.
Related: A Guide to Microlearning: What It Is and Why Your Employees Need It
Targeted learning
The most efficient way to train employees is through targeted learning which is specifically tailored to their needs. Targeted learning enables employees to focus their attention and energy on the most important training they need to excel in their role, helping them to progress and develop more quickly. Ideally, training should be presented in learning paths linked to progression, so employees have a clear picture of how to reach their goals.
App-based training
70% of frontline employees thing app-based training would be easier. A huge factor of this is that using an app on a personal or company device means that employees can instantly access learning materials on the job. Restaurant employees are busy. If an employee needs to understand how to complete a task on the job, it's much less disruptive to complete a 3 minute training course using an app than to go searching for a handbook in the break room.
An app is the ideal way to combine mobile learning and microlearning with gamified features like interactive features and scoring that make learning fun.
App-based training also is advantageous over physical documents or classroom learning as AI features can be used to automatically review learning, see how effective training courses are, and establish where more training is needed. This ensures that training is optimized to meet the needs of employees and frees up time for restaurant managers, who can easily see where skills gaps are emerging and plan to close them without having to manually sort through data.
Related: How to Use AI in Frontline Employee Training
Reward efforts to learn
All employees have professional goals, regardless of whether or not they plan to stay with the company long-term, so it's important to invest in their development to build on their workplace skills. A big element of this is recognition.
Highlight how much your organization values learning by recognizing employees when they make the effort to learn. You can do this by offering shout-outs for teams who complete the most learning on company communication channels, using leaderboards to encourage competition, and using rewards like team socials or prizes to motivate employees to learn. 58% of employees think the most important thing about training is that it's engaging and fun, so using scoring and making training a social activity where employees can compete against each other instantly makes training a more rewarding experience.
"Training, learning and development is at the core of everything that we do at BurgerFi. We realized that if we wanted to be ready for the next phase of growth, we needed a new platform."

Kevin Cooper, Director of Leadership and Development at BurgerFi

To find out how YOOBIC helped BurgerFi to achieve their growth goal of opening 59 new restaurants by 2021, with employees completing 105,000 minutes of training and 47,000 courses in just 6 months, read the case study!