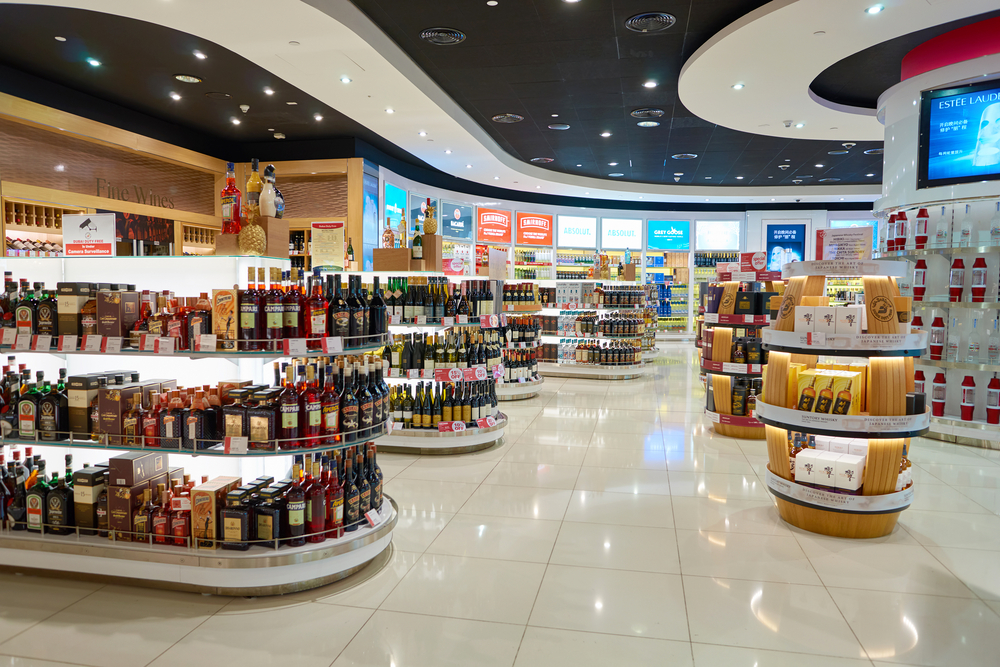 Who doesn't love duty free shopping? Once we've made it through the hell of check-in and security, airport shopping is a luxurious pre-holiday treat, a haven of tax-free fragrances and giant Toblerones.
In fact, the travel retail sector is in the middle of a major boom. Thanks to low-cost airlines like JetBlue and Southwest, more people than ever before can afford to travel, and they are certainly doing so. Every year, 1 billion people (i.e. roughly 15% of the global population) travel internationally.
Naturally, more travellers means more customers, and the figures show that people are willing to flash the cash: the globally combined revenue of travel retail markets is currently at almost $70 billion.
Here's how travel retailers can make the most of this boom and provide flyers with a unique and memorable shopping experience.
Related: See how Pixi Beauty is using YOOBIC to grow their brand globally
Customers may be a captive audience, but you still have to go the extra mile
In theory, travel retail is easy money, right? Your customers have to be there whether they like it or not, and when there's nothing else to do, they shop. Or at least that's how it used to be.
Sure, people still get bored whilst waiting to board, but nowadays browsing the aisles is no longer the only entertainment option. Free wifi in airports and the ability to download endless content from streaming services mean that flyers have more competing for their attention than just a few bargain items. So it's up to retailers to come up with ideas that will genuinely entice customers to browse and buy.
Duty free shopping is a very visual experience - think shiny counters full of even shinier products, manned by glamorous sales associates. In this kind of setting, consistently high brand and operational standards are essential. And not only that, but consumers are also increasingly looking for innovative shopping experiences.
Some brands have gone down the experiential route. For example, Moët Hennessey have launched a seasonal pop-up at Sydney Airport where customers can personalize bottles of champagne with names and personal messages.
Airports such as Heathrow now have personal shopping services, JFK offers AR/VR experiences, and Hong Kong International now boasts a pre-order duty free app. Hong Kong's approach is particularly interesting as it provides the immediacy and convenience that makes online shopping so popular. This frees up the customer's time to do more browsing and makes them more inclined to buy.
Vacationers love an impulse buy - capitalize on it
One of the major factors driving travel retail sales is the power of the impulse buy. When people are in vacation mode, they're far more inclined to treat themselves and splurge on products they wouldn't normally buy. This makes airports the ideal space for luxury shopping.
The open-plan nature of duty free helps encourage this kind of purchase, as it has a democratizing effect. Shoppers come across high-end items they might otherwise not have sought out and, placed alongside more affordable brands, the thought of actually buying a luxury product doesn't seem so far-fetched.
As well as the possibility of bagging a designer bargain, customers are also spurred on by the exclusivity inherent in duty free shopping. Buying tax-free is a limited opportunity, and people want to take advantage of this.
To capitalize on this now-or-never mentality, more and more brands are offering "travel retail exclusives" which cannot be found in normal stores. Beauty retailers are particularly adept at this as they can offer convenient "travel minis" that will be allowed in hand luggage.
With shoppers in the right emotional state to buy something, it is absolutely imperative for retailers to convert them into buyers by ensuring that brand standards are always maintained and that sales associates are performing at their best at all times. It will inevitably be some customers' first encounter with some of the more high-end brands, and it's important that they leave with a positive impression.
Make the most of the customer information available to you
Airport retailers are in a unique position in that they already have vast amounts of data on their potential customers. They know which flights will be arriving from where and at what time, and they have information on all the passengers.
Combined with more general travel statistics - for example, single millennials and retirees are the groups with the most disposable income to spend on vacations - all of this information arms travel retailers with the means to target their customers with offers that best fit their needs.
Some retailers are already taking advantage of this: the World Duty Free Group in Heathrow airport uses flight schedules to determine staffing decisions and product displays. This way, they can tailor the shopping experience according to demographic in order to better cater for their customers, which will in turn boost sales.
Making the "golden hour" of airport shopping time as fun and easy as possible for customers has been the key to the impressive growth we've seen in travel retail over the last decade. If retailers continue to provide new ways of experiencing duty free and maintain the high brand standards we've come to expect from this sector, it will only continue to grow.
--
YOOBIC helps retailers ensure that brand standards are properly implemented and maintained, leading to a flawless customer experience and skyrocketing sales. Find out how we do it here.